Over the last several days, Coffee County Animal Control has experienced drainage issues at the animal shelter that have led to standing water in the kennels and potentially put the health of the dogs housed there in jeopardy, according to Samantha Szelich, animal control officer for the county.
With temperatures dipping into the 30s and 40s last weekend – and as low as 21 degrees last Saturday – Szelich hopes a permanent solution for the lack of proper sanitation resulting from poor drainage at the shelter can be found soon.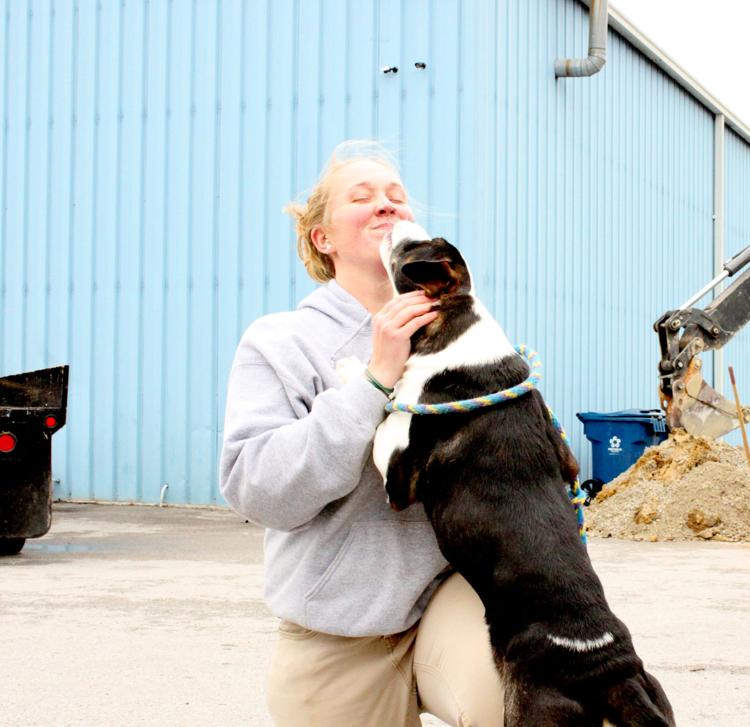 The drainage issue is an ongoing problem for the shelter facility, which is shared by Coffee County and the City of Manchester.
The city owns the Manchester property, located at 156 Freedom Drive, and the county rents some of the space.
"We started having drainage issues last week," Szelich said. "It was getting to the point where the flow of the water, after we rinse off the runs, wasn't going down."
The runs are the indoor and outdoor kennels where the dogs are kept.
Szelich expressed concerns about feces in the water, a lack of sanitation that could potentially lead to spreading disease.
Over the weekend, Szelich said, the problem intensified.
"It went from a slow drain to no drain," she said.
The Manchester Water and Sewer Department has been working to determine the source of the drainage problem and to solve it.
"This is their [the water department] fifth or sixth time here," Szelich said on Tuesday. "They ran cameras through this morning and saw there are some pipes broken."
"Since this weekend, we have not been able to clean properly," Szelich said. "It got so bad with the rain that water was actually leaking into the shelter from the drains."
The water receded by Tuesday morning.
"Tuesday, it had finally drained, so the dogs are not in standing water now," she said. "But we still can't spray off and clean until they get it fixed."
While the drainage issue was ongoing, the shelter could not accept new dogs.
"I don't want to bring any new germs into the shelter because we are not able to properly sanitize," she said. "We just can't spray anything because it will build back up and the water will continue to come out."
The last several days have been rough for the dogs at the shelter, said Szelich.
"It's cold and it's wet," she said. "And they have to walk outside and then try to get back into their beds … it's not good for them and it's not comfortable."
Even the pet beds, where dogs might have avoided the water, were wet due to the wet floors.
"They all have beds, but the biggest issue on Monday was that three or four runs had water coming up because it had rained for eight hours nonstop," she said.
The total capacity of the shelter is 27 dogs.
"We currently have 28," Szelich said on Tuesday. "We are full to capacity. There are a few runs where we have a couple of dogs together to try to keep open space for emergencies. We are technically past capacity."
The county and city animal control officers work together and help each other, she added.
"Anytime we need to borrow an extra room from the city side, they let us," she said. "We pretty much do everything together and are actively trying to find homes and rescues for their dogs, as well as ours."
Hope for permanent resolution
"We have been dealing with the drainage issue for a long time," Szelich said. "It has been ongoing for a long time, but it would get resolved for a few months and, then, it would be a problem again. This past week, we could tell something bad had happened because it just kept happening.
"The water department would come and they would think they fixed it, but then we would end up having to call them back several hours after that," she said.
As of Thursday, the drainage issue had been resolved; however, it's not clear if the repair is permanent.
"It's better now," Szelich said on Thursday. "I don't know if it will be a permanent fix or if issues will arise again in the future; but we are up and running again."
Coffee County officials and community members have been trying to find a new location for the shelter and to raise money for a new facility. However, there has not been significant progress to date.
"The community needs to be aware that this facility isn't what it needs to be," Szelich said. "I think the mayor and the commissioners have tried to actively work on getting us a new building, but a lot of people don't know where to start; it's definitely going to take a lot of money."
The needs of the animal control department have outgrown the existing shelter.
"This building was made a long time ago, and we still have the same number of runs," she said. "The population is increasing, the dog problem is increasing with the population, so it's not set up for what we need anymore."
Szelich urges county officials and the community to find a solution.
"Now, with all the other issues, with all that's going to cost to repair, I really think it's time for us to build a bigger facility," she said. "And there is not a place for cats to go here. It's time to change Coffee County Animal Control to be set up to assist the public more that it does."
Szelich encourages the community to support the shelter and to adopt the dogs it houses.
Providing food for the dogs and funds for a new animal shelter would be helpful, she said.
The shelter is located at 156 Freedom Drive in Manchester.
For more information, call animal control at 931-723-2730.