Dustin Lynch celebrated the drop of his new album "Tullahoma" with a release party at Marathon Music Works in Nashville on Friday, Jan. 17.
"We just had an album come out at midnight called 'Tullahoma.' Tullahoma is my hometown, just down the street," he said.
He opened the show with his 2014 hit "Where It's At." The set list of the show was infused with all of Lynch's number-one hits including "I'd Be Jealous Too," "Hell of a Night," "She Cranks My Tractor," "Seein' Red," and "Small Town Boy" as well as new songs from "Tullahoma." He even covered the Maroon 5 song "This Love" in the middle of performing "Hell of a Night."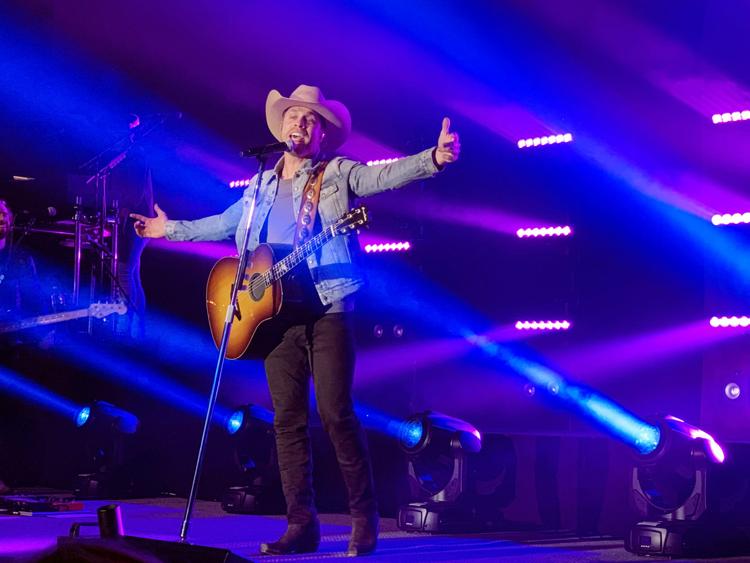 Lynch gave a few shout outs to George Dickel Tennessee Whisky for sponsoring the show.
"One thing we do in Tullahoma is make whiskey and that is why George Dickel is here with us," Lynch said. The company had a special drink menu for the event including the cocktails "Low Ball," "Rye Ball," and "Dickelade."
"Tonight is a celebration for me and these boys on stage," Lynch said. "It is also a celebration for all of the guys and girls who worked so hard with us to make this record."
The first song performed from the new album was "Momma's House," a song about heartbreak he has experienced in his hometown.
The second song Lynch sang from his new album was titled "Little Town Livin.'" "This song is an absolute snapshot of our main drag called Jackson Street in Tullahoma," he said. "I am a true believer that if you are blessed enough to have a hometown like mine, it makes you the guy or girl that you grow up to be. My town did that. This song is a tip of a hat to my hometown."
The most popular song from "Tullahoma" is "Thinking 'Bout You" featuring Lauren Alaina. He performed it at the show without Alaina, giving her a shout out for recording it with him for the album. The song is currently ranked number one on the iTunes country chart and number nine on iTunes overall.
Lynch also sang "Dirt Road," "Ridin' Roads" and "Country Star" from his new album.
A member from Lynch's team came onto the stage in the middle of the show to tell Lynch and the crowd that he had earned two more certified gold singles that night, bringing Lynch's number one singles to a total of seven. He also announced that Lynch had just hit two billion streams. Lynch was presented with a framed award for the two billion streams and took a photo clutching it on stage with the large crowd in the background.
"This is awesome. Thank you guys so much. We just write songs, you guys are the ones who make them number ones," Lynch said. "You are the ones who make them gold and platinum. I am so thankful that you guys continue to let us live our dreams every night. Thank you for loving on our music for so many years. We are just getting started. I have never been more inspired to play music then I am tonight."
Lynch was also recording the concert for Sirius XM Radio's The Highway, which he said will be released at a later date.
He mentioned that it had been eight years and one day since his first hit single "Cowboys and Angels" was released.
"Eight years and one day later, we get to release our fourth album. That's a lot of dreams coming true right there," Lynch said. "I have a lot of people in this room that are responsible for the song including my record label. Thank you guys so much for believing in us and continuing to believe in the music we are making. Here's to eight more years."