Coffee County Emergency Management Agency Deputy Director Matt Aussiker has acquired knowledge and experience to respond to disaster situations and protect locals. Aussiker works with EMA Director Allen Lendley to ensure Coffee County residents stay safe during events such as the COVID-19 pandemic.
Aussiker's career in the field of first responders began when he was a teenager.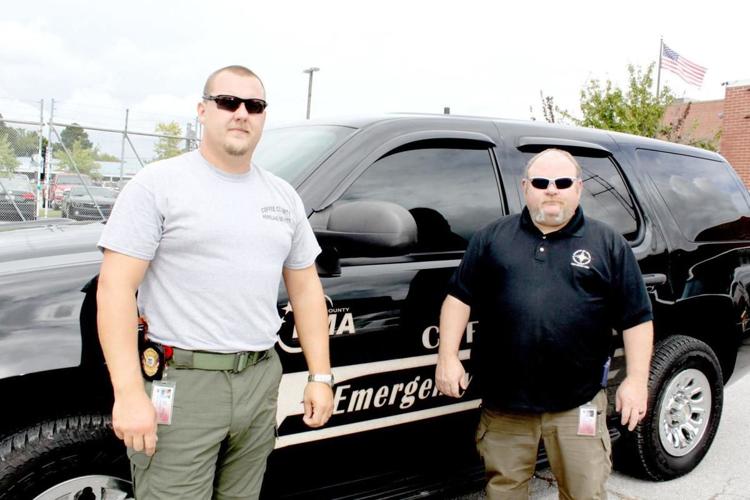 "My background is in fire and law enforcement," Aussiker said. "I started out as a volunteer firefighter when I was 17."
Admiring the work of his father, who was a first responder, Aussiker found his passion helping the community.
"I put myself through the fire academy at age 18 and started full time with Manchester Fire and Rescue Department in early 2008," Aussiker said, "While working at the fire department, I was an active reserve at the sheriff's department, which peaked my interest in law enforcement."
He then served as a police officer.
"I decided to move over to the Manchester Police Department in 2012 and went through the police academy," Aussiker said. "I was offered the position of deputy director of Emergency Management Agency at the end of 2016."
Aussiker has a vast training and numerous certifications. "During my career I have been fortunate enough to obtain many state and federal certifications." Aussiker said. "Some of these include Fire Fighting I and II, Advanced Terrorism training, Clandestine Lab Tech and Site Safety Officer, HazMat Technician, SWAT School, Fire Investigator and numerous incident command classes, as well as incident and scene management certifications."
Aussiker has a wide range of duties. "Our office is responsible for preparing for, responding to, recovering and mitigating the effects of any type of natural or manmade disaster," he said. "We also provide numerous types of trainings to first responders throughout the year and oversee several federal grants that service our agency as well as local agencies."
While challenging, the job brings satisfaction. "Coordination between local, state and federal agencies is one of our primary responsibilities, and sometimes that has a tendency to provide its own unique set of challenges with ever changing types of incidents," Aussiker said.
He enjoys helping the community. "I started out my career 12 years ago with the goal of serving my community to the best of my ability and have been striving for this ever since," Aussiker said.
In his spare time, Aussiker loves spending time with his wife and three daughters. They enjoy hunting, fishing and "just about anything else outdoors."