For 35 minutes in the morning of Sept. 11, the Tullahoma Fire Department paused to memorialize and celebrate the lives of their 343 brothers and sisters, as well as the thousands of other innocent people, who lost their lives during the terrorist attacks 18 years ago.
TFD has held the 9/11 ceremony annually to reflect on the day that changed the course of history for the nation, to remember those who perished and to celebrate living in America today.
Fire Chief Richard Shasteen welcomed dozens of patriotic citizens to the annual ceremony around 7:30 a.m. Wednesday, recognizing those in the TFD family, as well as the other first responders in the county.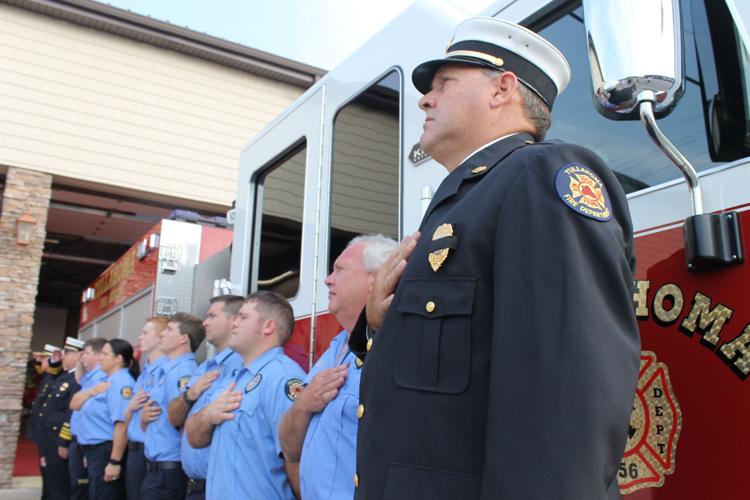 A number of speakers were brought out, including Mayor Lane Curlee, Coffee County Sheriff Chad Partin and American Legion Post 43 Commander Alan Harris.
As is tradition, the American flag was raised for salute before being flown at half-mast in recognition of Patriot Day by TFD Lt. Rocky Rhoton and Engineer Wade Evans. Engineer Chris Deteresa rang the bell on the vintage fire truck parked next to the flag pole in the traditional 3-4-3 pattern, representing the 343 FDNY members who lost their lives assisting evacuations of the North and South towers of the World Trade Center.
A new feature of the ceremony involved American Legion Post 43 and Commander Alan Harris. According to Harris, Post 43 honors one member of the Tullahoma fire and police departments each year as the Patriot of the Year during the Manchester 9/11 ceremony. This year, Harris said, it made sense to honor those first responders during the Tullahoma ceremony.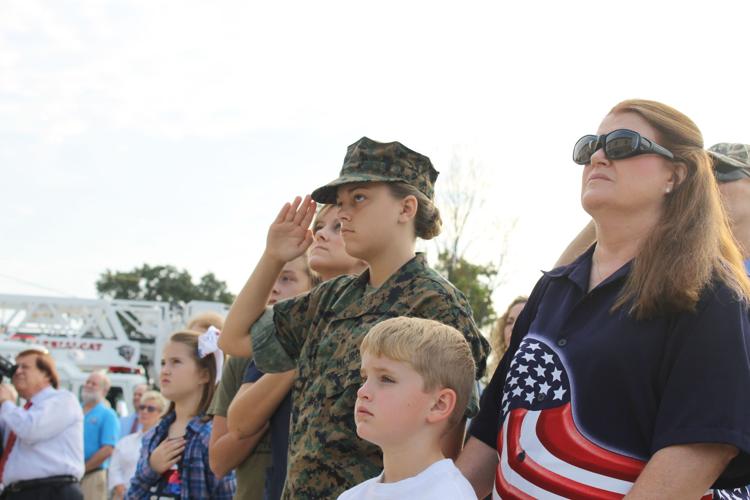 He then announced Deputy Fire Chief Tim Stubblefield and Tullahoma Police Officer Willie Young as the 2019 Patriots of the Year for their dedication to the community in the line of duty. Both men are Tullahoma natives, according to Harris, and showed exemplary patriotism by serving the communities they grew up in and still call home.
Stubblefield was recognized for his service with both TPD and TFD, as well as his service to Coffee County as a Commissioner for District 16. Young was heralded for his service as the school resource officer for Tullahoma City Schools, as well as his work with children as a youth pastor for his church.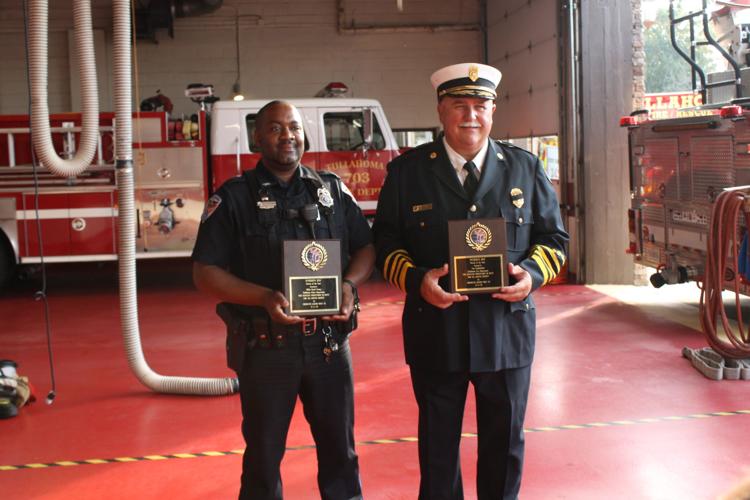 Following the award presentations, TFD's Jeremy Taylor played Lee Greenwood's "God Bless the USA," prompting the crowd to sing along to one of the most recognizable patriotic songs in the nation before the program concluded.