Jack T. Farrar Elementary students, faculty and staff held their very own Veterans Day assembly Monday afternoon followed by a walk around their track waving American flags in honor of all veterans.
Cub Scout Pack #358 and #142 presented the flag and led the crowd in the Pledge of Allegiance.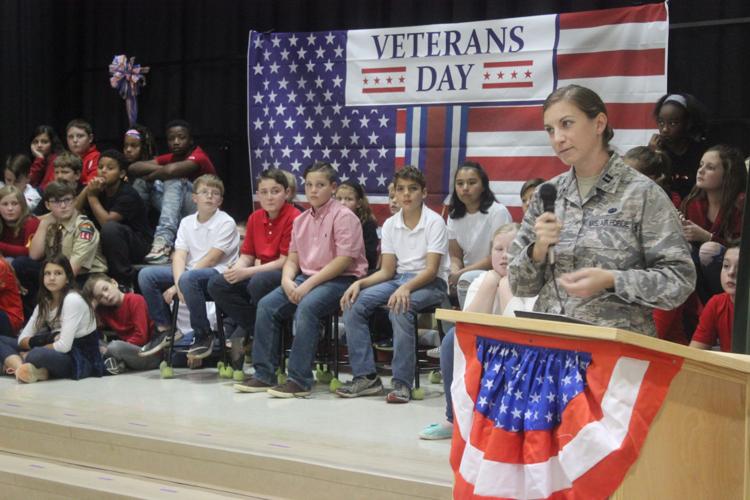 The assembly was spearheaded by Tara Hudson, Farrar's music director. She led students in singing nine songs during the assembly including "You're a Grand Old Flag" and "God Bless America." Performances included songs by the Jack T. Farrar Choir. Each grade from kindergarten to 5th sang a special song to salute the troops. Hudson taught the groups dances to go along with their songs. The songs "Thanks to Our Veterans" and "America Land of the Free" included solos by William Dawe, Madyson Smith, Anna Grace Modesitt, Jonah Rathjen, Jace McGee and Allie Grace Hice.
A special reading called "I Love America" was performed by students Keila Diaz, Gene Houghtaling, TJ Tipton, Skye Lee and Parker Porter.
Drums Alive, a program at the elementary school, performed a special routine using cups, streamers and yoga balls to "Best Day of Our Life." The students proudly choreographed the routine themselves and were introduced by students Will Harrison and Colton Tinnon.
Fourth- and fifth-grade students performed "This Land is Your Land" while calling out all of the branches of the military, asking veterans to stand and be recognized when their branch was called.
Capt. Elizabeth Sewell gave a speech at the assembly, telling students why she joined the air force and recited her favorite quote from "Oh, The Places You'll Go" by Dr. Seuss.
After the assembly, veterans were the first to walk out and meet students at the school's track in the back of the grounds. Students lined the track sidewalk and waved flags as veterans and family members walked by, some pulling their children who are also students out of line to walk with them. At the end of the walk, each veteran was given a special gift made by students to thank them for their service.