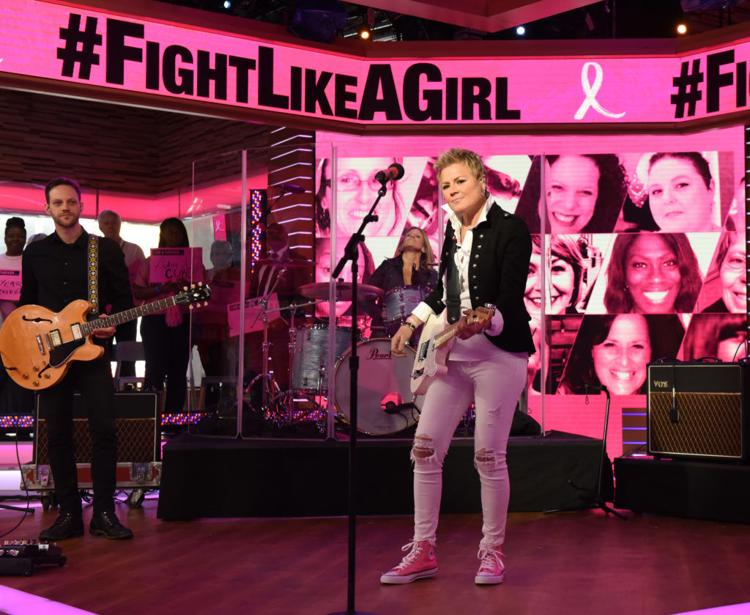 After surviving breast cancer herself, country music star Anita Cochran is looking to help others who are fighting disease.
Cochran will play host to a benefit concert "Fight Like a Girl" this Friday, July 10 at the Honeysuckle pavilion located at Twin Creeks Resort in Winchester for her charity the Love Anchors Fund.
The Love Anchors Fund focuses on not only raising money for breast cancer research, but it also provides financial aid to breast cancer patients to help pay for bills.
"You can have health insurance to help pay for your hospital bills but the rest of your bills come and you can't work cause you get so sick," said Cochran.
Cochran recalled when she was first diagnosed with Stage 2 triple positive breast cancer and the feeling of panic she felt when her doctor told her she wouldn't be working for a year.
"When someone tells you 'you can't work for a year,' panic mode sets in," said Cochran. "You're fighting for your life and you're also going 'how am I going to make my house payment? How am I going to pay my utility bill?' I'm super excited that we can provide funds for people who really need the help." Cochran said.
The event will be the first charity event for the Love Anchors Fund since its founding. It will also be the first event the Honeysuckle will be holding since its completion at Twin Creek's Resort. Cochran said she had a home on Tim's Ford Lake for many years and she was approached by the owners of Twin Creeks to do a charity event.
"I was super thrilled that they wanted to do something with me and for the charity," said Cochran.
Cochran said planning for the event has been a quick process for the last few month.
Cochran said the ongoing COVID-19 pandemic concerned her given the fact she is just a year and a half away from chemo. While considering if she should do the show, she said she thought about the people who need the money through their charity.
"I thought about it hard but I thought 'you know we can't stop doing our charity work' as charities only function on raising money and we raise money to help other people and that's what we're trying to do," said Cochran.
Cochran said they have made arrangements for the event like spacing tables to keep social distancing and limiting the number of seats. Cochran said she'll be wearing a mask when she's interacting with people.
Joining Cochran will be joined by Jamie O'Neal and Heidi Newfield on stage with host Suzanne Alexander of Great American Playlist. Cochran said she will be debuting a new song called "Army of Love".