Coffee County Emergency Medical Services (EMS) has seen significant improvement over the last several years, with the service responding to calls much more quickly now.
"Chute time," measured from the time when a call is dispatched to the time an emergency vehicle begins to travel to the location, has averaged less than a minute this year, which is nearly half of the average chute time in 2013, according to EMS Chief Michael Bonner.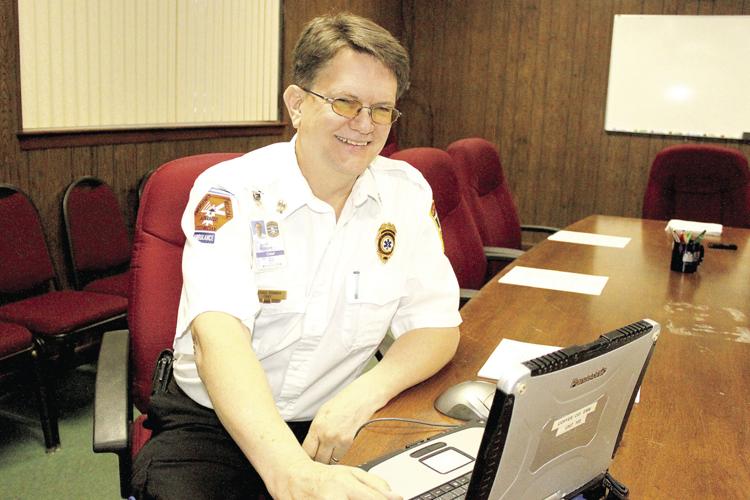 Bonner took the position in July 2013, and since then has worked hard to reduce the chute time.
He regularly reminds his employees about the importance of being ready and responding quickly.
Bonner also started measuring the chute time of each crew instead of the entire EMS staff, and that has made a big difference and led to improvements.
"The original chute time was around one minute and 42 seconds when I first started, and it's currently 54 seconds," Bonner said. "When I was hired, the board was very clear that they wanted the chute time to be down and we worked very hard to achieve that goal. We have had it down for a couple of years now in that one-minute range."
The chute time varies from one call to the next depending on multiple factors, he added.
"On months that we are really, really busy and responders are in the ambulance when the call comes in because they haven't had the time to go back to the station yet, then the chute time is instant," he said.
When responders hear the call from the communications center, they are already in the ambulance and the wheels are rolling.
"So sometimes, being busy helps your chute time," he said.
"Response time" is another metric that's very important, said Bonner.
Response time is measured from the time responders are in route until they reach the scene.
"That time varies depending on where you live – if you live close to the station, that's going to be a minute, but if you live at Beechgrove, it's going to be 25-minute time."
There is less control over response time.
"We don't have as much control over how much it takes to get to the scene," he said.
The average response time is six to seven minutes.
"But we can keep a better control over chute time," he said. "We work very hard to make sure the crews are ready, and as soon as [the call comes in] they know they need to get that ambulance in route."
"That's what the taxpayers pay us to be here for," he said. "Obviously, if someone is not breathing or bleeding from a very bad wound, every second does make a difference. For the great majority of the calls, one minute won't make a difference, but we have to be ready for that one call where it will – that's the whole point."
In situations, such as bleeding, getting to the scene quickly can be a matter of life and death.
"You can bleed to death faster than you can suffocate to death," Bonner said. "Somebody has to get there and get that bleed stopped, somebody has to get there and get that air flowing again.
"And every second we are not there, they [the patients] are getting worse – the brain starts dying, organs start shutting down from a blood loss – and even though we may keep the person alive, damage has been done by the delay. Every second counts."
Most emergency departments expect chute time to be in the one- to two-minute range, said Bonner.
"Ours is probably a little more stringent than most," he said. "But again, that's why we are here; we're here and we're ready. It's a constant push, you don't want to get complacent."
In 2013, chute time averaged about one minute and 40 seconds, with the time consistently going down after that.
Chute time averaged at one minute and 15 seconds in 2015, and the time dipped down to about a minute in 2016.
That trend has continued. In 2017 and 2018, chute times dropped to under a minute, currently standing at 54 seconds.