Coffee County Humane Society (CCHS) board member Rosemary Crabtree received a check on the nonprofit's behalf Tuesday morning from Mckenzi Mullins, general manager of Zaxby's in Tullahoma.
The check was the sum of two fundraisers the organization recently held at the restaurant as well as Zaxby's in Manchester. "We were up for a grant given out by the Tennessee Spay Neuter Coalition and had to do two new fundraising activities," Crabtree said. "We had a fundraiser night at Zaxby's in Manchester back in August and another one at Zaxby's here in Tullahoma last month."
CCHS ended up raising enough during the two fundraisers to win the grant from the coalition based out of Rutherford County.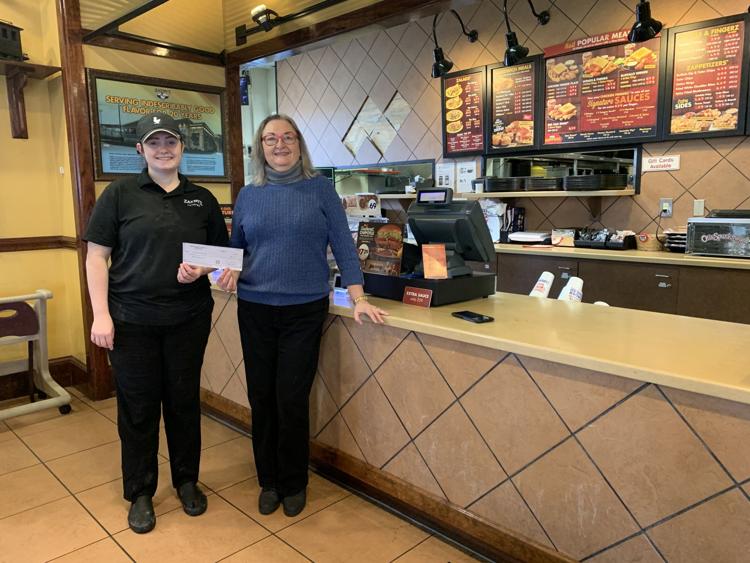 The Tennessee Spay Neuter Coalition offers matching donation grants to groups, providing low cost spay and neuter services or trap, neuter, release for their community. Fundraisers supporting spay and neuter and success stories from groups fundraising are typically shared on their public Facebook page "Tennessee Spay Neuter Coalition." Their hope is that they can "learn, motivate and support each other with their efforts to spay and neuter."
Along with the fundraisers held at the Zaxby's restaurants, CCHS received personal donations via their direct mail campaign, raising a total of $1,537 for spay and neuter. The coalition will be awarding them $1,000 in grant funds for spay and neuter costs.
"We are very thankful for Zaxby's allowing us to have this opportunity," Crabtree said. "We are so excited to have the funds going toward our number-one service which is spay and neuter. We are eternally grateful."
For more information about Coffee County Humane Society, visit their Facebook page "Coffee County Humane Society" and www.coffeehumane.org. The nonprofit accepts donations by mail at P.O. Box 252 in Manchester. There is also a donate link on their Facebook page.