When the members of the Tullahoma High School class of 2019 celebrated the completion of their high school careers, they also celebrated the life of a former classmate who wasn't able to be with them on Friday night.
Saniya Lacole Shanes perished during her freshman year at THS from a house fire that also claimed the life of her mother.
Because Saniya didn't make it to her graduation day, several students and former friends of Saniya decided to take it upon themselves to set up a memorial in her honor in order to include her during the night.
THS Principal Kathy Rose said she had received questions since the beginning of the school year about keeping Saniya included at graduation.
"I said we will not forget Saniya on graduation night," she said.
Traditionally, the school sets out a chair for the fallen student on graduation night, complete with a cap and gown for that student, Rose said. However, the students wanted to do something a little more special.
"One of the students, Felicity Cyree, came and talked to me a couple of weeks ago about what they could do," she said.
Cyree and her friends came up with a memorial ribbon and photo for students and administrators to wear during the night. The ribbons were made available to all interested students during the week of graduation, Rose said.
Additionally, the school ordered a diploma for Saniya, which was given to her aunt, Annette Mosley, in a special ceremony prior to the presentation of diplomas to the rest of the class.
Mosley said the entire night was a special and bittersweet affair.
"I have literally cried all day," Mosley said with a somber smile.
She had no idea the students had prepared an entire memorial to her niece, but she was delighted to see Saniya so cared for.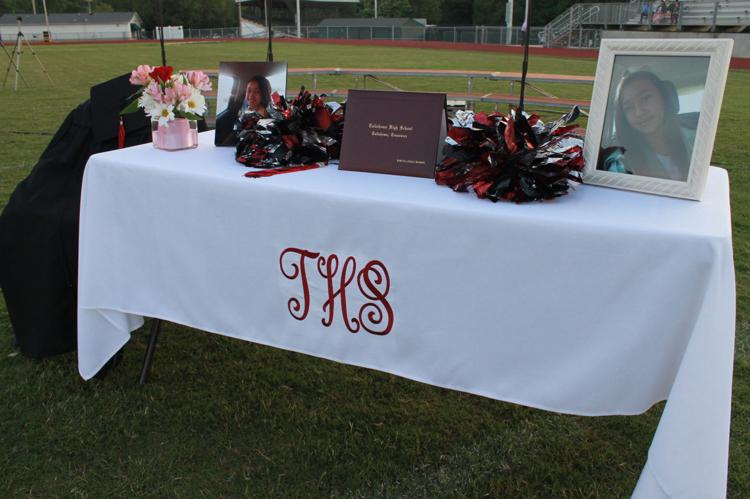 "This is absolutely beautiful," Mosley said. "They said they were going to order her a diploma; I had no idea the students were going to do all this.
The memorial table, which included photos of Saniya, her pom-poms, her diploma and a tassel, was overloaded with flowers, letters and other trinkets laid by students before they received their diplomas from Director of Schools John Carver.
"There's no words," Mosley said of the amount of items on the table after commencement ended. "It is amazing. She's not forgotten."
The 97th commencement ceremonies at Tullahoma High School were dedicated to the memory of Saniya.
See full slideshow of photos from Friday's graduation below: