MLB pitcher to speak Jan. 21
Former Wildcat and current Major League Baseball pitcher David Hess will be back in Tullahoma later this month as the featured speaker at the Tullahoma High School Baseball Booster Club's preseason banquet.
Set for Jan. 21 at the church of Christ at Cedar Lane, the event is open to the public and the hometown sports hero is expected to draw a crowd.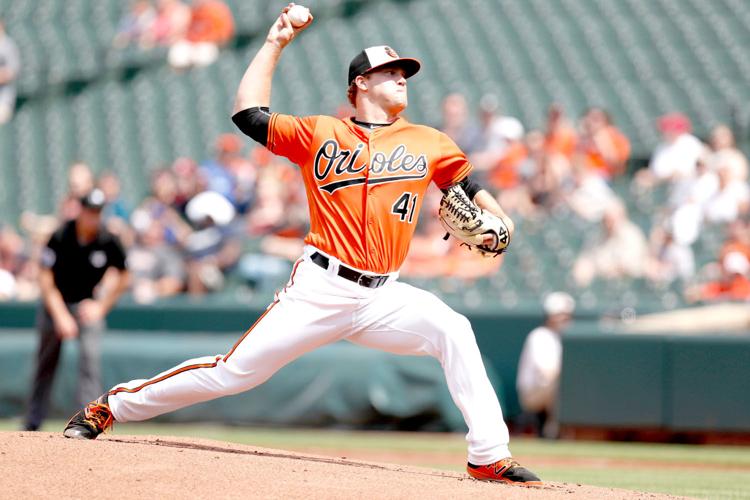 "We are really excited to have David speaking," said THS Head Baseball Coach Phil King. "Just from what I've heard from the booster club, this is going to be the biggest turnout that we've had. Obviously he's a local guy and anytime that you have a hometown success story, to have him back to speak, it's going to be neat."
While Hess will be the guest speaker, he will also be recognized by the THS Baseball team the same night, having his No. 12 jersey retired by his alma mater.
After taking over the helm of the Wildcats' program in 2015, one of the top priorities for King was to showcase the history and legacy of the Tullahoma High School baseball program.
The banquet will serve as continuance of that spotlight, as the THS has already retired jerseys from former Wildcats' Head Coach Jerry Mathis and former THS players Dewon Brazelton and Bryan Morris.
"We are really excited about David. The thing about that night, we really want it all to be about David Hess. I want to hear that message and I hope everybody in town gets to hear that message. We really want to have a really nice ceremony that not only honors what he did here at Tullahoma, but at Tennessee Tech and through his path to the minor leagues and to the majors. Hopefully he'll have one of those careers where we are watching him play for years."
In 2011, Hess graduated from Tullahoma High School, before attending Tennessee Tech. After an electric junior season in Cookeville, that saw the right hander put together a 9-3 record and 3.24 ERA, he was drafted in the fifth round of the 2014 MLB Draft by the Baltimore Orioles.
According to former Wildcats' Head Coach Brad White, Hess is amongst the hardest workers to have ever come through the THS program. White coached Tullahoma for 12 seasons, before heading to Lawrence County in 2015.
"There has never been a harder worker that I've ever been around in 11 years at Tullahoma," White said back in 2014 after Hess was drafted. "If you were getting drafted on who was the hardest worker and highest character, he would have gone number one overall. Obviously, he's a very talented player too. It's just great to see a guy with that type of character get a shot, and get a really good shot, because the fifth round is high."
After getting selected by the Orioles, Hess nearly immediately started his pro career that same summer. That hard work paid off as he was rewarded, earning a spot in the 2014 New York-Penn League All-Star Game.
From there, Hess continued to work toward his dream, including helping bring the Orioles Double-A affiliate, the Bowie Baysox a Carolina League Title in 2015. Until this past May, Hess spent the remainder of his time at the minor-league level.
Hess' dream officially came true on May 12, 2018, when he made his major-league debut at Camden Yards in Baltimore, in a win against the Tampa Bay Rays
Hess shined his first major league outing, putting together a quality start, receiving the win in the Orioles' 6-3 victory. In six innings pitched, he allowed three runs on six hits, while striking out three batters.
After getting off to a great start, Hess ran into problems midway through the season, including not recording a win in June and July, having his previous 2-2 record, fall to 2-5. Hess' finished with an overall record of 3-10 as Baltimore finished with an overall record of 47-115 during the 2018 campaign.
Despite his struggles, Hess finished second on the team amongst starters in ERA. In his 103.1 innings pitched, the righty allowed 56 earned runs, for an ERA of 4.88. Only teammate Kevin Gausman had a lower ERA at 4.43. Hess also recorded 74 strikeouts on the season, while surrendering 37 walks.
After struggling during the midway point of the season, Hess significantly improved in September during his final four starts. He allowed just eight earned runs in 21.1 innings pitched, receiving just a loss in that four game-span.
During the banquet on Jan. 21, doors are scheduled to open at 5:30 p.m. with dinner getting underway at 6 p.m. Hess will speak immediately following the meal.
"He's really excited about coming to speak," King said. "I'm really looking forward to what he can say to our kids … I told him the other night, 'You're an inspiration to a lot of our guys. The idea that you're a local guy and have success, I hope our kids will have open ears and say that, maybe I can do this too.'
"There's no better motivation for my players to see a guy who sat in the same seat that he was in at some point and time," King added. "Maybe if they work hard and do the little things right, maybe they could potentially reach that dream as well."
Tickets to the banquet are $15 or $10 for middle school and elementary school children. Ticket prices include a meal and access to the auctions. All of the proceeds raised will go toward the THS Baseball Team. There will also be a silent auction and live auction taking place at the banquet.
Those wanting tickets are told to reach out to THS Booster Club President Heather Tucker at 931-273-2223. Kathy Langham can also be reached for tickets at 931-607-9392.