After marching through the streets of Tullahoma and performing for residents at Morning Pointe and the city's first responders, the Tullahoma Band Program is more than $20,000 richer, thanks to the annual March-A-Thon fundraiser.
According to Director of Bands Justin Scott, this year's march-a-thon raised more than $20,000 for Tullahoma High School Band students while bringing the community fun pep tunes.
For the past six years, the band program has taken to the streets of Tullahoma, raising money through individual pledges and business sponsorships for the program's students.
During the day-long event, the band travels to multiple neighborhoods and makes stops at the homes of certain special guests for several minutes of pep tunes and show music performances. There are even stops at local businesses, including Walmart, Northgate Mall and more, for the general public to enjoy some marching band music.
Past special guests have included former longtime band directors Max Weaver and Stephen and Marion Coleman, as well as former Director of Schools Dan Lawson.
This year's route included stops in The Fairways and Blue Creek subdivisions, as well as public stops at Morning Pointe and the Walmart parking lot for the city's first responders. The group also made a special stop at the home of Scott Hargrove, the district's interim director of schools.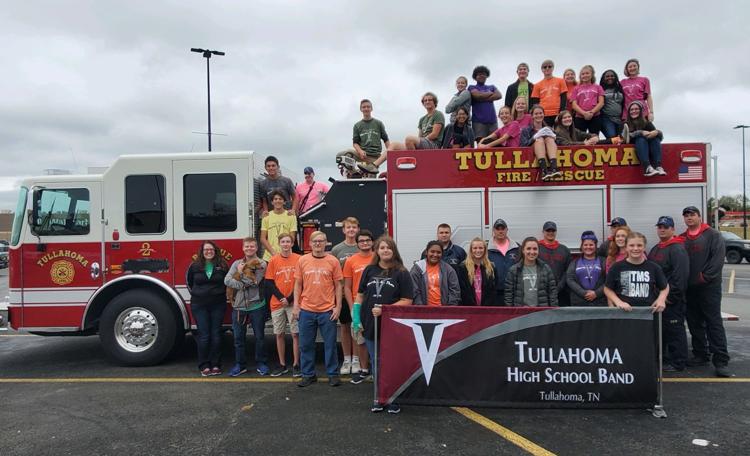 According to Scott, the group tries to rotate which parts of town the band performs in order to reach different members of the community.
"We typically rotate around to different locations," he said, adding that this year the band wanted to bring some fun and community spirit to the Morning Pointe residents and honor those who help protect the community.
Additionally, Scott said this year's event expanded to allow certain middle school students to participate for the first time.
"New this year we invited [seventh- and eighth-grade] band students that are planning to travel to Ireland with us to follow the band and have their own 'walk-a-thon' style fundraiser," he said. "Each of these students raised their own individual pledges just like the high school members."
More than 15 middle school band students were able to take part in the event as a performer, Scott said.
These students were able to raise more than $5,000 for the band's upcoming trip to Ireland in March 2021, Scott added.
Pulling off this event over the last six years wouldn't have been possible without the community and business sponsor support the program has received, Scott said.
"We want to thank everyone who contributed, individuals and businesses, and look forward to another great event next year," Scott said.