Isaiah 1:17 says "Defend the cause of the fatherless." The verse has become the motto and literally the name for creating Isaiah117 House.
In June 2018, Ronda Paulson founded Isaiah117 House in Carter County after having a dream about creating a house for kids who are being placed into homes by the Department of Children's Services.  
"I believe that is what God is calling me to do," said Paulson who serves as executive director. "I believe this home has the potential to positively affect the children who are coming into custody in ways far beyond what we could ever imagine as well as support the DCS staff of this region."
Since its inception, Isaiah117 House has expanded to over 10 counties in Tennessee, including combining Coffee County with Franklin and Grundy County to form as one expansion group.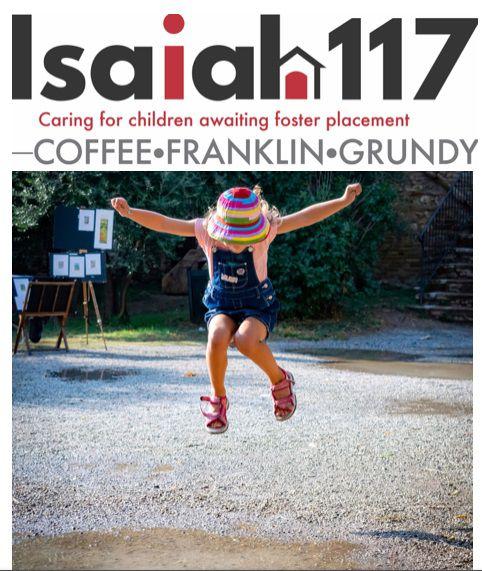 The local contact for the Coffee-Franklin-Grundy expansion group, Susan Johnson, said the reason the three counties are grouped as one is because DCS workers work with either Grundy and Franklin County or Grundy and Coffee County, respectively.
"It just seemed like a very easy thing to do, to combine all three so we can serve more kids. That's the whole goal. We want to serve more kids and DCS workers as much as possible." Johnson said.
Johnson reached out to Paulson after learning about what children go through when DCS takes them from a home and tries to find them a foster home.
"Sometimes kids stay in a conference room, and in Grundy County they are taken to the county jail because we don't have a DCS office. So the way wait can be hours or days," said Paulson.
She talked about the longest stay for a child was almost a week.
"The longest stay was six days for a little girl.  She slept on a cot and DCS staff took shifts with her.  Currently, case workers are trying to meet that child's needs. Their trying to meet that child's needs and trying to supervise the child in a cubical office setting."
Johnson said the idea for an Isaiah117 House is the DCS worker can take the child to the house where volunteers will help with the child while the worker finds a place for the child by completing three steps.
"First, we're trying to reduce that trauma for that child and let them know that they did nothing wrong. Second is to partner with DCS and come alongside them and try to help them with what seems to be an impossible job. And third is we want ease the foster transition."
Johnson said before the child leaves, they make sure the child has supplies that'll last two days before the foster family needs to buy more supplies, as some foster families won't get a call until late at night.
"If it's a school age child, they're leaving with their school supplies, two changes of clothes, and pajamas. If it's a young child, we'll ask the foster family if they need a booster seat, a pack in play. We'll send diapers and formula," said Johnson.
Each house must have a bright, red door according Paulson. DCS said each house has to have a boy's room and a girl's room, a backyard with a private fence and open hallways. Also, there must be an office for DCS workers so they can be in the house. 
The house is designed for children to stay 24 hours or less.  The makeup of the house depends on each case, as in only one case at a time, whether it's a group of siblings or one boy or girl. There will be a program coordinator at the house.
Before the house is open, it must be debt-free and have the first year budget in hand. The house will not be state funded, so Isaiah117 House takes care of the funding so DCS can focus on placing the child.
Cameras are set in the house so the DCS worker can still supervise but the child won't have to wait in an office where they can potentially hear rejection calls.  
"So that child sits there and they're the ones who have lost everything so the message we send to them is that they're the ones in trouble and they did something wrong. So we think our children deserve better," said Johnson.
The expansion group meets once a month with their committees. These committees are T-Shirt, Lemonade Stands, Social Media & Marketing, and Luncheon Committee. Paulson said the plan is each county expansion will have the same committees where T-Shirt Committee is fundraising and spreading awareness while the Lemonade Stand Committee, or Hot Coco and Apple Cider during the winter months, are solely fundraising and social media and marketing.
The luncheon is the biggest fundraising event for Isaiah117 House.
"For six months, the founder believes that when we need to build awareness and it takes six months to that, to truly get out into the community what you're trying to do," said Johnson, "By that point you're hoping that people know all about Isaiah117 House when they come to that luncheon.  They're not coming to learn about it, they already know and are out to support it."
Johnson said getting kids involved helps with spreading awareness about Isaiah117 House.
"It's a great way to get through your whole community and reach a whole a lot of different groups and people," said Johnson.
  The Grundy County Commission donated $5,000 last month and the Grundy County mayor is helping with finding a house. Mayor Gary Cordell has been getting involved to help and recommended to the Budget & Finance Commission to consider donating $5,000 as well.  It will be further discussed at the next meeting in December.
Johnson said the biggest influence of joining Isaiah117 House is because she works with children.
"It's heartbreaking to know what we're doing to them. It's ours as the community to help these kids and help DCS as no one has thought how hard it's on them and they need loving too," said Johnson.  "They deserve to have someone loving on them and that's what will happen at the Isaiah117 House.  Someone will be there to love on them and let them know that they are not alone and someone will tell them that they did nothing wrong."
Since Coffee, Franklin and Grundy County are in one group, it was decided by DCS that Pelham will be the central location for the house to be set up. Someone donated a house to them, but it had to be turned down due to septic tank problems. They are currently looking for a house or land to build a house in Pelham. They only need ¾ to one acre of land. 
The next meeting will take place on Dec. 7 after Breakfast with Santa at the Manchester O'Charley's at 11 a.m. It's open to the public.