A couple of weeks ago, a nine-year-old Staffordshire Pitbull wearing a pink collar walked up to The Tullahoma News office and immediately made friends with many members of the staff. One Facebook post later, the dog's owner turned up at the officeto retrieve her.
It turned out that the dog, Carmen, and her owner John Horst are regulars at Tullahoma Regional Airport. "We were here at one of the hangers and she just took off. That's when she ended up at The News," Horst said.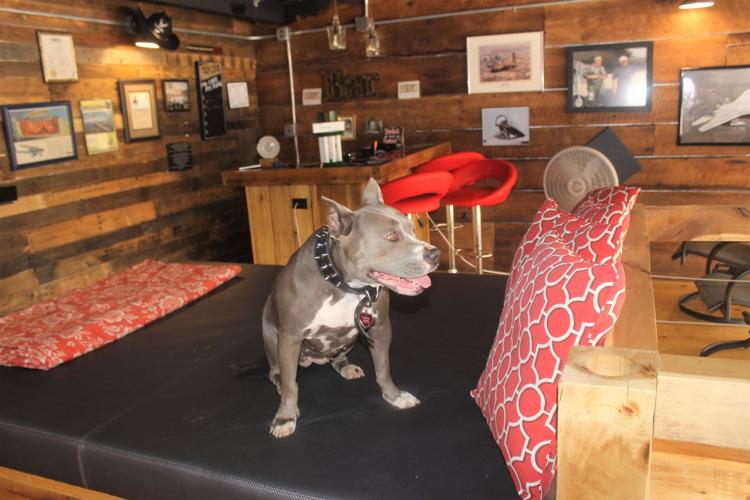 Horst and Carmen spend a lot of time at the airport, where he helped renovate an old hanger owned by Jim Apple. "He is basically my adopted dad," Horst said of Apple. "He took me in and taught me how to fly. He basically took me under his wing and in return, I renovated this hanger for him."
The hanger is designed as a man cave, according to Horst. "It was bought three years ago and in really bad shape. It took me about a year to fix it up," he said. Horst upgraded the hanger with a spacious loft, equipped with a bar and even a queen-sized bed for Carmen to nap on. The walls are decorated with neon signs, mementos and photographs.
On the bottom floor is a Cessna 172 and a couple of rocking chairs facing out of the hanger. The plane is owned by Apple, but Horst is also a frequent flyer. "Carmen and I fly out locally all the time," Horst said. "Our next adventure will be the Experimental Aircraft Association (EAA)'s next fly-in breakfast. EAA has one every third Saturday of the month, and it will be her longest trip in the plane that we have done."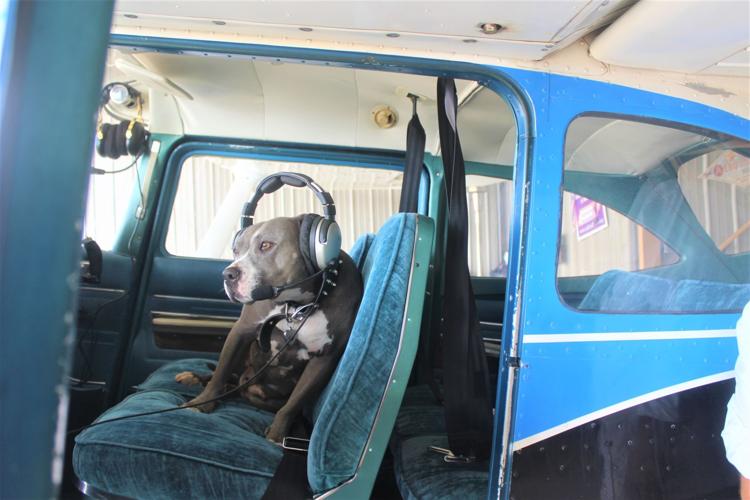 Carmen, who also goes by the nickname "Karma," actually belongs to Horst's girlfriend, who rescued Carmen from an abusive situation as a puppy. As soon as she introduced him to Carmen it was love at first sight, according to Horst. "I had a Staffordshire Pitbull as a child and after it passed away, I never had another dog until I met Carmen," Horst said. "I took her flying for the first time and she loved it instantly. She wasn't scared at all."
"She's my companion and goes everywhere with me. I work in electrical plumbing and she loves to come on the job with me. She's a good dog," Horst said. "When I go to Lowe's, it's hard to do my shopping because everyone wants to pet her. She makes friends everywhere she goes."