There are many scientific adventures that await patrons of the Hands-On Science Center, but one project is also helping a national effort to increase the population of monarch butterflies.
Last Friday afternoon, a small group of volunteers took part in that effort when they released six monarchs into a pollinator garden at Arnold Air Force Base.
According to STEM Coordinator Olga Oakley, the center partnered with the base and the U.S. Fish & Wildlife Service earlier this year to try to help the butterfly population thrive.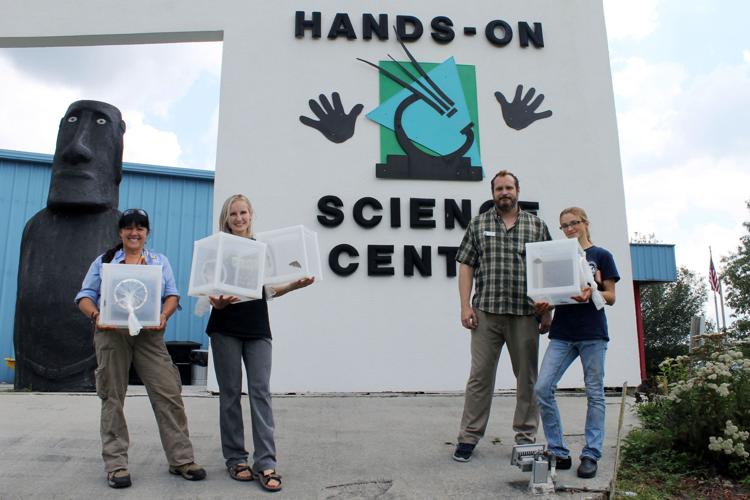 "The U.S. Fish and Wildlife Service is one of the agencies in the U.S. that is real concerned about monarch butterflies," said USFW Biologist Leslie Hay. "In some areas of the country, their populations have gone down by over 90%."
Hay said the goal of the butterfly release program is to "increase their numbers" so that the creatures may thrive and eventually migrate down to Mexico.
According to Oakley, the monarchs came to the center in the form of caterpillar larva in late April.
Oakley said the homeschool classes and the center's summer camp attendees then helped her maintain the larva and grow them into the vividly striped monarch caterpillars.
The center also received some milkweed plants – the sole source of food for monarch caterpillars.
"We received about 32 milkweeds, and we have been feeding them to our caterpillars that we've had," Oakley said.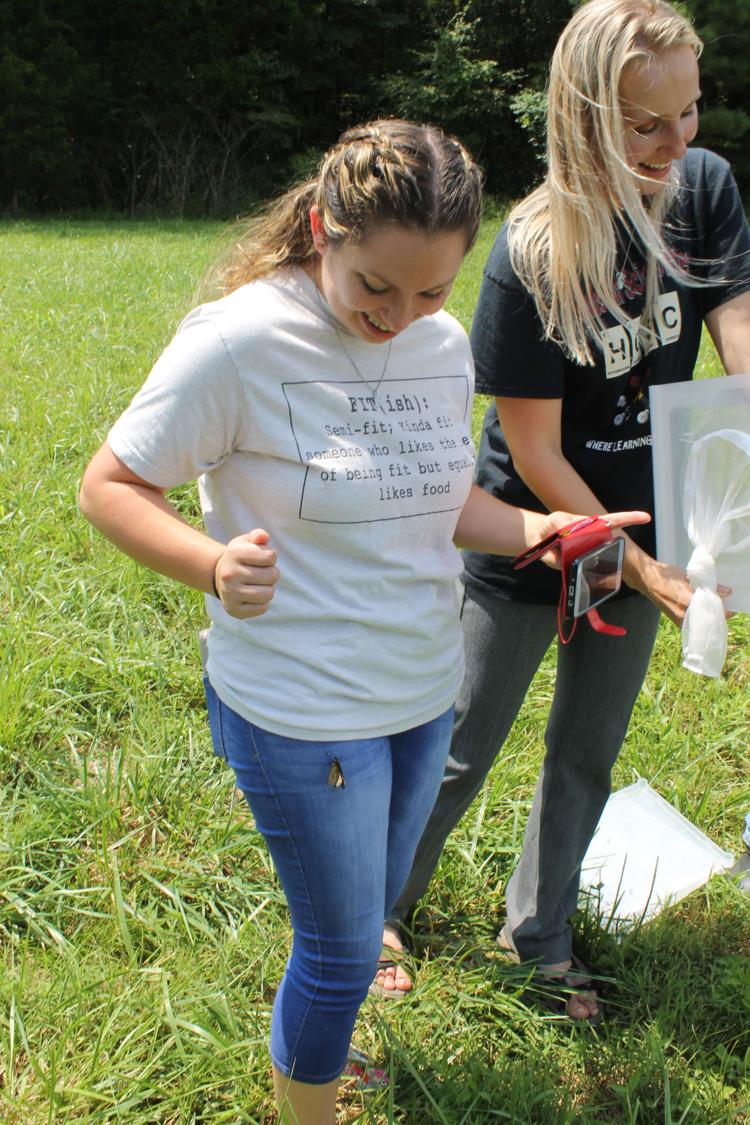 The campers and homeschool students would then help Oakley keep the caterpillar habitats fresh while learning about the butterfly life cycle and the dangers of pesticides.
"The kids were really excited about it," she said. "A few days after we were planting, a lot of the kids … came back to the science center and they were telling us, 'Oh, I saw a butterfly in my yard!' It was really, really dear to hear the kids excited about the small things they could do at home to keep these beautiful butterflies alive."
According to Hay, the base has been a significant ally in the fight for the monarchs.
"U.S. Fish and Wildlife and Arnold Air Force Base have joined together to create and develop habitat for monarchs, as well as other pollinators," she said.
The base, she continued, is "super important," due to its protected areas of forestry – something Middle Tennessee needs more of.
"If you're in Google Maps and you're looking over Middle Tennessee, this whole area is so developed with farmlands and whatnot," she said. "We don't have big patches of forest. Arnold Air Force Base is 40,000 acres – it's a lot of land – so it's very important as a refuge, if you will, for some species of wildlife."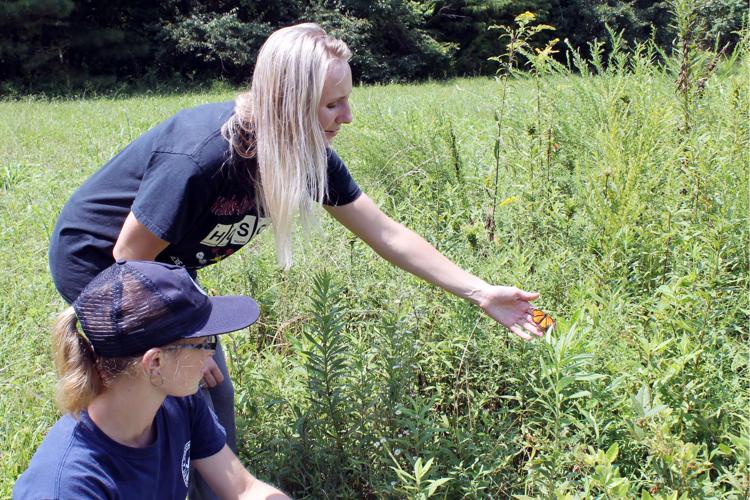 According to AEDC Public Affairs Officer Jason Austin, the base collaborated with USFW and the Tennessee Wildlife Resource Agency (TWRA) two years ago to develop the 9.9-acre "pollinator habitat."
He said the pollinator habitat is a function of the USFW pollinator pilot program.
"The process was basically to clean the field out of invasive species," he said. Through a proscribed burn and "mechanical removal," plant species that would harm pollinators such as monarchs were removed.
Once the invasive species were removed, Austin said, various flora that are beneficial to pollinators were planted. Species include Butterfly Milkweed, Purple Prairie Clover, Rigid Goldenrod, Blackeyed Susan and Rattlesnake Master were seeded on the plot.
By having the pollinator habitat on base, Austin said, Air Force officials and USFW biologists can see what populations thrive in the area.
"We're just trying to understand if it's beneficial," Austin said. So far, he added, "it's doing well."
According to Hay, partnering with AEDC and HOSC has been a successful program.
She called the collaboration between all three partners one of the cornerstones of a successful program, thanking both the science center for its help in growing the monarchs and the base in providing the lush habitat for the pollinators.
"What the Air Force and Fish and Wildlife [service] did … a few years ago to increase the pollinator habitat was very important," she said.
Monarchs are not currently listed as an endangered or threatened species, but Hay said they were "a candidate for listing."
"The Fish and Wildlife Service is sort of projecting out into the future, but it's possible that they'll be listed … by December of this year," she said.
The collaborative effort between the three partners, Hay added, could be one of the small things done to help prevent that listing from happening.
"Thus enter monarchs," into the pollinator habitat, Hay said prior to releasing the six butterflies on Friday afternoon.
In the blazing July afternoon sun, Hay, Oakley and their interns slowly released each of the six fully grown monarchs into the pollinator habitat.
Each one fluttered away into their own personal Eden, searching for flowers from which to collect pollen.
The release was not without its tense moments, however, as one butterfly floated toward the grass by the road.
That release made Hay nervous, as she was hoping for all the monarchs to head immediately toward the habitat rather than the road.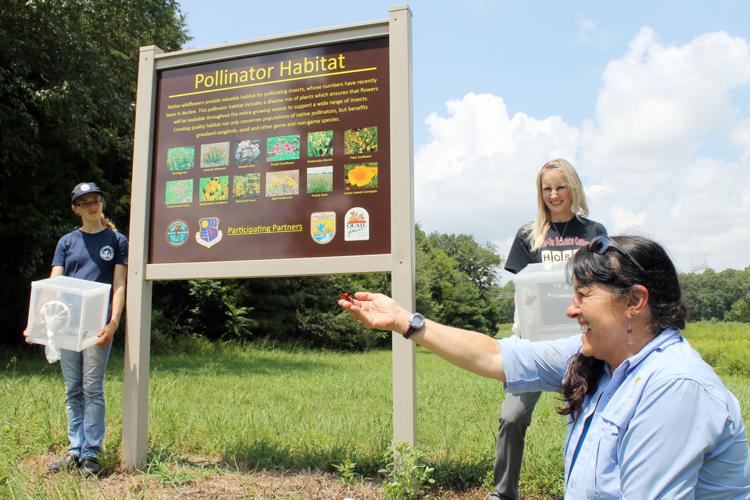 But seeing that each of them were flying on their own with no assistance was a success for Hay.
If each butterfly could fly perfectly out of their temporary homes, Hay said the group had achieved its goal.
"As far as these guys [go], they're all flying good," she said with a smile.
The work isn't necessarily complete now that the butterflies have been released, Hay said.
"We know that the butterflies are going to migrate south," she said. "They migrate … around September, because they're leaving the cold temperatures."
When that time comes, Hay said, USFW will return to the pollinator habitat in order to tag and record a number of butterflies before they all migrate south to Mexico for the winter months.
"We will be coming back out here in September and catching butterflies, and we have little tiny tags that we will put on their wing that has a number on it," she said. "Those butterflies will be tagged from Arnold Air Force Base and then, as they're migrating south … when they're stopping over – it could be in Louisiana; it could be Texas – then people will catch them and record that number and call into the Monarch Watch hotline."
Monarch Watch, according to Hay, is a nationwide monarch butterfly conservation project that assists in propagating monarch populations.
That is when the real excitement will begin according to Hay.
"That's what we're all so excited about, is we're releasing butterflies into this population here, and in only a few months, when the next generation or two generations are heading south, we'll catch them and tag them," she said.