A new crop of anglers is forming at East Lincoln Elementary School, according to school officials.
The young Eagles will have an opportunity to learn all about fishing – from proper casting techniques to the biology of fish and beyond – thanks to a partnership with Tennessee Wildlife Resource Agency and Tennessee Bass Nation.
According to East Lincoln P.E. teacher Jeff Hale, third, fourth and fifth graders will spend some time during their P.E. class to get in touch with their outdoorsy side and learn how to fish.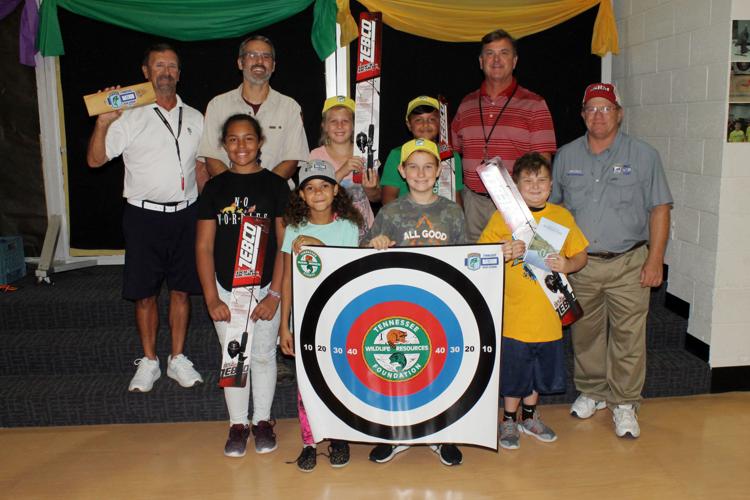 Hale said he and Jake Davis, the man in charge of the middle and high school bass fishing teams, collaborated on bringing a fishing program to the elementary schools.
"We're going to be a pilot program in Tennessee," Hale said. "One out of 10 schools are participating in this. It'll be a three-year program and then hopefully it's going to get started and go on into the other schools in Tennessee."
According to Hale, there will be both an in-school and after-school facet to the fishing in schools program.
During school hours, the third, fourth and fifth graders will use some of their P.E. class time to learn all about the "fundamentals" of fishing, including property safety measures when out on the water. There will also be an after school component made up of a "select group" of students through a 21st Century program, Hale said.
Last Tuesday, Davis and Jessie Taylor with TWRA took $400 worth of fishing equipment and activities to the East Lincoln physical education classes so they could begin the program.  
According to Hale, the students will start out with very basic information, such as casting, knot tying and identifying the different types of fish in the area and the environments they survive in.
"It'll teach life skills for fishing," Hale said.
When it comes to the curriculum of the program, Hale said he and Davis looked at an already-established program in Oklahoma for inspiration.
"Oklahoma has this program going," Hale said. "It's been going a while, so they're going to take that curriculum from Oklahoma and they're going to turn it into a Tennessee curriculum."
When he was researching the program, Davis said other programs involved more fly fishing than bass fishing.
"We don't do a lot of fly fishing in this area," he said, so he worked with TWRA to "come up with a program based on what goes on in this area."
Certain things will need to be tweaked in order to align the program with the standards set by the Tennessee Department of Education, but overall the program will function similarly to Oklahoma's program.
There will even be a few group outings sprinkled throughout the program, according to Hale.
"We're looking at doing some things through TWRA like going to the fish hatchery for a field trip," Hale said. Other possibilities include going on some fishing trips with the high school bass team or learning how to clean and cook a fish they've caught.
Davis said he was excited about the possibility of growing the sport in Tennessee.
"Fishing just isn't where it should be," he said. "What we can do is grow fishing in Tennessee. We've got all these beautiful lakes. What we're trying to do is grow that number [of anglers] in future years. It has to start now, with a basic introduction."