There's a new farmers market in town, and its new home is the grounds at South Jackson Civic Center.
Farmers Market Tullahoma is officially operational from 4 to 7 p.m. on Monday nights at the center, according to market officials.
The city's second weekly market was the brainchild of local resident David Clark and Lynchburg's Lynn Atkielski, who met at the Wednesday morning Food Fair at Trinity Lutheran Church.
According to Clark, he wanted to see if the city could get something going for working people and families who weren't able to attend the Wednesday morning market.
"It's just kind of something that you look around and see that we needed," he said. "I just got the idea that we needed to have one to appeal to a broader section of the community."
He contacted Mayor Lane Curlee to see if the city's main representative would be interested in it.
Curlee told The News he loved the idea, as it wasn't just to be a food-mart. Instead, the idea was floated to make the new farmers market more of a family activity center, with "music, games and more."
At first, the market was set up in the parking lot of Tractor Supply Company on Saturday mornings, but the decision was made to move the time and location of the market in order to allow more people to enjoy it.
"We think this really could be a community gathering social space, so we really want to do more to offer arts and crafts and maybe some cooking demonstrations so people see about eating healthy and cooking the fresh produce when they're at home," said City Administrator Jennifer Moody, who was at the market Monday night.
For now, the vendors will line up just as they do at Trinity Lutheran, with their tables and shade tents set up behind their vehicles, while the Tullahoma Parks and Recreation department plays some music for patrons to enjoy.
By having the market in the evenings, Curlee said more people in the community could take advantage of it.
And by the looks of it Monday night, the time slot and location are going to work well for the new market.
"It looks like it's going to be really good," Clark said.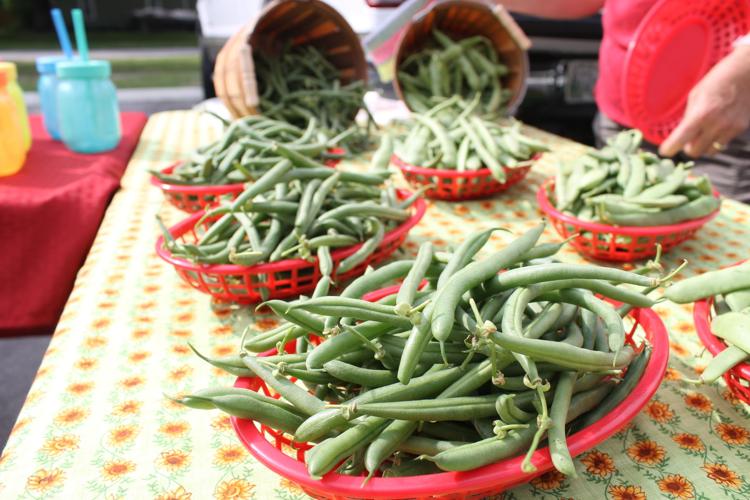 According to Atkielski, 14 vendors lined up to sell their wares during the first Monday night market.
More vendors and farmers are welcome to come by, including all those who attend the Wednesday morning market.
"Oh, we invited every one of them over here," Akielski said of the Wednesday sellers. She added that even those who regularly attend the Franklin County farmers market on Friday and the Lynchburg market were invited to come to South Jackson and offer their items to the people of Tullahoma.
Anyone interested in joining is asked to call Atkielski at 931-247-5493.
"They're welcome to be here," she said. "We have plenty of space. Give me a call."
If you do visit the market, snap a picture and tag it on Twitter or Instagram with #FarmersMarketMonday and tag The News as well. We may share your image.