Downtown Tullahoma will be getting a new shop, courtesy of Prescott Bottling & Distributing Company.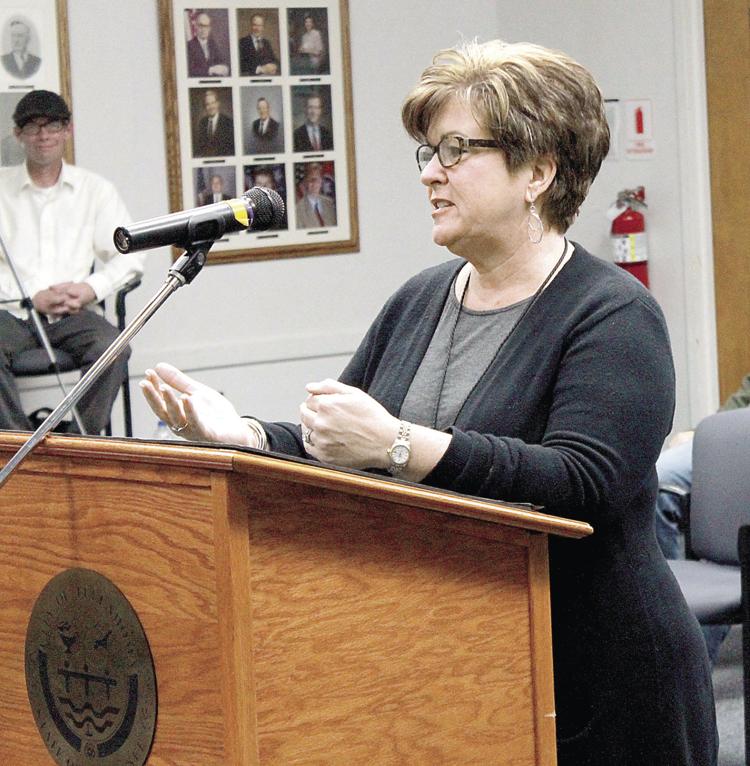 The upcoming Sun Drop Shoppe & Luncheonette, run by Prescott Bottling Director of Marketing Paige Prescott Lashlee, is tentatively scheduled for a late March opening, according to Lashlee.
The Tullahoma Board of Mayor and Aldermen unanimously approved a $200,000 Urban Development Action Grant (UDAG) loan Monday night for Lashlee and Prescott Bottling, which will help Lashlee get the business up and running in the downtown area.
According to Lashlee, the loan from the city brings her father, David C. Prescott, one step closer to fulfilling that dream.
"My dad for years has wanted to open a restaurant in Tullahoma," Lashlee told the board Monday night.
She and her father had looked into a variety of ways to make that dream a reality, she said, including "building from the ground up" and bringing an established business into town, but Lashlee had a different idea.
"With everything that's going on with the resurgence of downtown," she said, "I said to Dad, 'Why don't we remodel a building we already own?'"
And that's precisely what she is going to do.
According to Lashlee, the new soda shop will be located directly next to Prescott Bottling, at 217 NW Atlantic St.
Lashlee has already spoken to a construction company about her vision for the new eatery, she told the board.
"Basically, I want it to look like Mr. Gower's drugstore from 'It's a Wonderful Life," Lashlee said. "We'll have a beautiful cherry back bar with quartz countertops with the built-in seating."
There will be merchandise for sale, she said, as well as a full-service soda fountain, various sodas, ice creams and sundaes and sandwiches.
Also for sale, Lashlee said, will be her signature Sun Drop cake, for which she's currently perfecting a George Dickel Whisky glaze.
According to a memo regarding the new business, UDAG loans are provided to businesses and municipalities that seek to improve economic development, specifically in relation to job creation and retention.
The city's UDAG Revolving Loan Program was established in 1981 through an Urban Action Development Grant from the U.S. Department of Housing and Urban Development (HUD).
Since that program's creation, the city has made 36 such loans, primarily in industrial job creation or retention. Loans are made for up for 10 years at 4 percent below the prime interest rate, adjusting annually, to go no lower than 1 percent.
According to the memo, Lashlee's UDAG loan funds would be used to "renovate downtown commercial property," which is one of the HUD-approved uses for UDAG funds.
"The new business will not only create 10 new jobs in Tullahoma but will also contribute to downtown foot traffic by providing a unique family dining option," the memo states.
According to Lashlee, her entire waitstaff will be made up of Motlow students earning college credit.
"I'm working with Motlow to develop a co-op program to hire only Motlow students as my waitstaff," she said. "We'll train them on different aspects of working in the restaurant business, and they'll write a paper for their class and receive class credit for the time that they're working for us."
Lashlee said she expects the new soda and sandwich shop to be open in late March, so long as all the loans she has applied for come through.
The shop, once open, will operate from 10 a.m. to 5 p.m., Lashlee said, though as the business grows she would look into alternative operating hours.
"We decided that, as we expand, if the public calls for it, we might consider opening for breakfast," she told the board.
 "I think Tullahoma does need a breakfast spot," she said.
For now, however, Lashlee said she is looking forward to opening the lunch spot next spring.
"We're looking forward to being part of the downtown community," she said.
Lashlee said she is currently looking into the possibility of a downtown sandwich delivery option for the shop, though nothing is set in stone just yet.
"I'm really excited," she told the board. "I love Tullahoma."