Michael Jackson fans throughout the community are invited to the 15th annual HIStory Told by Her tribute to the King of Pop this weekend.
Catherine Murray, owner of local favorite printing shop McMurr's, will put on the latest iteration of the annual tribute at 7 p.m. Saturday, Feb. 1 at South Jackson Civic Center.
According to Murray, the inspiration for the show came from her deep-seeded love for all things Michael Jackson and a desire to get more people involved with fun activities.
"I was at Farrar Elementary one day at a program, and all the parents were talking," she said. "I thought, 'Why are they all talking? Nobody's paying attention.' [It was] because they couldn't hear!"
After that, Murray said she decided to put on a fundraiser for the school to get some new sound equipment and wanted to incorporate Michael Jackson music.
"The only thing that I enjoy and love is Mr. Jackson performing, so it came out of that," she said.
Murray said she got three Farrar Frogs to help her, as well as a few adult volunteers and was able to put on a show and raise the money necessary to help her beloved school.
As for the name of the show, Murray said it's also a derivation from Jackson's music.
"He has an album called 'History,' so what I played on was 'His Story,' by 'her' meaning me, and there's narration in between [songs]," she said.
The show is a musical journey through the life of Michael Jackson, starting with his roots in The Jackson 5 and going through Jackson's life.
"The narrator talks about different things about the songs and different things about him," she said.
The show hasn't left its charitable roots, either, Murray said.
"It's always for charity," she said.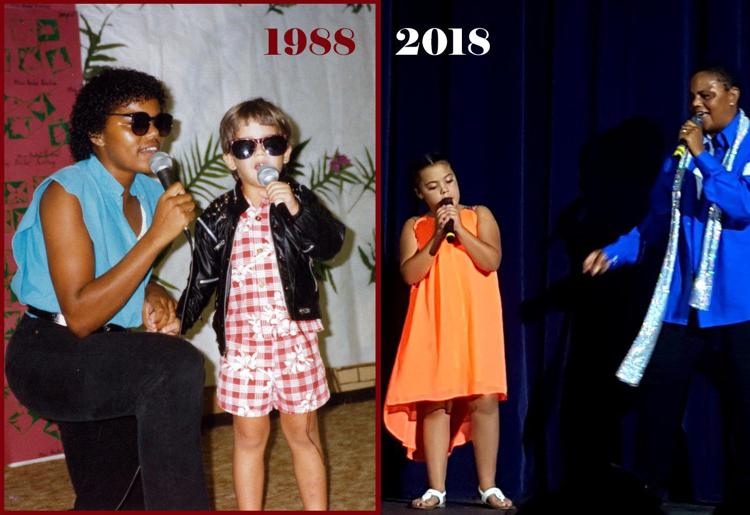 Past performances have benefitted a wide range of nonprofit organizations or schools, including Jack T. Farrar Elementary School Robert E. Lee Elementary School Special Needs class, Horse Play Inc., the Literacy Council and Alzheimer's Tennessee.
This year's beneficiary is CASA Works Inc., which assists children going through traumatic situations at home. An acronym for Court Appointed Special Advocates, the group trains volunteers to assist children who have been abused at home, giving them a voice in the juvenile court system.
According to Murray, she always reaches out to different organizations each year to see if they would be interested in partnering up for the year's performance.
Once she has a partner, Murray said the organization is only responsible for selling tickets to see the show. Should they want to do more, such as placing ads in The News or online, they can, but Murray only asks them to sell the tickets.
All the proceeds from the performance are then given to the charity, Murray said. Whether the total amount is $500 or $5,000, Murray said any amount helps these local organizations, and she's glad to help however she can.
"The most important thing, to us and to the kids in the show, is that after all this time and hard work that we have people in the seats," she said.
By seeing people come to support the show and the cause, all the performers learn the value of helping others.
"I like that it clicks in their heads that we're helping people," she said. "It's really cool to watch them, show after show after show, to see that click."
For tickets to this weekend's show, contact Murray at 461-0034 or stop by McMurr's at 101 W. Ogee St. Tickets are also available at CASA Works Inc, 1301 E. Carroll St., or by calling 455-7426. Cost is $15 for all. South Jackson Civic Center is located at 404 S. Jackson St.