Laughter, excitement and the sounds of unwrapping presents filled the air at the Skills Development Services of Tullahoma (SDS) on Thursday.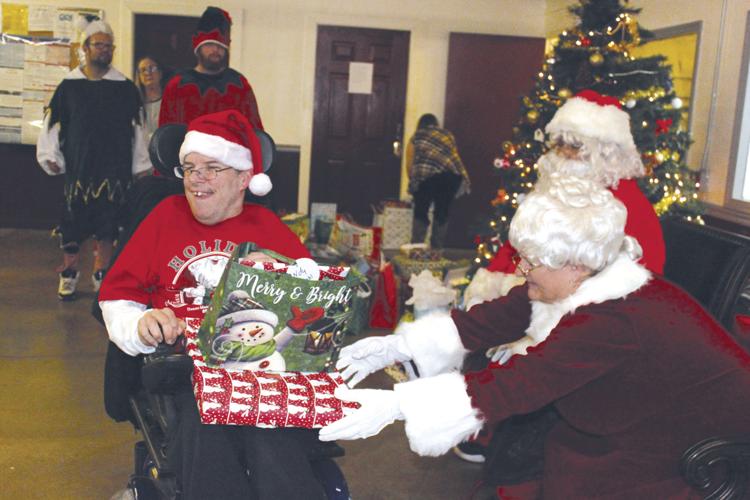 SDS provides assistance for individuals with intellectual and developmental disabilities and their families.
Santa stopped by the agency for a special visit and brought each client of SDS a gift, thanks to the Tullahoma Housing Authority (THA). THA provides housing for low-income families in Tullahoma.
Mary Phillips, resident services coordinator for THA, was excited for the opportunity to help with the Christmas party. She said enjoyed seeing the smiles on the faces of the SDS' clients.
THA has organized the holiday celebration for more than 10 years, said Phillips.
"This has been a community service project for the Tullahoma Housing Authority," Phillips said. "We give back to the community, and we just love it."
When the initiative started years ago, THA employees cooked a meal for the members of SDS, but the last several years, to avoid choking hazards, the structure of the event changed a bit.
"We decided to do Christmas gifts with Santa," Phillips said. "The Grinch has been here before, too. We give them gifts and make them happy."
The clients of SDS don't want much and are very appreciative, said Phillips. The biggest joy comes from receiving the gift and unwrapping the boxes – what's inside is not that important, said Phillips. 
"Some of them just want coloring books, flashcards, baby dolls," Phillips said.
The funds for the project come from the resident services coordinator's budget of THA.
"And if I run out of money, donations help," Phillips said.
The Christmas party at SDS brings joy not only to the recipients of the presents but to those who provide the gifts, said Phillips.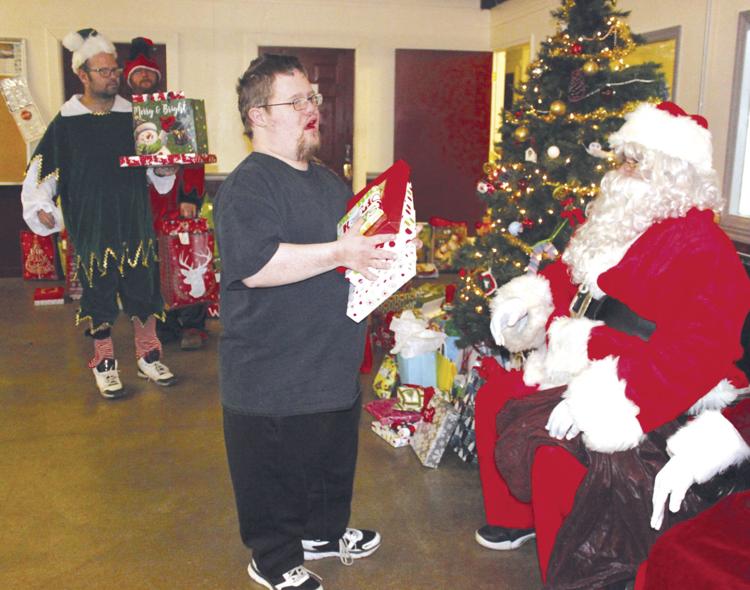 "I get so emotional," Phillips said. "This is the true meaning of Christmas. You come and see people with disabilities, and they really want a coloring book and they are so happy to get it."
THA also organizes holiday events for the children at the housing authority. THA owns and operates 270 apartments in five complexes within the city, providing homes for low-income families, the elderly and individuals with disabilities.
Dossett Homes has 88 units and Whispering Oaks has 40 apartment units. Both complexes have community centers offering after-school homework assistance programs and year-round activities for the children. THA also operates Carver Homes, Autumn Manor and Cedar Lane Village.
"We work with children that have nothing," Phillips said. "During the holidays, we try to get our children bicycles and toys."
It's heartwarming to see them "be so happy over a coloring book, a pack of crayons or a hat," said Phillips.
Amanda Bohanan, a member of AmeriCorps at THA, also helped with the Christmas party at SDS. Bohanan contributed financially and donated her time.
Often, today's society is about receiving, said Bohanan.
"It should be about giving," Bohanan said. "Let me give. Giving teaches a very strong value as a person – to want to give instead of receive. What you get in return is more than what you actually give."
Amelia Majors, administrator at SDS, thanked all who made the event possible.
"Santa is a longtime employee, James Steele of Skills Development Services," Majors said. "He was excited to do it."
The SDS members look forward to the party every year, said Majors.
"Our clients are so appreciative," Majors said. "We help them make the list. We ask them, but they don't care what they get. It's not about what they get. They just want to be a part of the celebration and to have something to open. That's the highlight of their day – Santa coming and the Tullahoma Housing Authority bringing in presents."
Majors said the experience is humbling.
"This is the meaning of Christmas," Majors said. "I want to thank the Tullahoma Housing Authority on behalf of Skills Development for every year delivering for the folks we support here. We thank THA from the bottom of our hearts."
A nonprofit organization, SDS was created in 1978.
The agency focuses on providing residential and day services to people with developmental disabilities.
SDS of Tullahoma serves about 70 clients.
The organization's mission is to help individuals with developmental disabilities become and remain as independent as possible.