Skills Development Services (SDS) strives to provide jobs for its clients.
SDS is a nonprofit serving individuals with developmental disabilities in Coffee County.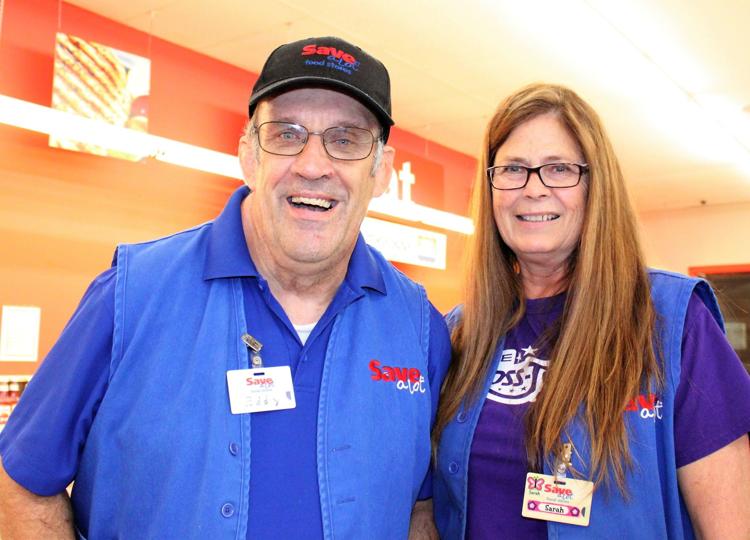 The organization aims to help its clients become and remain as independent as possible, and one of the ways to achieve this goal is through securing employment, said Amelia Majors, administrator at SDS.
Partnering with local organizations
SDS has partnered with several local businesses and agencies that provide work opportunities for the organization's clients.
Majors thanked Save-A-Lot, Sun Studio Tanning and the Department of Human Services (DHS) in Manchester for joining the efforts to help individuals with disability gain independence.
"Eddy Driver works at Save-A-Lot in Manchester," Majors said. "Eddy has been at Skills Development pretty much his adult life. He has worked at Save-A-Lot for more than 10 years. He works about six hours a week."
At Save-A-Lot, Driver organizes items on the shelves, discards empty cardboard containers and cleans the store.
Sun Studio Tanning and DHS have also offered jobs to SDS clients.
Majors urged more local businesses and agencies to help.
"Not only is it giving back and helping someone gaining independence by being employed but it also is good labor," Majors said. "Our individuals are attentive; they want to learn job skills; they don't want to miss work. Businesses don't have to worry about our clients calling in."
"Having a job gives individuals with disabilities value to life. It gives them responsibility and independence."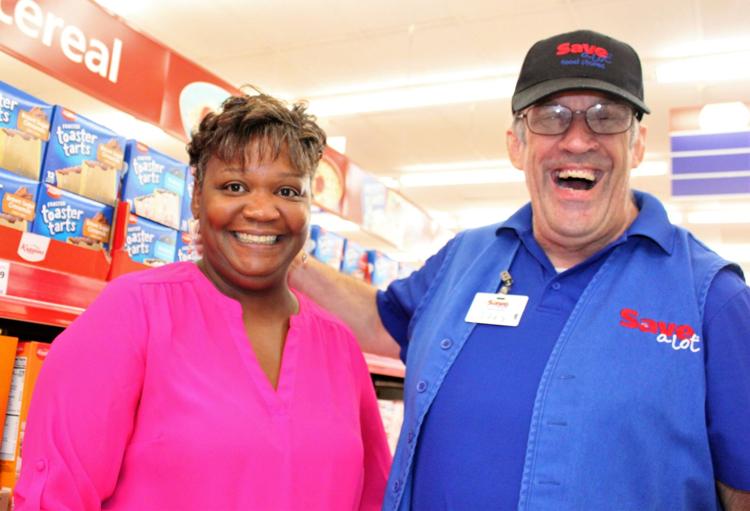 Hiring SDS clients ensures having reliable employees, added Majors.
"It also helps the company because it looks good – you are giving back," Majors said. "You are helping someone who can't do the job by themselves but needs a little assistance from someone else, and that's where the job coaches come in."
Job coaches help SDS clients with their tasks.
"Great Skills Development employees – we call them job coaches – will be by their side making sure the job is getting done," Majors said.
"We have a great employment team."
Driver's job coach is Eddie Medley.
"As specialist job coaches, we go out in the community to seek appropriate employment based on the client's skillset and interest," Medley said. "The primary thing is to find a job that meets the individuals' interests and their skillset. If they have an interest, we can teach them, and that's part of the work we do."
Sarah Alford, Save-A-Lot assistant manager, encouraged other local businesses to hire individuals with disabilities.
"Eddy comes in three days a week and straightens the store," Alford said. "He looks forward to this more than anything. We all love Eddy."
Hiring individuals with disabilities
Majors encouraged local businesses to join the effort and hire individuals with disabilities.
They are capable of succeeding at various jobs and accomplishing a variety of activities, according to Majors.
"It depends on the person," Majors said. "We have some people that are interested in the restaurant business. Some like to clean. Some want to be secretaries, so they want to do some filing. We have individuals who like to work in the retail business, carwash business."
To learn how to hire SDS clients, call Majors at 931-393-3840/106.
SDS was created in 1978 as a result of a merger between Coffee County Skills Living Center and Coffee County Skills, which focused on providing residential and day services to people with developmental disabilities.
Since then, SDS has become one of the largest community-based agencies in Middle Tennessee.
The agency serves Coffee, Bedford and Lincoln counties.
SDS is a nonprofit organization chartered by the State of Tennessee and governed by a board of directors serving on a volunteer basis.
The organization's mission is to help individuals with developmental disabilities become and remain as independent as possible.
Find SDS at 704 S. Washington St.
For more information, call 931-393-3840.