Imogene Smith was born in Midway, Greene County, in 1930. She has been a member of the Coffee County Senior Center for 20 years. She moved to Tullahoma in 1951, after visiting a cousin stationed here in World War II, and falling in love with the town.
She met and married her husband in 1953, and began working for Wilson Sporting Goods, sewing baseballs out of her home and taking care of her first daughter.
She also worked at Tullahoma High School as a cafeteria worker.
In 1972, she went on to become a supervisor at Life Care Center of Tullahoma. She worked there for 38 years, retiring in 2003 at age 81. She has two daughters, two grandchildren and two great-grandchildren. She has been a member at Highland Baptist Church for almost 30 years.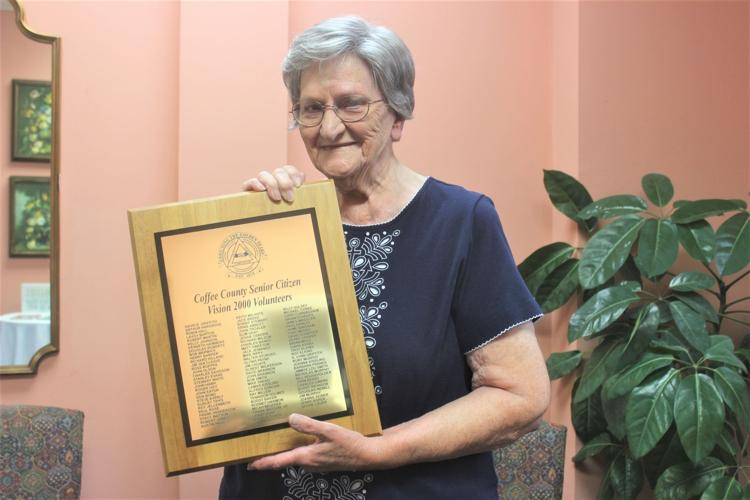 Smith started going to the senior center in 1997, working in the cafeteria and assisting with their "Meals on Wheels" program before her retirement. After that, she continued going to the center every day to participate in activities and visit with friends. She can be found at the front desk on some mornings, greeting anyone who comes into the center.
"It is a home away from home," she said.  "We have a place here to come to, we can chat, visit and eat if we want to. We enjoy each other's company. We are all friends here."
Her favorite activities at the center are playing the card games Hand & Foot and Rook. She also enjoys the exercise program offered three times per week.
Smith's favorite memory at the center is of the surprise 85th birthday thrown by her two daughters, who invited all of her friends and family to celebrate.
"I will never forget that day," she said. "I was so surprised, I wasn't expecting it at all. It made me feel loved."
Executive Director Vickie Fulmer said Smith "is a natural saleswoman when it comes to fundraising for the center. She can sell a dirty sock at a yard sale. She knows everything about this place. She knows the history and how special it is."
The Coffee County Senior Center, a nonprofit organization that receives state and federal funding, welcomes any citizen age 50 and older. The center offers a $25 membership and has 170 members, but the fee is not required to enjoy everything the center has to offer, including various daily activities such as bingo, lapidary, poetry, art groups, Tai Chi, knitting, weaving, crochet, ceramics and, Smith's favorite, card games.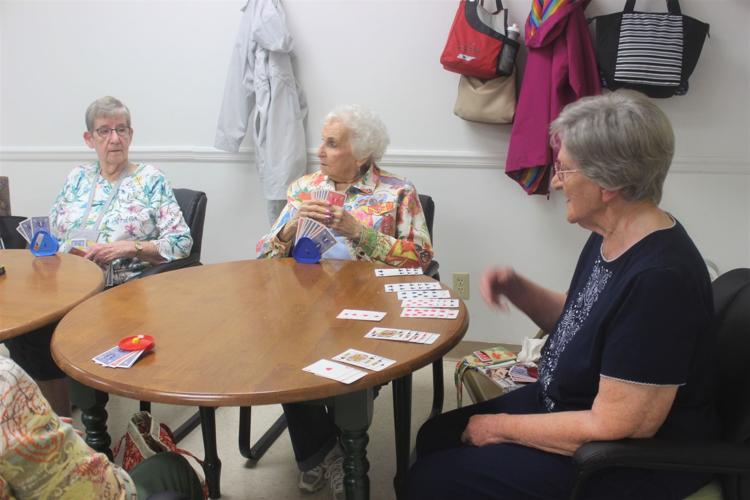 The center also offers line dance classes, with beginners' steps and intermediate lessons available.
Daily, 147 senior citizens walk through the door.
"I want this center to feel like their home away from home," Fulmer said. "I want them to know that this is their place and that they can feel like they belong here," Fulmer says.
The center also plans getaways for its members, including the upcoming trip to the Nashville Greek Festival and a holiday trip to The Biltmore Estate in Asheville, North Carolina, in December. Various events and holiday parties are held throughout the year, including gatherings for Thanksgiving, Christmas and Christmas in July.
Find more information about the center's calendar of activities at the front desk, 410 N. Collins St. or by calling the office at 931-455-2504.
"They do not know what they are missing," Smith said of people who have yet to visit the center. "We'd love to have them come and join the family."