While severe storms Wednesday evening lasted less than half an hour, the damage they wrought will likely linger in town.
The storms brought with them 60-mile-per-hour straight line winds which ripped roofs from buildings, tore trees from the ground and toppled power lines and utility poles all over town Feb. 12.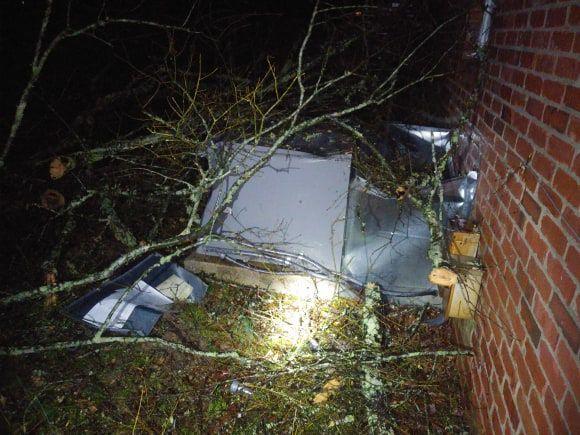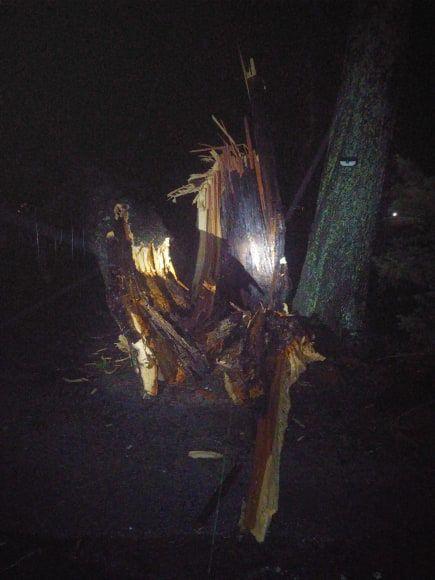 Multiple areas of town lost power - some for multiple hours - while emergency and utility crews were dispatched to take stock of the damage and begin cleanup work.
According to social media posts from Tullahoma Utilities Authority, Wednesday evening was an all-hands-on-deck situation, with all lineman crews called in to get to work restoring power to electric customers.
"We have called in all of our electric crews as we have widespread power outages. Lots of tree limbs down and even have a pole down on one of our main circuits," the utility authority stated.
TUA said outages were reported in the Ovoca Road/Forrest Drive, Ledford Mill Road, Carroll Street, Sharondale, Lincoln Street/Grundy Street/Roosevelt Street/Warren Street, Stone Boulevard Deery Lane/Fawn Street and Fleming Street areas, though outages were not limited to these areas.
By around 10 p.m., TUA President Brian Skelton told The News crews had managed to reduce outages to around 250 customers. Full estimates of how many customers experience an outage was not available Wednesday night. Skelton said this information would not be available TUA officials reviewed things Thursday morning.
Downed trees caused travel headaches all over town, prompting Tullahoma Fire Department crews to work in sections cutting up larger tree parts and removing them from where they fell.
One East Lincoln Street tree fell atop power lines and landed in the westbound lane of the road directly in front of East Lincoln Elementary School, while other trees blocked portions of Westside Drive, the Westwood area and more.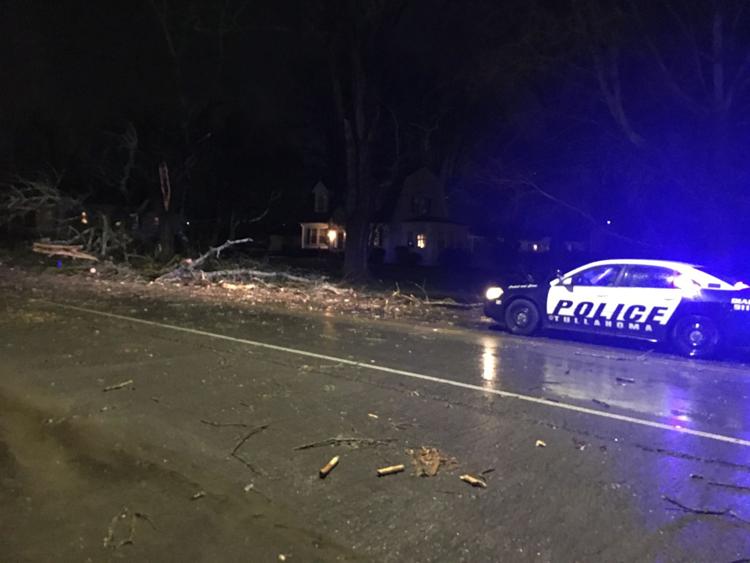 Another large tree fell onto power lines by First Baptist Church, causing problems with multiple utility poles on East Grundy and East Lincoln streets. Tullahoma Police officers and TFD crews had cordoned off the block while utility crews worked to right the poles and pick up fallen power lines.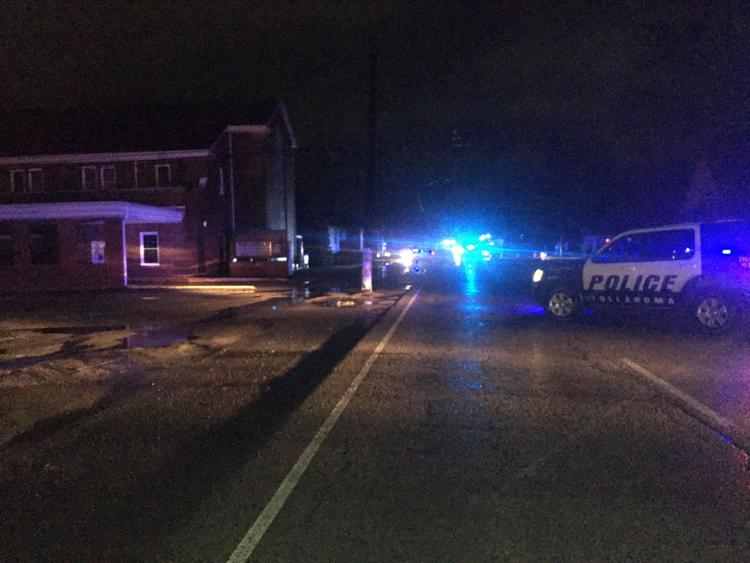 The storms left significant damage at Damron's restaurant at the corner of East Lincoln and South Maple streets. The entirety of the roof was ripped from the building during the storms, with the majority of the metal landing across the street in a parking area for the restaurant. Another portion of the roof ended up trapped on a power line and transformer located right next to the building.
Damron's crew members and friends were taking stock of the damage to the interior of the building at around 10:30 p.m. The most pressing issue was water damage, according to one volunteer.
Additionally, a mobile home on East Grizzard Street was nearly bisected by a fallen tree that had been almost completely uprooted. The tree roots had pulled up chunks of asphalt of the road next to it. There were no reports of any injuries from this incident or any other damage spots in town, according to fire officials.
Even the railroad crossings downtown suffered damage as several crossing caution bars were crumpled by the winds. CSX crews spent several hours testing the crossings downtown in order to determine the extent of the damage. 
All crossing bars had been repaired by the morning.
While emergency crews were able to clear out several areas, including East Lincoln and East Grundy streets, the totality of the damage will remain unknown until further investigations can be completed.
As of 6 a.m. Thursday morning, TUA reported all known outages electric outages had been repaired, though some internet customers were still without service.
"Our fiber splicers have been working overnight since 8 p.m. last night," the utility authority state on its Facebook page at around 7 a.m.
Fiber splicers had set up a command post at First Baptist Church in order to splice a 96-count fiber that had broken due to a fallen tree, the post stated.
Once the rain moved out and day broke, members of the community came together to try to piece back what was left of their homes and businesses.
Paul Householder of The Seafood Place posted a video on Facebook asking area residents to donate money, time or both if they were able to assist in the recovery efforts at Damron's.
Householder said he would have a donation spot set up inside his restaurant, which is open Thursday, Friday and Saturday, for those who could help monetarily.
While he was sure banks and insurance adjustors would be involved in the recovery efforts, if people could donate as much as $5 to the cause, it would help the Damron's "get back on their feet."
"The community really needs to come behind Gloria and help her out," he said in the video.
For those who may not be able to donate financially, Householder suggested donating time and labor.
"If you just have a skill, maybe, and you can donate an hour of time, or if you have some ceiling tiles from projects you've done, we could always use ceiling tiles," he said.
Anyone who may be able to assist in the recovery efforts is encouraged to message The Seafood Place on Facebook.