Last weekend saw a milestone for South Jackson Civic Center's annual down-home country show "South Jackson Goes Country."
The show, one of the first productions ever presented by the South Jackson Civic Center, celebrated its 40th anniversary this weekend with creator and Tullahoma theater icon Peggy Burton.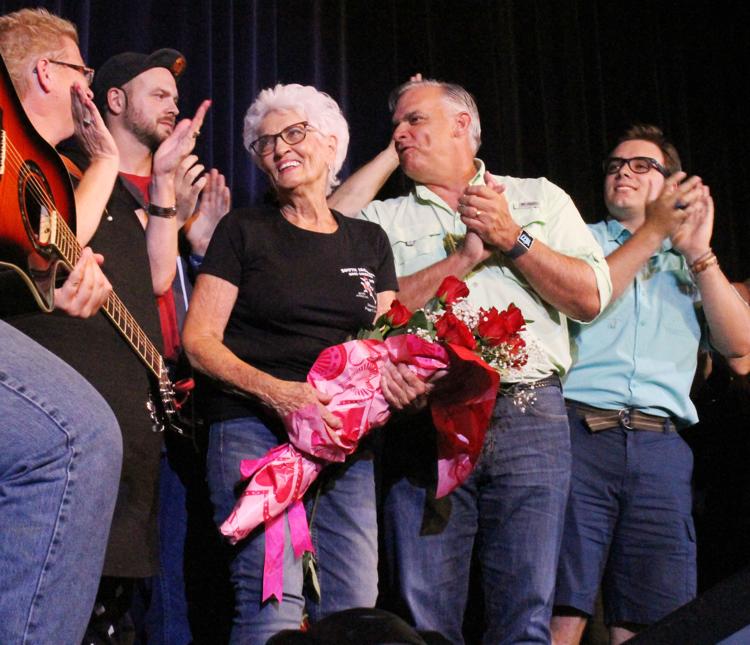 In celebration of that milestone anniversary, the South Jackson Civic Association, along with the cast and crew of this year's show, paid homage to Burton during the Saturday evening performance.
According to association chairman Greg Gressel, South Jackson wanted to honor the life and legacy of Burton during the performance of a show that wouldn't exist without her dedication.
In honor of Burton's work with the show over the last four decades, Gressel announced to the Saturday night audience at the beginning of the second act that the show would have a new name: "Peggy Burton's South Jackson Goes Country."
Burton's family – both hereditary and chosen – brought her on stage after a special performance of The Judds' "Love Can Build a Bridge," accompanied by a photo slideshow of the past 40 years of the annual performances.
Just before Burton was brought on stage, Murfreesboro-based storyteller Kara Kemp told the story of the impact Burton made on her life.
"Peggy Burton was at the center of some of my best childhood memories," Kemp said. "I have seen how every gift you are granted you use to build a bridge. You kill a cow? Well, give a little to a hungry neighbor. You know how to play the piano? Well, then you teach someone how to appreciate music. And if you have a bunch of rowdy children running around your ankles, you pour that energy into a talent show that you host in your living room, which somebody might spark into a 40-year-long local showcase of talent on one of the hottest nights in August."
Kemp shared how Burton inspired her to "at least try" to perform in the country show in the mid-'80s.
"At that time," Kemp said, "I was not proclaimed to be much of a singer. I mean, I could carry a tune in a really fat, low-body bucket, but I had this desire to be on stage and to connect with people. Peggy saw that and she knew that spark needed to be fostered and not tapered out."
That spark Kemp mentioned was the genesis for countless members of the Tullahoma community to take part in the longest-running performance in town. All those sparks fostered by Burton have now grown into a "big flame" thanks to Burton and the country show, blazing the trail for community members to be part of something larger than themselves.
"I thank you, Peggy, and your crew for blazing this trail," Kemp said. "We all need to remember that the fire, it's alive in you."
Flanked by her family members, Burton wiped tears from her eyes as Gressel announced her show's new name.
After the performance concluded, Burton told The News she was overwhelmed with gratitude at the whole experience.
"That was fabulous," she said. "I wasn't expecting anything."
In fact, Burton said, not only had she not expected the recognition, she hadn't expected to a part of the show at all beyond her duties as the director.
"I have made it a point not to be involved in the last song, which they wanted me to do with them … but I feel like, as a director, you sit down and the show is in their hands, so I didn't expect to even be seen," she said. "It was very nice."
She said the way everyone honored her during the show was "really special" and she appreciated the thoughts of everyone involved.
"I've always felt loved," she said of her cast, crew and family members who helped pull off the special surprise.
Ever the director, Burton also took time to recognize the work of everyone involved in the show.
"The whole thing takes a village; it's not something I could do by myself," she said. "There's so many people working here."
Burton's son, J.B., was also grateful to have his mother recognized for her dedication to the show.
"It's phenomenal," he said. "She started this thing 40 years ago. This whole community came together back then to make this playhouse a reality, and she was a major force in that, along with a whole group of other great Tullahoma citizens."
As a member of the inaugural cast, J.B. said returning to the auditorium after four decades to help the community honor his mother was "phenomenal."
"That the town and this cast and crew have taken a few minutes to recognize her is time well spent in honor of a great lady, in honor of a figurehead of this community and, really, a champion of the arts in this town," he said.