Eco-minded residents learned Monday how to make a bigger impact in their community, thanks to the Tennessee Duck River Development Agency and the Go Green! Tullahoma council.
Alderman Robin Dunn, a member of the council, brought the state agency's Linda Johnson to town Monday, Aug. 5, to give a presentation about the benefits of rain barrels and how interested homeowners can install them.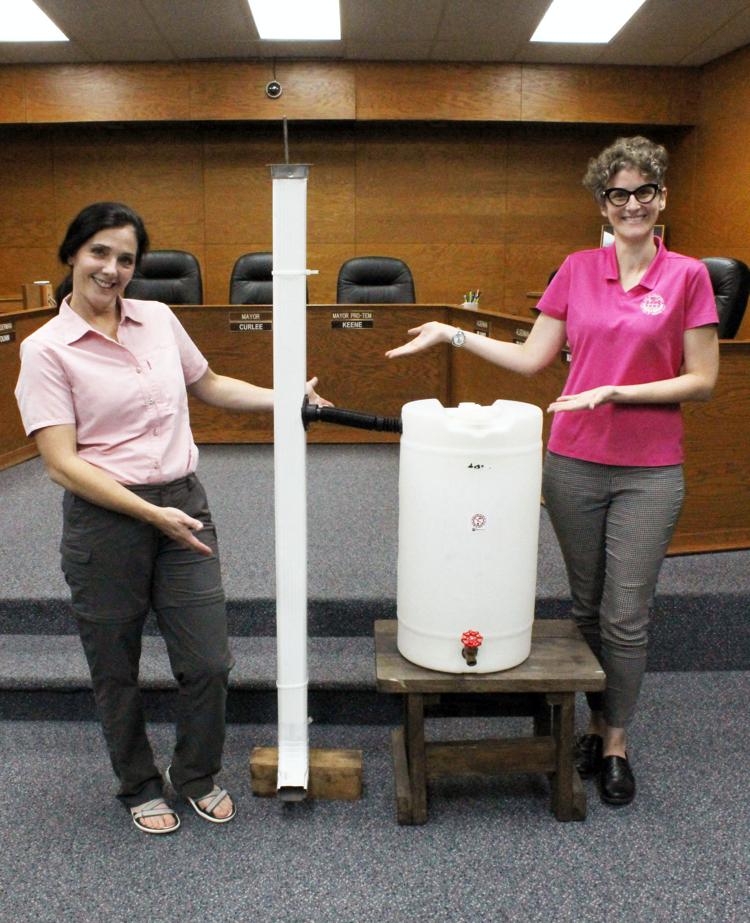 According to Johnson, homeowners can lower their utility bills by collecting the free water that falls from the sky during storms into barrels, which also helps keep stormwater from pooling on city streets and contaminating the area's water sources.
Stormwater runoff, particularly during heavy storm periods, can cause immense damage to natural water sources, Johnson said, due to the high amount of waste it may sweep into creeks and rivers. In fact, she said, the three main dangers to water sources are pollution, waste and drought. Collecting rainwater in barrels can help reduce the risks of all three; homeowners who install them help to limit water pollution, control soil erosion and save water for use during a drought.
Additionally, according to Dunn, if every person in Tullahoma who currently takes advantage of the city's recycling program installed a rain barrel or two at their home, the city could see a dramatic decrease in rain-related accidents on the roads. The more rain barrels installed, she said, the less often pooling or sheeting on the roads will cause drivers to hydroplane.
"Our main concern," Dunn said, "is that when people are driving or walking that they don't have to worry about the dangers of hydroplaning on the road. [Safety] is our main initiative."
The second concern, she said, is the "quality of the water that is sheeting off the roads." Heavy metals from car fluids and other contaminants frequently get washed into the streams, creeks and rivers after a heavy rain storm before they can be filtered through the ground.
By having rain barrels collect the clean water before it reaches the ground, Dunn said, "we're keeping several, several thousand gallons [of contaminated water] out of our creek all at once."
The collected rainwater can be dispensed through a spigot or hose for use in yard work, while washing vehicles or for other household chores. But, Dunn said, "even if all people do is take the water faucet from their rain barrel and turn it on and empty that water out five hours after the rain storm finishes - that alone is going to make a huge impact on our community."
By delaying when the water is released into the ground, Dunn said, the ground will be better able to receive the water and filter it naturally.
"Instead of having the rain falling all at once, it's going to allow that rain to seep into the ground slower," she said. "Plus, it's helpful for people so they don't have to run up their utility bill. They can save money there whenever they're watering their garden or washing their cars."
That's something gardening enthusiasts should take note of, according to both Dunn and Johnson.
Both women highlighted the ease of watering one's garden with the water collected from rain barrels as a great benefit to the community, eliminating the need to use and pay for treated, potable city water on garden plants.
At Monday's meeting, Johnson gave downspout converter kits to all who attended, explaining how homeowners could easily install a diverter and start collecting rainwater. In addition to the 25 kits given away, 30 barrels, donated by Coca-Cola, were distributed.
Johnson said it was "very encouraging" to see the residents gather these resources.
"If makes you feel like people are interested in it; interested in what you're talking about and the mission," she said.
For more information about rain barrels, contact Johnson at the Duck River Agency office in Shelbyville by phone at 684-7820 or email at linda@duckriveragency.org.