The Board of Professional Responsibility of the Supreme Court of Tennessee (TBPR) has launched an investigation related to Coffee County Attorney General Craig Northcott's conduct.
The investigation is in response to a complaint filed by the Council on American-Islamic Relations (CAIR) over a series of anti-Muslim social media posts.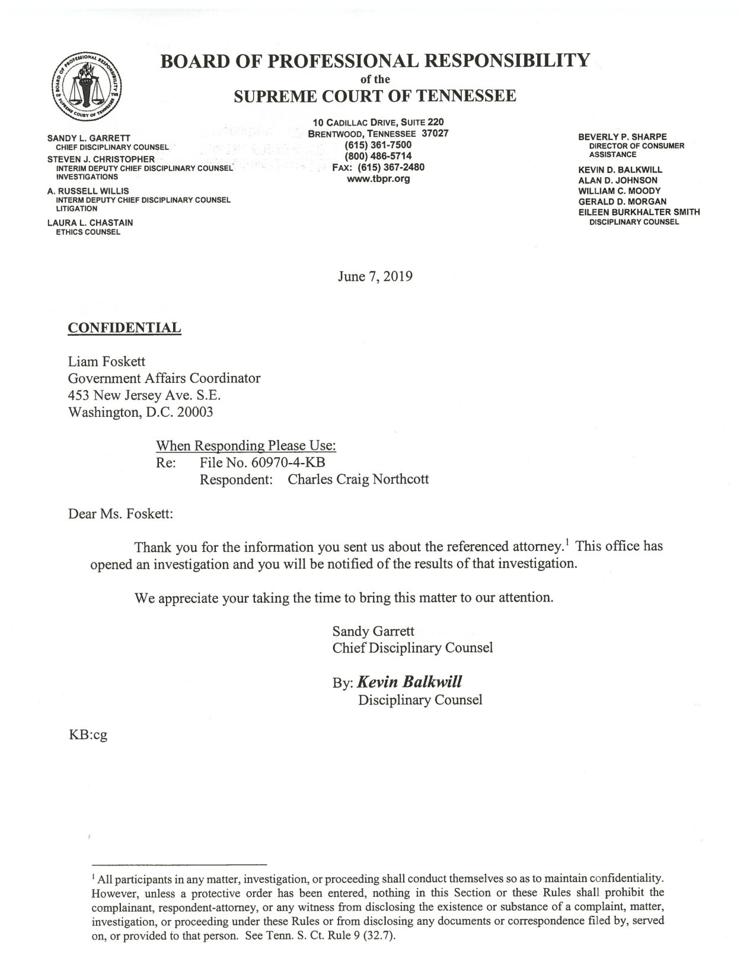 TBPR notified CAIR on June 7 that the "office has opened an investigation," according to Robert McCaw, director of government affairs department for CAIR.
CAIR's complaint alleges that Northcott violated two rules of the Tennessee Rules of Professional Conduct, said McCaw.
The complaint alleges that Northcott violated Rule 3.8 of the Tennessee Rules of Professional Conduct, a comment to which states that prosecutors are expected "to be impartial in the sense that charging decisions should be based upon the evidence, without discrimination or bias for or against any groups or individuals."
It also alleges that Northcott violated rule 8.4(d), which stipulates that, "A lawyer who, in the course of representing a client, knowingly manifests, by words or conduct, bias or prejudice based on race, sex, religion, national origin, disability, age, sexual orientation, or socio-economic status" engages in conduct that is prejudicial to the administration of justice.
CAIR's complaint states in part: "As an elected official, Mr. Northcott represents a wide constituency with individuals who hold beliefs different than his own. This overt anti-Muslim racism calls into serious question his ability to fairly represent this diverse constituency. Claiming that following Islam, a peaceful religion practiced by 1.6 billion, is "no different than being part of the KKK," a violent, racist hate group, is evidence that he cannot possibly act impartially. Mr. Northcott's belief that all Muslims are evil precludes any hope for fairness."
About TBPR investigations
The TBPR supervises the ethical conduct of attorneys. The board responds to informal ethics inquiries by Tennessee attorneys, publishes ethics opinions and hosts an annual ethics workshop for Tennessee attorneys and conducts legal education seminars on various topics throughout the state.
"When the Board opens an investigation, most investigations are completed within four months," said TBPR Chief Disciplinary Counsel Sandy Garrett.
"After investigation, Disciplinary Counsel may recommend dismissal (if there is insufficient proof of a violation of the Rules of Professional Conduct); diversion; private informal admonition; private reprimand; public censure or the filing of formal disciplinary charges."
Each year, the board issues an annual report detailing its work.
According to the most recent report – for the period from July 1, 2017 to June 30, 2018 (FY18) – there were 22,793 active attorneys in the state. 
The board's Disciplinary Counsel investigates complaints alleging unethical conduct.
If the investigated complaint reflects a violation of the Rules of Professional Conduct, Disciplinary Counsel can recommend diversion, private informal admonition, private reprimand, public censure or the filing of formal disciplinary charges.
In FY18, the board received 1,542 complaints.
About 80% of the cases were resolved in less than 15 days.
The resolutions of the complaints were as follows: two dismissals, four public censures, 28 suspensions, 23 disbarments, 31 transfer to disability inactive, 22 temporary suspensions and 9 retired and 14 reinstatements.
"While TBPR can disbar Northcott, it cannot remove him as Coffee County DA because he is an elected office holder. Governor Bill Lee does have the authority to remove him from office," McCaw said. "That said, if Northcott is disbarred, it would be nearly impossible for him to carry out the duties of his office."
Northcott's original post
Northcott's original Facebook response, in its entirety, is as follows:
"Their belief system is evil, violent and against God's Truth. If they follow the teaching of their "god" and lead the life exemplified by their "prophet", they must kill anyone who doesn't accept their lie. They are taught to commit many atrocities in the name of their "god" including pedophilia, beating of their wives, female genital mutilation and "honor" killings. They are not evil because of their gender, skin color or country of origin. Instead, they are evil because they profess a commitment to an evil belief system. They are no less evil because they don't act on their belief system if they refuse to disavow that system. Romans 1:32 comes to mind in which we are taught that you are just as guilty before God if you give approval to those who engage in evil acts. It is no different than being part of the KKK, Aryan Nation, etc. If you support those viewpoints, you are rightly and readily condemned in our society. However, it is now politically incorrect to take a stand against Islam that has the same core of hate. I do not hate the individual but I will not be cowered into pretending that their belief system is legitimate or one of peace. We are fools if we don't recognize this and protect ourselves, our families, our communities and our country from succumbing to this present and growing threat. Take a look at what is happening in Europe and see if you want that for America."
Other controversial comments
Northcott came under fire again within weeks of his Facebook comments being reported by the media. Hundreds of attorneys from across the state of Tennessee began calling for an investigation into Northcott after a video surfaced of Northcott claiming he doesn't offer the same protections for people involved in gay marriage in cases of domestic violence.
Northcott said in a video posted by Dean Bible Ministries in August 2018 that "the reason there is an enhanced punishment on a domestic violence is to recognize and protect the sanctity of marriage, and I say there is no marriage to protect, so I don't prosecute them as domestics."
"We find (his comments) disturbing and unacceptable on multiple levels, the least of which being Mr. Northcott's misunderstanding of domestic violence law in the State of Tennessee where marriage or even romantic status is not an essential element for a charge of domestic assault," the attorneys wrote in an open letter. "But far beyond the issue of the marital status of gay individuals (though, gay marriage is the law of the land) are the ethical implications of a District Attorney who will not serve nor protect the constitutional rights of citizens without first subjecting them to a test of sexuality or religious-beliefs. This is the highest level of prosecutorial misconduct and abuse of discretion."
The News asked Northcott to comment on this story; however, he has not responded.