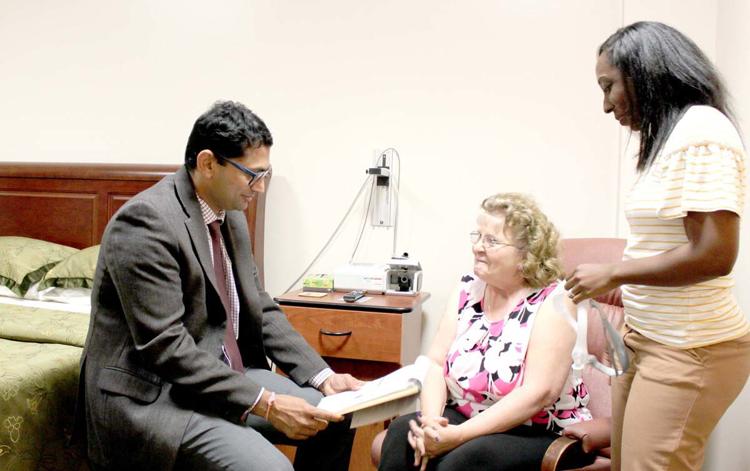 A third of U.S. adults regularly get less than the recommended amount of sleep, and that could lead to chronic diseases and conditions, such as type 2 diabetes, heart disease, obesity and depression, according to the Centers for Disease Control and Prevention (CDC).
Sleep disorders can lead to motor vehicle crashes and accidents causing injury, and increase a person's risk of health problems, according to CDC.
However, these disorders can be diagnosed and treated, bringing relief to those who suffer from them and Tennova Healthcare – Harton is now offering treatments to help patients get the good night's sleep everyone needs.
 One of the most common sleep conditions in the United States is sleep apnea. It can occur when the upper airway repeatedly becomes blocked during sleep, reducing, or completely stopping, airflow.
Health care providers use sleep tests to diagnose the condition by recording the number of episodes of slow or stopped breathing detected in an hour.
The sleep studies also help medical professionals determine whether oxygen levels in the blood are lower during these events.
Common treatments for sleep apnea are using breathing devices, such as continuous positive air pressure (CPAP) machines and lifestyle changes.
Dr. Prakash Patel, sleep physician and a medical director of the Tennova Healthcare – Harton Sleep and Neurodiagnostics Center, has been practicing sleep medicine and pulmonary medicine since 2006.
Common symptoms of sleep apnea are reduced breathing, snoring, gasping for air, daytime fatigue, decreased attention and dry mouth, said Patel. If those signs are present, he recommends a sleep test.
"We have a clinic and a sleep center here in Tullahoma, so we do the sleep test here," Patel said.
While a sleep study can be performed at the patient's home, Patel said the test at the clinic is more detailed and more accurate.
People with heart conditions are at higher risk of developing sleep apnea. 
"If you have a cardiovascular condition, such as hypertension or a heart condition, there is a 40 to 50 percent chance of having undiagnosed sleep apnea," Patel said. "[(Sleep apnea] can affect your heart condition. Consider screening for sleep apnea."
The condition is usually treated with CPAP and lifestyle changes.
"CPAP is a mask with a tube, and it connects with a machine to give you air with pressure and keeps your airway open all night long," Patel said. "The CPAP is number one treatment, along with weight loss, that helps too."
CPAP therapy reduces snoring and helps the patient rest.
"When you do that, not only you improve the quality of sleep, but also the day-time functioning," Patel said. "A lot of people feel tired and fall asleep during the day."
Treating sleep apnea helps with blood pressure, and reduces the risk of stroke and heart attacks, said Patel.
"A lot of cardiac conditions can get aggravated by [undiagnosed] sleep apnea," he said.
 Healthy lifestyle changes are also recommended to help control sleep apnea.
According to the National Heart, Lung and Blood Institute (NHLBI), making heart-healthy eating choices and limiting alcohol intake, is important.
Regular physical activity and maintaining a healthy weight is also recommended.
Developing healthy sleeping habits also helps those who suffer sleep apnea. Healthy sleep habits include getting the recommended amount of sleep based on age.
Quitting smoking should also be one of the first changes individuals suffering sleep apnea should make, according to NHLBI.
 One of Patel's patients, Susan Graham, of Winchester, said she has seen improvement of her overall health over the past several months, thanks to a sleep apnea treatment.
She initially went to the doctor's office because of a lung problem. While at the clinic, she heard one of the nurses talking to a patient about sleep apnea, and all the signs were symptoms Graham had been experiencing.
That led her to the sleep center. 
"I decided to go and have the test run," Graham said. "If I hadn't done it, I probably wouldn't be here today."
She had the sleep study done eight months ago.
After starting CPAP treatment, other conditions she was suffering have seen improvement, too.
"When I started on the machine, I immediately started noticing I was breathing better; my asthma was getting better," Graham said.
A heart condition she suffers has also been positively impacted. With her overall health improved, Graham now doesn't have to take as many medications as before, she said.
"The sleep apnea treatment has really helped almost everything I had," Graham said.
Tennova Healthcare – Harton Sleep & Neurodiagnostics Center is located at 1750 Cedar Lane, Suite 300, in Tullahoma. For more information, call the center (931) 393-7941.