The sixth annual Dustin Lynch & Friends benefit concert has once again sold every single ticket in record time for the Tuesday, Dec. 17 concert held at Tullahoma High School.
The concert is one of the more highly-anticipated events of the holiday season, with hundreds of country music fans packing the THS auditorium for the intimate concert experience.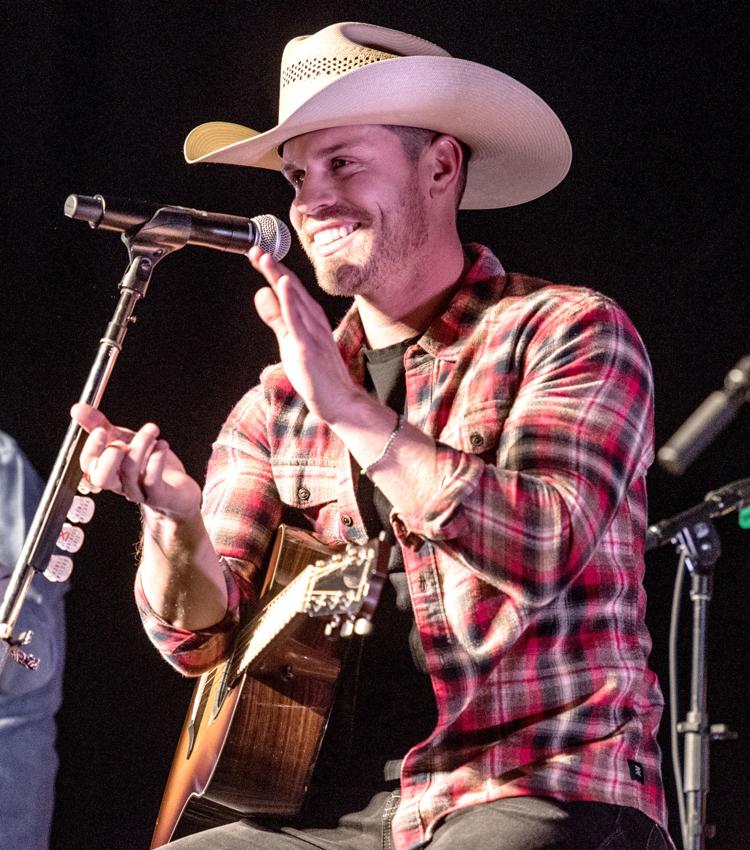 Lynch puts on the concert every year with the goal of helping children in need in the Tullahoma community, with proceeds from the event going to various children's advocacy nonprofits each year. Previous recipients of the concert proceeds include Horse Play Inc., The Tullahoma News' Karing for Kids, Tullahoma Day Care Center, Coffee County Children's Advocacy Center, 5 Loaves 4 Kids, CASA Works Inc. and more.
Last year's beneficiaries were Tullahoma Day Care Center and the Coffee County Children's Advocacy Center. Both groups received half of the grand total of $25,000 raised last year.
Lynch also brings some "special friends" to the event with him each year – songwriters from the Nashville scene. Past guests have included songwriters Paul Overstreet, Wendell Mobley, Justin Ebach, Amy Wiseman, Kelly Loveless and Josh Leo. Lynch even brought up-and-coming country star Lauren Alaina for last year's concert.
As has happened in past years, ticket sales were a point of contention on social media.
Several people, including a West Middle School teacher and other community members, took to Facebook to make their displeasure at the ticket sale confusion known.
"Don't even waste your time this morning," Meagan Moorehead warned Facebook users around 8 a.m. Monday. She claimed Tullahoma Mayor Lane Curlee told her there were only "very few" tickets left to sell Monday morning.
"I arrived at 8 a.m. and this is what he told me … that he went ahead and sold the few he had to the people who were there early," she said.
One woman was perturbed that she had taken time off work around the originally-stated 9:30 a.m. sale time only to learn the tickets were gone hours before she arrived.
"I'm ashamed," she said in her post.
Another disappointed fan is a Tullahoma City Schools teacher, who said he had been attempting to get a ticket to the concert for years unsuccessfully.
"This is disappointing," he said in his comment. "I am a teacher in the [Tullahoma City Schools] system and still can't get tickets after years of trying."
According to Mayor Curlee, the tickets went quicker than anticipated once again this year.
He told The News the annual pre-sale event held at Tullahoma High School sold many more tickets than past years, with around 500 of the 700 available seats sold during the school-only sale.
In previous years, Lynch has explained that he likes allowing the students to receive the first chance at tickets.
Curlee said students made posters announcing the school sale last week in preparation for the two-day sale last Thursday and Friday.
Ticket sales were handled through the THS Mayor's Youth Council. According to Youth Mayor Hollis Fanning, he started out each day with 100 tickets to sell during the school's lunch periods.
"I set up a table right outside the cafeteria," Fanning said. "Both days I had a line waiting for me to get there, and the original 100 [tickets] were sold in the first three minutes."
Whenever Hollis ran out of tickets, he said he would contact Curlee for more, which would be provided to him to sell.
"I never got a final count on tickets since we were still attempting to fill orders by students after lunch on Friday, but I believe it was close to 400 tickets," Hollis said.
According to Curlee, in past years he has taken around 100 tickets to the high school for the students and faculty to purchase, but this year sales far exceeded that number.
"This year there were four times that many tickets," he said. "That's the issue. Students and teachers bought three and half times more than they normally do. That just left a very small quantity of tickets. I took those small number of tickets down to C.D. Stamps."
When he arrived at the community center at around 7 a.m. Monday, there was already a lengthy line formed.
"I did not see any point in people standing out in the cold for two and a half hours when it was obvious there was more demand than there was supply," he said. "There's no reason to wait until 9:30 to sell the tickets and make people stand in line thinking that there's a chance that they're going to get tickets when there's zero chance they're going to get tickets."
Once Curlee had sold out of the limited tickets, he stayed at the center until around 10 a.m. telling people the tickets were gone.
"Most people seemed to understand," he said.
The issue, Curlee said, is there is "always a greater demand than there is a supply."