Twelve local nonprofits raised quite a bit of money last week as The Big Payback wrapped up Thursday night. There were a total of 31,752 donations to 988 nonprofit organizations in one 24-hour period which raised $4,347,431 total throughout Middle Tennessee.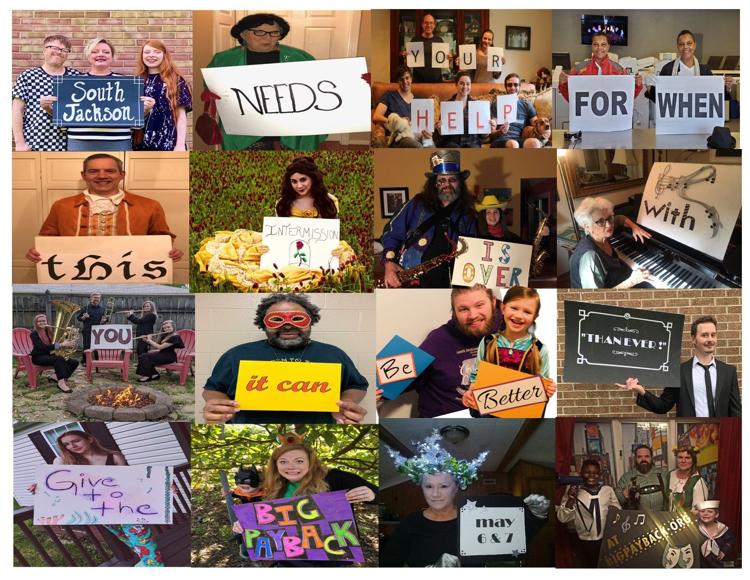 South Jackson Civic Center
South Jackson went all out with The Big Payback, earning a grand total of $24,003.
"Our theme was 'The 40th Anniversary Facelift.' Last year, we were able to raise enough money for new paint and curtains in the auditorium," board member Greg Gressel said. "Now, we will work on the hardwood floors in the auditorium and put new seats in there as well."
The Civic Center maneuvered a couple of creative "safe at home" activities during The Big Payback last week, including making a collage of photos of actors with the message "South Jackson needs your help for when this intermission is over. With your help, it can be better than ever." They also hosted a Zoom call for longtime supporters of South Jackson with special guests including Dustin Lynch, Becky Buller, Craig Terry and Henry Cho.
The Civic Center won prizes during The Big Payback including the "Most Unique Donors in the South Central Region" award valued at $2,000, the "Most Dollars Raised: Small Organizations from 10 a.m. to 2 p.m." award valued at $1,500 and the "Afternoon Snack Prize" valued at $71.
"As a small nonprofit organization, this is a big deal and we are super excited. We have a great team of people here that make it all possible," Gressel said.  "We want to thank everyone that donated."
With no campaigns set up by board or special events done via social media, their page on The Big Payback's website with a donate button was enough for them to raise $624. The page also included their mission statement "Preserving the past, engaging the present and nurturing the future of Middle Tennessee by stimulating diverse creative expression, positive encouragement and quality, regional opportunities for access to and instruction in the arts."
The Shepherd's House or Citizens for Homeless Relief, Inc. raised $413. The shelter serves Coffee, Franklin, Bedford and Moore Counties. They provide an environment of hope with the structure, programs and encouragement that help the homeless transition from being dependent on welfare and handouts to becoming independent and successful.
Tullahoma Day Care Center
Tullahoma Day Care Center raised $7,088 during the 24-hour fundraiser. With five personal campaigns created on their behalf and shared not only on The Big Payback's website but also on social media, the center was given a great deal of donations. This was a relief to Reba Walters, the president of the center's board of directors, who has kept the center open and employed her entire staff throughout the pandemic.
"We will see where we are when everything starts to get back to normal in order to decide exactly what we will do with the money. We will probably apply it to basic expenses and also use it for new enrichment activities for the children," Walters said. "Thank you to all of our donors. We are very excited about the success of the campaign."
Tullahoma Community Foundation
"The most striking thing was that each of the 988 local nonprofits received no less than $50 from the get-go," said Ellen Lehman, president of The Community Foundation. "And for all who were able to participate in a chaotic year, we will be forever grateful of your willingness to make the economic fall less steep and less painful."
Tullahoma Community Foundation raised $655 during the nonprofit fundraiser.
"The good thing was that The Big Payback 2020 was perfectly suited to the rules of our changing society. While we were sheltering at home on the days leading up to this event, we could all still be working on behalf of the Middle Tennessee community," she said. "We needed to encourage people and friends and families to participate in getting the word out. On behalf of the participating nonprofits and those they serve, thank you for your kindness and support. Good things will happen as a result."
Despite being quite active on social media, CASA Works, Inc. said nothing about The Big Payback on their Facebook page. Also, no personal campaigns were hosted for the nonprofit. However, the organization was able to raise $71 during the fundraiser.
Coffee County Senior Citizens, Inc.
Coffee County Senior Citizens, Inc. was formed to promote a coordinated program of services and opportunities for all senior citizens of Coffee County ages 50 and older. Even though they have been closed ever since the COVID-19 pandemic began in order to prioritize the safety of their members, the center managed to raise $50 during The Big Payback.
With three personal campaigns started for this nonprofit on The Big Payback's website as well as several posts on the center's Facebook about how donating will help the organization once they reopen to the public, the Hands-On Science Center raised $5,726. "Thank you for supporting us during The Big Payback this year," a post on the center's Facebook profile read. "Your support will help us to create a bigger and brighter future for children all across middle Tennessee and beyond."
Hospice of the Highland Rim Foundation, Inc.
This nonprofit assists hospice patients who are suffering end-of-life hardship due to their illness regardless of which hospice the patient chooses for care. Grants provided by this organization are for needs that are outside the realm of care required by the hospice services or what Medicare and private insurance provide for the patient.
Hospice of the Highland Rim Foundation, Inc. raised $50 during The Big Payback to go towards their efforts.
Imagination Library of Coffee County
During the fundraiser, the Imagination Library of Coffee County raised $1,863.
"Considering this time that we are in, we are very happy with the generous donations that we received. This money will cover more than half of one month's cost of getting books for our kids. It will cover 1,800 of the 3,000 children that get a book every month," Sarah Hailey, treasurer of The Imagination of Coffee County, said. "We were nervous when COVID-19 started because our expenses don not go away. We still have to pay $3,000 per month to get the books."
Children aged from birth to five years old are eligible for this program. "This April, we had a high number of children who enrolled online and that is really good. We want to thank everyone for their continued participation and support of The Imagination Library," she said.
The nonprofit, providing healthcare to the working uninsured, raised $3,297 last week.
"We are very appreciative for those supporters we had during The Big Payback. We will be using it to continue our work providing medication and care for our patients," executive director Lynn Brumfield said. "We used Facebook to post photos along the way in order to raise awareness of our nonprofit and all that we do for the community. We just want to say thank you to everyone that contributed."
Raus Community Improvement Club
The Raus Community Improvement Club works to preserve and maintain the Rause School House to provide the community with a functional historic one-room schoolhouse that is used as a meeting place for the club as well as other educational programs and social events.
The club raised $333 during the fundraiser to assist them with continuing to improve the schoolhouse and raise awareness of its history.
The giving does not have to stop here. If anyone is interested in donating to a nonprofit, visit their websites or social media profiles for more information. Donations can also be made at www.givingmatters.com all year-round.