In what has become Tullahoma High School's newest tradition, members of the Class of 2019 took to the halls of their former middle and elementary schools on Thursday afternoon for the annual senior walk.
According to THS Principal Kathy Rose, the stroll through the schools started around four years ago when a fellow principal suggested it.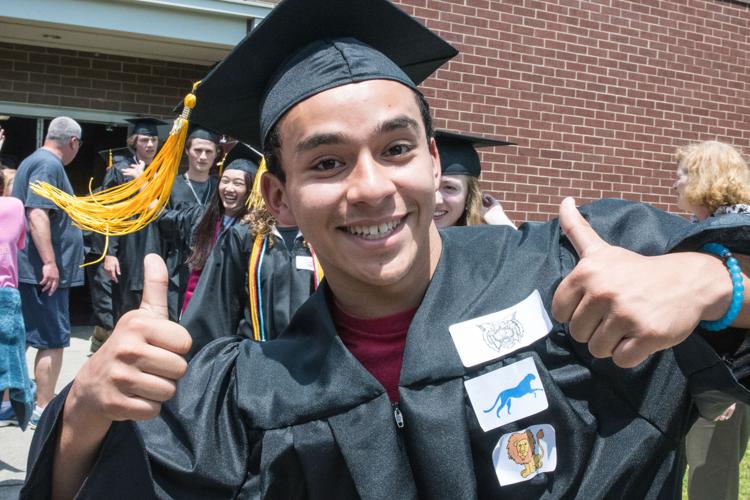 Debbie Edens, the principal at Jack T. Farrar Elementary School, commented one day to Rose that she wished her young Farrar Frogs could get a chance to see all the high school graduates in their caps and gowns for a brief moment before the seniors leave Tullahoma.
Rose immediately said she could make it happen, and thus the tradition was born.
One day before the seniors graduate, they load up on a couple of school buses and are transported to each elementary and middle school for a final hurrah.
Each building contains people who helped each of the seniors get to that finish line, so stopping by to say "farewell" to those who helped them achieve so much is a feel-good moment for each senior.
Thursday's walk saw 117 Wildcats take a step back into their younger selves' shoes as either a Bel-Aire Bee, a Farrar Frog, an East Lincoln Eagle, a Robert E. Lee Lion, an East Panther or a West Bobcat.
At Lee, Principal Woody Dillehay said he loved having this tradition, as it was a great moment for both the seniors and his little Lions.
"It's awesome," Dillehay said. "It's a great experience for our kids to get to see them [the seniors] graduate. We're super proud of them and wish them nothing but the best moving forward."
Dillehay said the walk also allows some of his older Lions – those preparing to take their next steps as an East Panther – to see what they have to look forward to once they complete their Tullahoma education.
"I think it's good to plant that seed for our younger kids," he said. "I think they are impressed and they realize that [the seniors] have accomplished something and I think they're proud for them. It gives our students something to look forward to, like, 'Hey, these guys have gone before me and done it' and created an expectation there."
For graduating senior Braison Corn, he said the day was one full of gratitude.
"I feel grateful about it," he said about the walk. "I get to walk around my old stomping grounds, kind of like giving back."
Being back in his old elementary school was the most impactful part of the day, he said, because that school is where he got his start in Tullahoma.
"Walking through, seeing all the old memories…" Corn said was a great part of the day. He had plenty of hugs to go around for his former teachers at Lee.
"I got a chance to see my teachers one last time," he said with a smile.
The Class of 2019 took to the W.C. "Dub" Cooper Field inside Wilkins Stadium on Friday night for commencement ceremonies. Look for more coverage of ceremonies in Wednesday's print edition of The News and online at tullahomanews.com.