Being in high school doesn't mean people can't also gain valuable work-related certifications, and that's precisely what three Tullahoma High School welding students have done.
Wyatt Ringel, Will Stone and Jakob Bilodeau have all earned a flat welding certification from the American Welding Society, school officials have announced.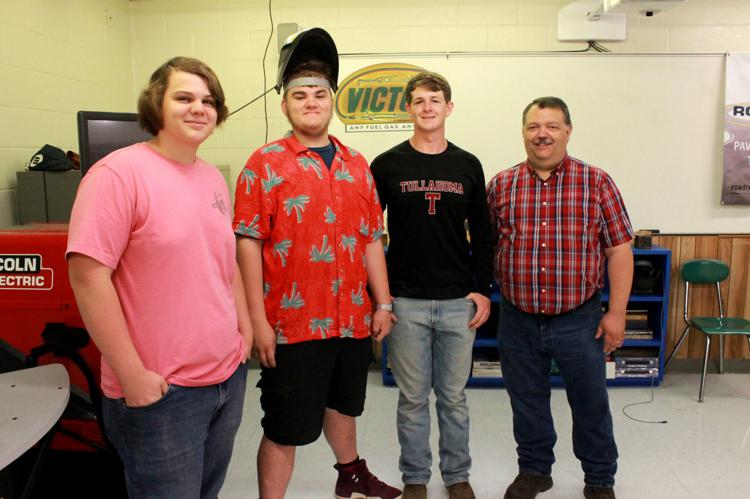 These three, along with 2019 graduate Justen Holiday, are the first THS students to gain their AWS certification in welding in the school's history, Assistant Principal Shari Zimmerman said.
"The state department of education – one of their focuses is on industry certification while students are still in high school, so this is just one industry certification," she said. "It's not one we've done before. The students have not accomplished [this certification] before here."
That makes it a laudable moment for the school, she added. And welding teacher Jerry Green agrees.
"This is a historical moment for THS," Green said of the boys' certifications.
According to Green, this certification is in flat welding, and it will significantly increase the students' odd of being hired in the industry.
It evens helps them have a leg up if they want to continue their education at a technical school, like Bilodeau does.
He told The News he had already been accepted to a Florida welding school, where he plans to continue his industry education.
He also said he was proud of himself for achieving his D1.1 certificate after only two and a half years studying welding.
"I'm proud," Bilodeau said. "I don't know how else to feel."
Bilodeau plans to spend his final year at THS gaining more certifications to help him throughout his career.
Green is even taking this success to the next level, he said. Because he knows his learners can achieve this certification, he's planning to help all his classes to go further in their industry knowledge.
"This is one test in one position," Green said. "There's four positions: flat, vertical, horizontal and overhead [welding]. We're looking to build onto what they've got."
According to Green, the boys are skilled in three different types of welding, which means he could presumably get them certified in those types of welding, as well.
Building on current expectations also works out well for the career technical education (CTE) program at large, according to Zimmerman.
The school's certified nursing assistant (CNA) program has also seen industry-level success in the few years it has been operational at THS. The Class of 2019 saw two of its graduates leave the school with their CNA licensure in the state, Zimmerman said.
Having both of these programs produce good results just tells Zimmerman that her teachers are doing great work.
"We're proud of all those teachers and kids," she said.
It also shows the Tennessee Department of Education that good things are happening in Tullahoma. Being able to say THS grads leave high school with their CNA license or their AWS certification in flat welding means THS is moving along with the state's "ready graduate" guidelines, which emphasize industry certifications for high school graduates.