Jenna Morris knows her wrestlers at Tullahoma High School are #TullahomaTough, but one special student has been proving he's just as tough has the wrestlers she coaches.
So, on Saturday morning, Morris, along with the THS wrestling team and members of the criminal justice classes, put on a donation-only car wash for that special student, their classmate Hunter Releford.
When it was all over, Morris was able to present Hunter's mother with more than $1,000 to go toward the family's medical expenses.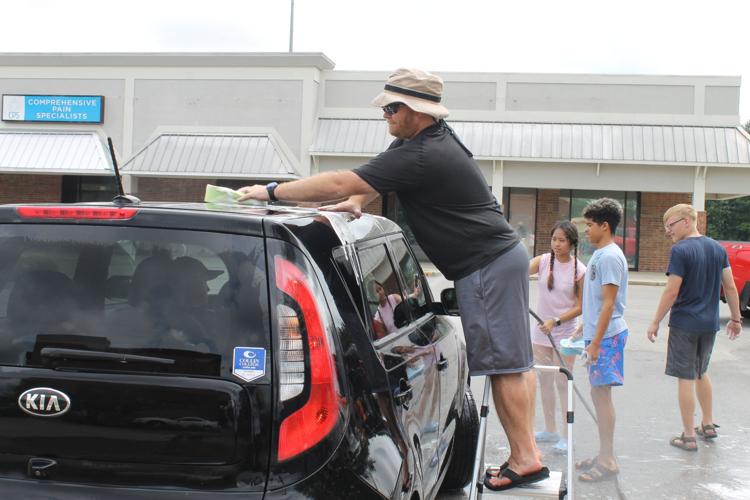 Hunter, a rising sophomore at THS, spent the majority of his freshman year of high school sick before finally being diagnosed with Stage 4 Hodgkin's Lymphoma in February.
And if battling cancer weren't enough, his family also had the increased burden of medical bills and constant gas tank fill-ups for his near daily trips to Vanderbilt Hospital.
Because they knew Hunter was a wonderful friend and student, Morris decided to put together a fundraiser for him and his family, raising every single penny they could for about five hours on Saturday.
"Hunter's just a stellar kid," Morris said on Saturday. "He's a straight-A, all-honors student [and] just respectful. He was going to play soccer this past year and wasn't able to. He's just a great kid who needs help, and we're willing to help."
Morris also had help from THS criminal justice teacher Jason Kennedy, who had Hunter in class last year. According to Kennedy, Hunter was a great student, and he wanted to help out in any way he could.
More than a dozen wrestlers and criminal justice students spent the entire morning waving signs at the traffic light next to the Chick-fil-A restaurant to bring customers in as well as washing all the cars who stopped by for a quick wash.
"We have the manpower," Morris said. "If it were one of our own, we would hope that other people in the community would step up and help, so we thought it would be a great thing for our kids to learn how to step up and help."
According to Morris, she had planned on having the car wash for weeks, but was only able to put the event together last weekend.
"I came up here probably at the beginning of summer, but Chick-fil-A was booked up every Saturday," she said. "I thought about going to other places, but I didn't want to compete with anybody else who was already here at Chick-fil-A, because I knew it was booked. We had to put it off until July 20."
Having to delay the fundraiser until the end of July didn't mean people were unaware of what was going to happen, however.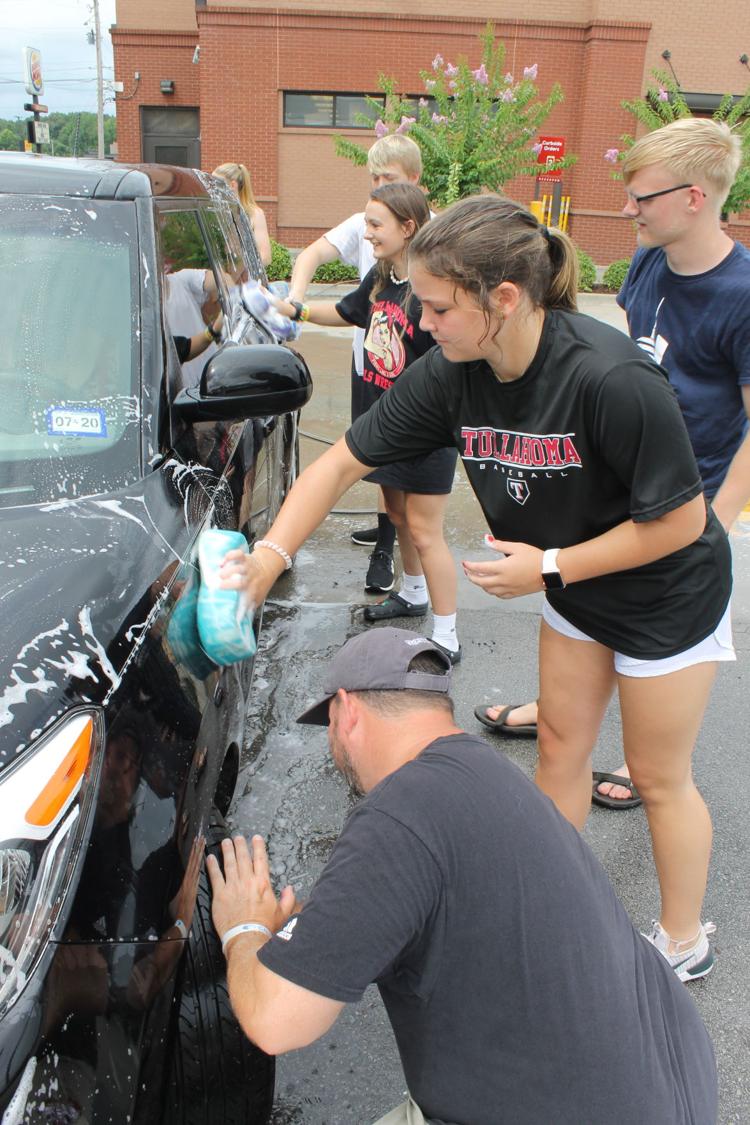 Morris had been promoting the car wash for more than a month, creating a Facebook post about the fundraiser on May 30.
"Please help us help one of our very own THS students in need," she said in the post.
With car washing supplies donated by AutoZone, the students and teachers were able to wash numerous cars, raking in a total of $1,089 to present to Hunter's mother, Rebecca Dallas.
That was $89 over Morris's original goal, as well.
"I would love to be able to hand his mom $1,000 today," Morris said on Saturday morning. "That would really help their medical expenses."
When she received the money from Morris later in the afternoon on Saturday, Dallas said she was "floored."
She cited the willingness of the community to help as something to be admired.
"This whole community has been amazing through all of this," Dallas said. "I've had so many phone calls and letters. Everybody has been so amazing. It just absolutely blows me away."
She was particularly impressed with the dedication of the students who wanted to help with the event.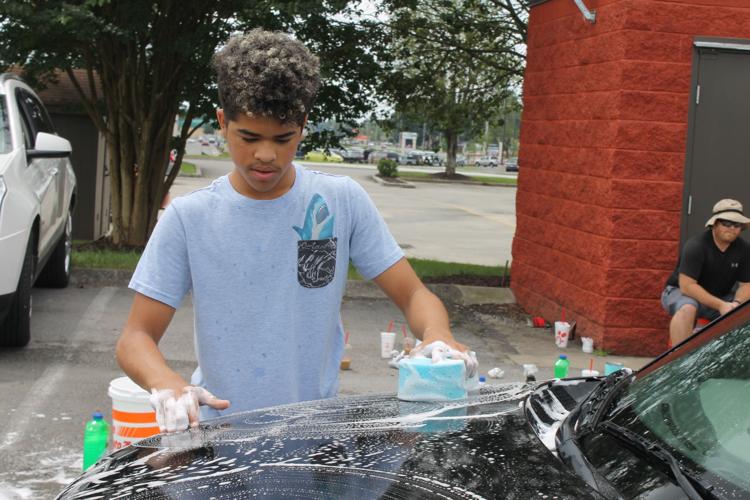 When she ran into one of the students and her mother at church on Sunday, Dallas said, she was struck by how badly they wanted to help. That student, Faith Banks, had been concerned that her broken leg would prevent her from participating in the car wash, Dallas said.
"She still went and collected money," she said of Banks.
Dallas also said the assistance showed her family just how valued they are in the community.
"We're just a little bitty family here," she said. "I didn't know that we mattered to anybody. It has been so helpful."
Watching her son battle cancer was stressful enough for Dallas, but watching his medical bills pile up was also worrying.
"Things like this have been such a blessing because it has helped us so much," she said. "We just really have been struggling.
Seeing the community want to reach out and help her has been one burden lifted from her shoulders, she said.
"These things that people do have meant so much," she said. "I'm just blown away about how everybody has been. Like I said, we're just a little bitty family here. To think we matter to anybody … it's just so cool to see all the love that has come out."
Hunter has been through a number of treatments since February, including several rounds of chemotherapy.
According to Dallas, Hunter will return to Vanderbilt for another scan on Aug. 5. When the results come back, she said, the doctors will "hopefully" tell her that Hunter is "good" and they can have his chemo port removed from his chest.
If these scans come back with good news, she said, it will mean Hunter won't have to go through radiation treatment.
"They don't think he's going to need radiation," she said.
In fact, Hunter will be able to start school with his classmates on Thursday, Aug. 1 when Tullahoma City Schools resumes for the 2019-2020 school year.
"He's going to start school when everybody starts school this year," Dallas said. "We're very excited about that."
Dallas said Hunter has been registered for all his classes and is ready to start school with everybody else.