Tullahoma Athletic Director John Olive has had a banner year in 2021. He notched his 225th career win and his 200th win at the helm of the Tullahoma Wildcats; he's led an undefeated Tullahoma football team to the quarterfinals of the TSSAA Class 4A playoffs and a Region 5 championship. He was named the Citizen of the Year. And earlier this month, Olive was named the District 4 Athletic Director of the Year by the Tennessee Secondary School Athletic Association.
Olive was nominated for the honor by his peers, a fact that came to no surprise to Director of Schools Dr. Catherine Stephens.
"John does so much in his athletic director role for Tullahoma student-athletes while also serving as head football coach full-time," she said. "John can be found on the sidelines at many Tullahoma sporting events to gain a firsthand perspective on what his coaches and athletes need to succeed. He's also there to root on those Tullahoma teams and has even been known to give students a social media shout-out now and again. His pride in all athletics shines when he speaks passionately about the positive impact sports can have on an individual and that person's life trajectory."
Olive has served the district as the athletic director since 2017.
He said while he was appreciated being the individual nominated, he considered the award one for Tullahoma City Schools as a whole.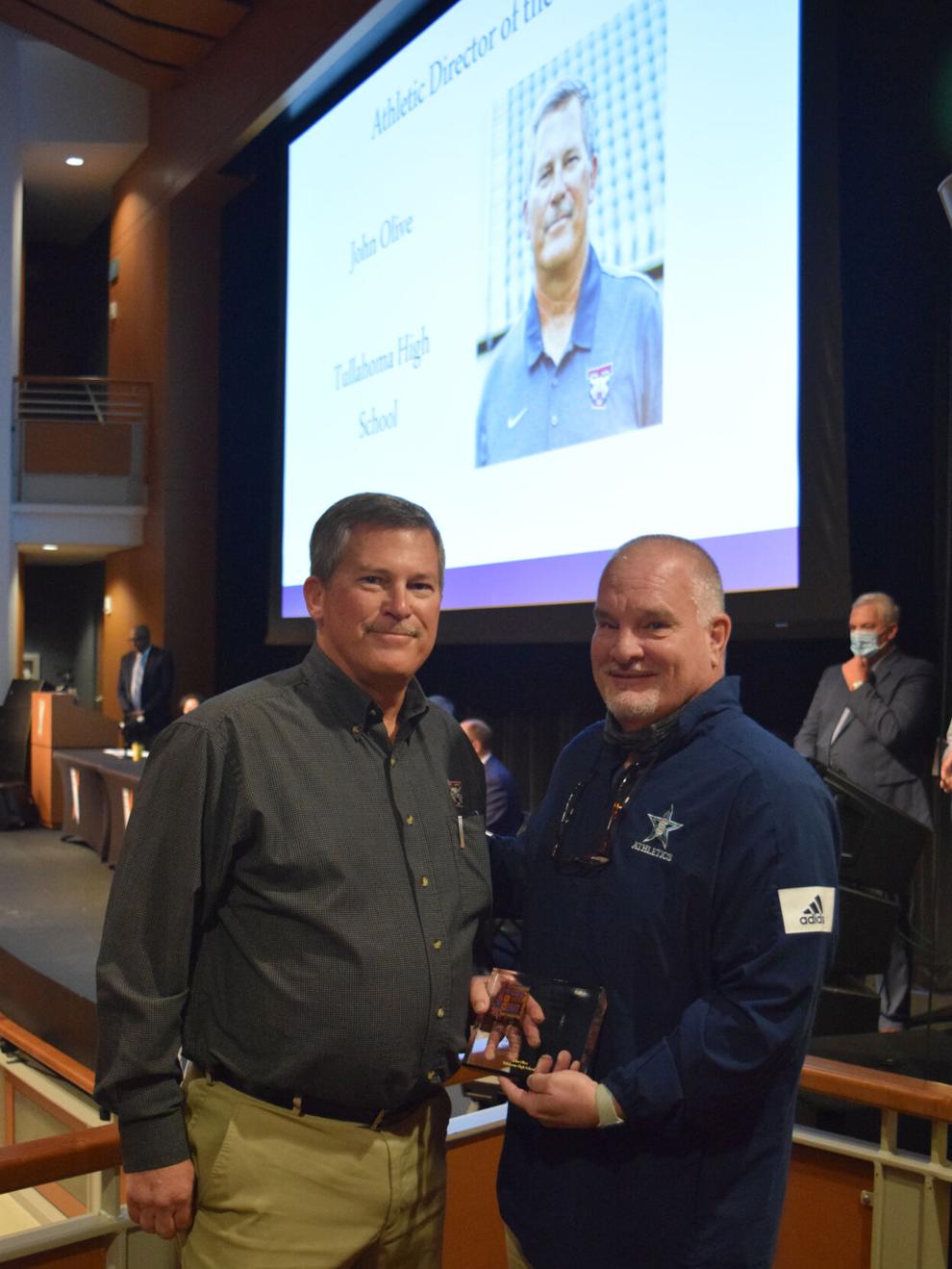 "This is an honor that should be shared with plenty of others inside our district," Olive said. "We've had so many gains over the last few years in our athletic facilities and so forth. Those gains have been a group effort, and I just happen to be at the forefront. I'm very grateful to be recognized as an individual, but I'm more excited that we were recognized as a school system."
That school system recognition came in the form of the A.F. Bridges Divisional Award for Sportsmanship, which was bestowed upon Tullahoma High School this month. Olive and THS Principal Jason Quick were in attendance at the TSSAA regional meeting earlier this month.
"This award speaks volume about our coaching staff and our athletic programs here in Tullahoma," Quick said. "Our coaches work tirelessly to ensure that our student-athletes are maximizing their potential on and off the field. This is an honor that all of our coaches should celebrate as they are teaching essential core values to our students."
The A.F. Bridges Divisional Award for Sportsmanship is awarded to schools that report no unsportsmanlike conducts incidents during the previous year. Additionally, recipients display an overall positive effort to teach, expect and demand a positive atmosphere of sportsmanship at their particular contests. Schools are nominated for the awards by local official associations and other TSSAA member schools. Winners are presented a $1,000 check to go toward their athletic programs, as well as a trophy and banner to display to the effect.
The awards honor the TSSAA's first executive secretary, who served in the role from 1946 until his retirement in 1972. Under Bridges' leadership, Tennessee athletics reached a level of excellence and competence that earned respect statewide. Bridges was known as a person of high principles who displayed firmness and fairness and the high ideals of ethics and integrity.
"This award tells you that our administration, our coaches and our athletes are all trying to do athletics the correct way," Olive said. "Hopefully, we are teaching our young people more than just how to win contests. I'd like to think that we as coaches are also teaching things that our young people can carry with them throughout life. To me, that is what this award represents. This honor means that our coaches are getting our young people to do the right things, act the right way and approach contests appropriately. I think our athletes are buying into that."