A special art project has taken over Tullahoma. Wednesday, Sept. 25 saw the beginning of a month-long art installation project called "ARTober."
Coordinated by local nonprofit organization DMA (Do More Art) Events, "ARTober" will see several murals installed on strategic locations around town, with a new mural going up every week of the month.
DMA Events is a new nonprofit organization run by the local duo of Kristin Luna and Scott van Velsor. The two are mural advocates and want to see the Tullahoma community thrive from the benefit of public art-like murals.
"Public art is about improving your community and providing access to art that people in this area might not have otherwise," Luna said.
In trying to improve the community with more art, Luna said she and van Velsor wanted to take things in a different direction than they had in the past.
"Arts Alive is already taken care of, so we don't need another one of those, but what we can do is plan a series of mural installs in areas that could use some art, so that's how that came about," she said.
ARTober isn't a singular effort on the part of DMA-Events. Jack Daniel's Distillery has partnered with the nonprofit in order to help fund all the murals going up.
According to Luna, Jack Daniel's officials saw the work the pair was helping to facilitate and wanted to help them further their mission of adding more public art.
After meeting "a couple times" to work out the details, Luna said Jack Daniel's was willing to help the pair achieve their mural installs.
"They were all about it, because Jack Daniel's is all about community improvement projects," Luna said, "so this was right up their alley."
While the lingering hot weather was concerning for Luna and van Velsor, the cooling temperatures have made this month the perfect time to see more art come up in Tullahoma.
"Typically October is the best time to paint because it cools down a little bit; it's dry; it doesn't rain a lot; and if we are bringing in artists, we kind of need that guaranteed weather," Luna said.
Another thing that helps is having all the artists within a couple hours' drive of Coffee County. All the ARTober artists are from the Middle Tennessee area, which Luna said makes collaboration simpler.
"They're people who are local, which really helps," she said. "If we have a rain day or two, then they can kind of come back. There's such a wealth of talent in Middle Tennessee, and we try to tap that when we can. At the same time, we really want to expose the community to every kind of art there is out there. A lot of people aren't able to travel like we do and see all the amazing art, so we like to do a mix of Tennessee artists and also some people who have painted all over the world."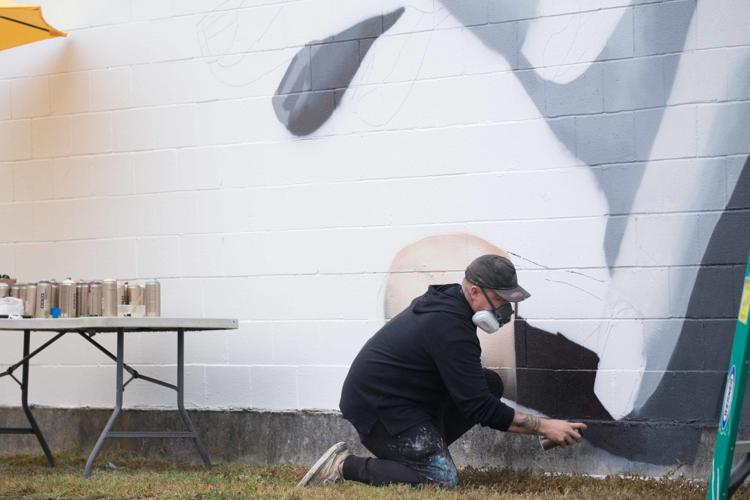 The first artists to come to Coffee County were Sarah Painter and Cosby Hayes, Luna said.
After connecting with DMA via Instagram, Painter and Hayes were originally scheduled to paint the first mural downtown.
Circumstances changed; however, after hearing about the tragic death of Channing Smith in Manchester. Once they heard Channing's story, they set to work in Manchester instead, painting an homage to Channing on the side of the Foothills Crafts building off Exit 110.
Next on the list was Nashville-based artist Ty Christian (@creativ_ty). He spent several days in Tullahoma creating a piece on the backside of a Good Samaritan of Tullahoma building that is available for viewing now.
Christian's mural is part of a larger series he created called "Harmony." The piece is a "multi-racial hand" that is meant to evoke "unity and equality."
"Essentially, it's just to bring together the community … and just make everything cooperate," he said.
In the piece, two hands are touching each other lightly. Each hand has multiple sections of different colors meant to represent different ethnicities.
"There's just something elegant about hands touching hands that kind of brings people together," Christian said.
Other artists coming to put their mark on the town this month are Mobe Oner, Folek, Forbecks and Nathan Brown, according to Luna. Where the artists' work will be remains a secret, though Luna said one downtown building has been prepped for a mural to be installed.
To see the kind of work the upcoming artists have already done, visit their Instagram pages, @mobeoner, @forbecks, @folek_folek_folek and @nathanbrown77.
Luna and van Velsor can be found at @lunaticatlarge and @scottyvsquared. For more murals, follow @muralseverywhere on Instagram.