Early Friday morning members of the Tullahoma Fire Department began their climb up and down the bleachers of Wilkins stadium. They then spent the next few hours trekking the equivalent of 110 flights of stairs in memory of their fallen brothers and sisters of FDNY.
TFD takes part in an annual memorial stair climb honoring the 343 firefighters who lost their lives in the terrorist attacks of Sept. 11, 2001. That day saw thousands of Americans killed when four commercial airplanes were hijacked in a coordinated attack on the United States.
"Today, our fellow citizens, our way of life, our very own freedom came under attack," former President George W. Bush said on television the night of the horrific event 20 years ago.
Friday morning saw several local fire departments participate in the memorial stair climb at Wilkson Stadium.
"Today we honor their courage and bravery, as we have vowed to never forget," Lt. Craig Stroop said to begin the ceremony Friday morning.
Stroop said firefighters from three local fire departments took part in the ceremony in Tullahoma. There were also special guest climbers.
"Today we are represented by three departments: Tullahoma fire, Manchester firefighters and Hickerson Station Volunteer Fire Department," Stroop said. "Also one of the climbers that joins us is a Marine veteran. Today we have 16 firefighters climbing, but on top of that, the ROTC group had approximately 50 climbers that are participating."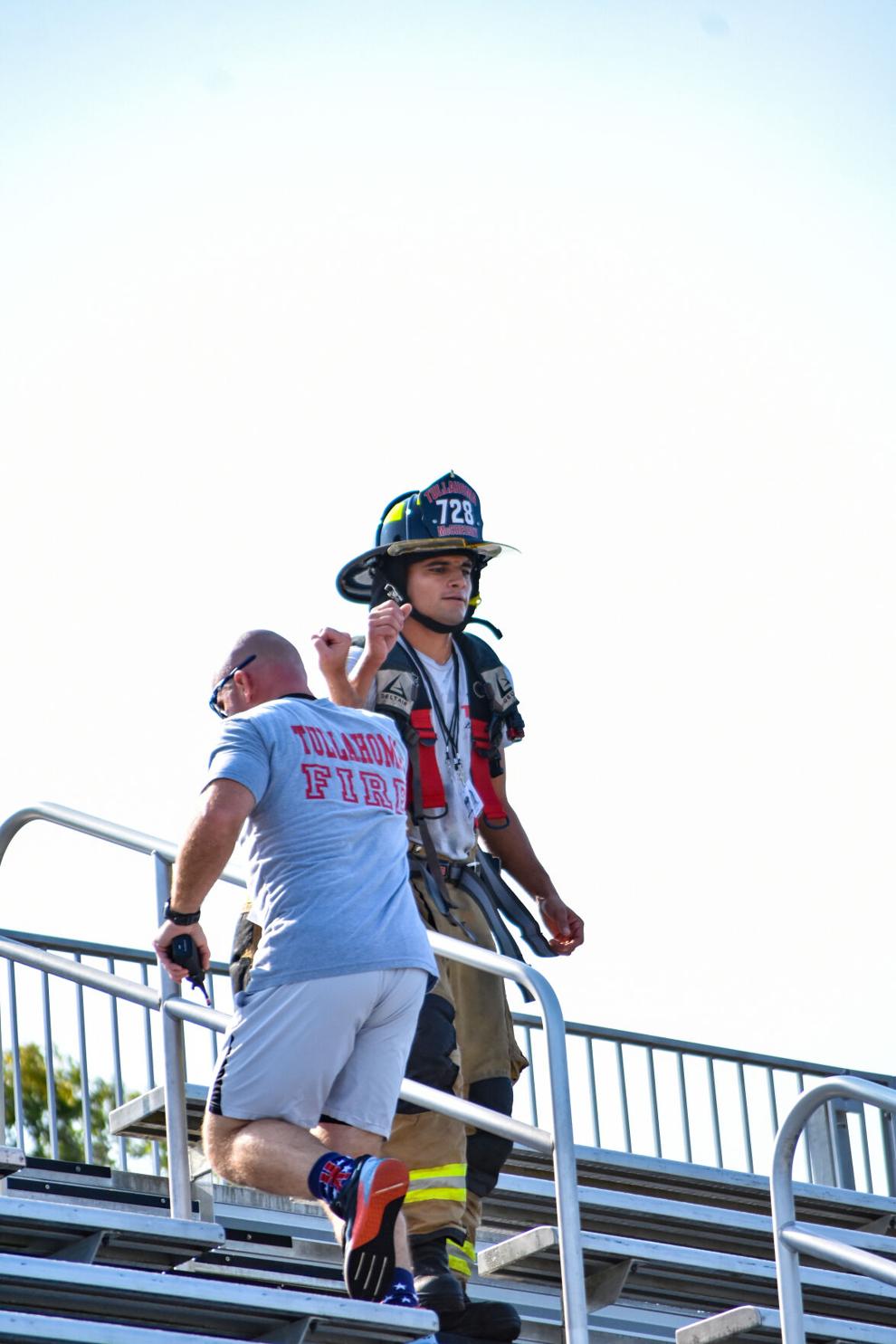 They started off the morning with a presentation of the colors by the Tullahoma High School Marine Corps JROTC program, the singing of the national anthem and a prayer. There was also a special performance of "Amazing Grace" by a bagpiper. Finally, dressed out in full gear, the firefighters began their climb.
In the past the fire department has traveled to Nashville to participate in a memorial stair climb. However the COVID-19 pandemic saw the department shift gears and hold a local climb instead. Stroop said the fire department plans to continue the local climb as a new tradition.
"Having it during school hours allows student involvement," Stroop said.
While the firefighters were climbing, Tullahoma High School students also participated by reading aloud the names of those who perished 20 years ago. They were encouraged to walk around the track and watch the firefighter on their trek.
Stroop said it was important to host the event at the high school to give young children who were not alive at the time of the attacks knowledge and understanding of the importance of that day.
"We talk about 'never forget' but we want to pass that idea on to those who are not in the fire service to never forget  the people that gave their lives to try and save people that day," he said.
The city will hold its annual 9/11 commemoration ceremony Saturday, Sept. 11 at 7:30 a.m. at Fire Hall No. 1.