Tis the holiday season for giving to thy neighbor and animal friends.
Tullahoma News is accepting donations for our pet angel tree featuring animals from Tullahoma Animal Shelter, Coffee County Animal Shelter, and the Coffee County Humane Society. The pet angel tree is located in the lobby of The News office located on Lake Way Place.
Tullahoma News staff member Stasha Mayes is coordinating the donations for the pet angel tree.  "We have pictures placed all around on the tree of couple of pets from each and on the back we have a list of generic needs for the pets," said Mayes. "People can pick up a pet and see what they need and make a donation and we will distribute it for them."
This is the first time The News put up a pet angel tree for animal donations.
"We do 'Karing for Kids' so we decided that the local organizations for animals can also use some help during the holiday season." said Mayes.
Mayes has been volunteering with animal shelters in Manchester for the last few years and asked the Tullahoma News to help contribute with funds and supplies for the shelters.
"I've sold paintings for donations, volunteer at PetSmart to clean the kitty rooms, and fostered three dogs from the animal shelter," said Mayes.
She approached PetSmart store manager Dillan Freeman and asked if the store could donate to the pet angel. The Tullahoma store manager not only to help but also to be a sponsor.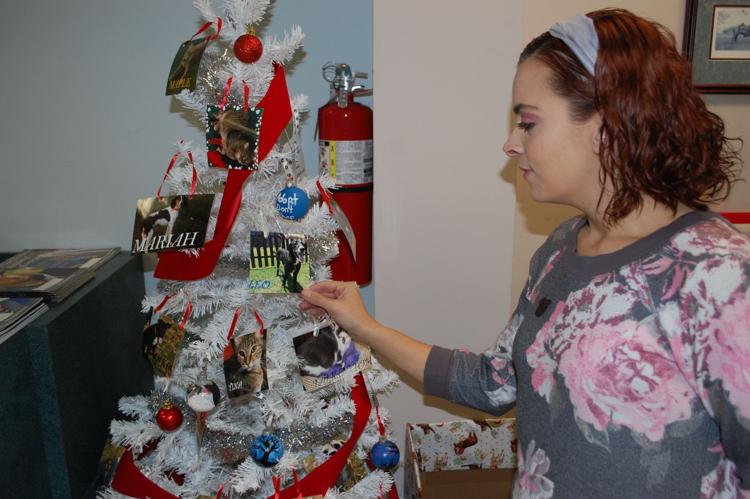 "We went and they had a pallet waiting for us like a big Christmas present. They went above and beyond as far as that donation," said Mayes.
Some of the supplies donated were hamster cages, pet toys, waste bags, leashes, harnesses, beds, pet house supplies and health and beauty supplies like gummies and vitamin lotion.
Freeman said the supplies donated was worth over $1,000. He also said they donate animal plush toys to local hospitals and volunteer fire stations during the holidays as a way to give back to the community.  Two large bags of plush toys were donated to the angel tree as well.
Along with PetSmart, Dr. Jeff Keele of All Creatures Veterinarian Clinic and Dr. Melissa Prince of Lakeside Veterinarian Clinic have contributed to the donations and continue to support the local animal shelters.
Some of the rescues helping with the pet angel tree are Halo's Second Chance, Critter Cavalry, Just Paws and Save Me. 
Donations can be dropped off at Tullahoma News and Manchester Times.  Items that can be donated are Dawn dish soap, household bleach, blankets, cat litter, dry and wet dog food and cat food.
If anyone has any questions regarding donating to the pet angel tree and wanting to help any animal shelters, they can contact Mayes at smayes@tullahomanews.com.
Donations for the pet angel tree will be accepted until Dec. 20. 
The Coffee County Animal Control, Tullahoma Animal Control and Manchester Animal Control encourages everyone to help the animal shelters, rescues and humane society after Dec. 20 and during the holiday season.