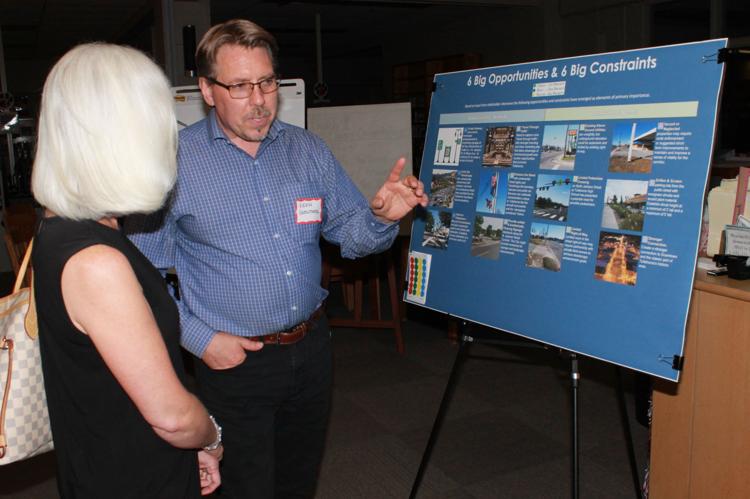 While the state was looking for feedback from the community on state routes in the county, the city was soliciting comment from residents on how to improve the main corridor in town.
City officials convened with representatives from the Nashville-based engineering firm Ragan-Smith last Tuesday to see where resident priorities about North Jackson Street lie.
According to Ragan-Smith representative Kevin Guenther, his team is looking at an approximately 2-mile stretch of North Jackson Street, between Hoover Lane and Wilson Avenue, for its revitalization project. The area also includes adjacent property to the East and West of North Jackson Street, such as the property around William Northern Boulevard past Ascend Federal Credit Union.
Dozens of invested city officials and interested residents turned out for the meeting, which was held inside the Tullahoma High School library Tuesday, May 21.
City Administrator Jennifer Moody said she was "encouraged" to see so many people interested and engaged in the public comment portion of the streetscape planning.
I think that this is a really relatable plan," Moody said of the overall project. "Everyone drives this corridor. Everyone's invested in how it looks and has experience [or] probably some difficulty trying to cross Jackson Street at one point or another."
Because the plan is applicable to everyone who lives or works in Tullahoma, Moody said she was glad to see so many people come by and share their concerns for the main road through town.
"I'm not surprised, but I am encouraged to see the level of engagement with the plan," she said.
 "We're looking at how to enhance the experience of the corridor, which is a lot of aesthetics," said Guenther. "This isn't a transportation project in the purest sense of the word that we're proposing dramatic changes to the travel lanes or intersections – that would be more of a TDOT project since it's a state route."
His team's goal, rather, is to clean up the area and bring new life into the city's main road.
"What we're looking at is between where the curb is and where they property line falls," he said. "How could you enhance that, and what kinds of things could you do?"
In previous stakeholder meetings, Guenther said one of the main concerns of all involved was the area directly in front of Tullahoma High School.
"There's no real pedestrian way there," he said. "We know that's important to discuss."
Guenther said that was a major focus area for his team, though it may need to involve discussion with the Tennessee Department of Transportation in order to move forward. He even hinted to those in attendance that there had already been some preliminary discussion at TDOT about a potential pedestrian crossing in front of THS. All comments were speculative, however.
Another area of emphasis for Ragan-Smith, Guenther said, was the retail section around Northgate Mall.
The increased updates to that area can spread to other, more dilapidated areas along the road, Guenther said. Those "public improvements" can help buildings that look "tired or worn out" to get that sprucing they need.
"A lot of times what you have to do to help spur that is to make public improvements into a corridor, which in turn will encourage private investors to also make investments into their properties and developers to come in and add additionally infrastructure," he said. "If the city can help change the way things look, it will only raise the opportunity for people to invest more into the corridor."
When it came to the public comment portion of the evening, Guenther gave all attendees three stickers to place on a large board with certain pros and cons on it.
These 12 items were separated into "opportunities" and "constraints" that the team should focus on. Attendees would place a sticker on the top three things they believed should be addressed by Ragan-Smith.
The opportunities included things like improved pedestrian/bicycle connections, a unified streetscape or a more enhanced emphasis on the aerospace excellence theme of the city. Constraints included the existing above-ground utilities, vacant or neglected properties and limited pedestrian crossings at the high school.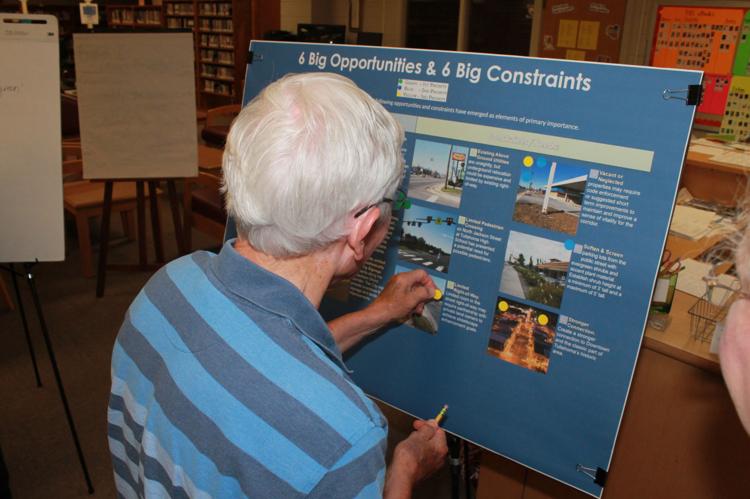 By the end of the night, a unified streetscape had a number of people's stickers, as did the vacant or neglected properties.
Having the public input also makes things easier for the city in terms of funding any proposed projects on the road itself, as well.
According to Moody, having public meetings like Tuesdays are "what being a public entity or a local government is all about."
By having the public share their thoughts, the city can more easily apply for grants with a well-rounded proposal.
"It will be a benefit to us to have had a plan and be able to say that the community participated in that plan," Moody said.
"This is just part of…good government and good community planning," she added.