DAVIS 
Edward Phillip "Abe" Davis, 82, was born Aug. 5, 1937 and passed away Nov. 24, 2019. Kilgore Funeral Home was in charge of arrangements. 
BARNES 
Dennis Wayne, of Tullahoma, passed this life on Friday, Nov. 22, 2019 at his home at the age of 65.
Mr. Barnes was born in Johnson City, Tennessee to the late Rev. E.W. and Dorothy Irlene Snapp Barnes. During his life, he worked as an electrical engineer at AEDC and was a member of Trinity Lutheran Church. Mr. Barnes is survived by his wife, Debbie Schoenrock Barnes; two daughters, Emily Barnes and Sarah Barnes Mock and her husband Nathan; one brother, Roger Barnes and his wife Pat; his step-mother, Virginia Barnes; and his best dog-friend, Will. Visitation was held on Sunday, November 24th, 2019 at Trinity Lutheran Church from 2 to 4 p.m. and memorial service followed at 4 p.m. with Rev. Alex Hoffner officiating. For those who wish, in lieu of flowers, donations may be made to Trinity Lutheran Church with an emphasis on music programs, 705 Wilson Avenue, Tullahoma, Tennessee 37388. Kilgore Funeral Home is in charge of arrangements.
RICHEY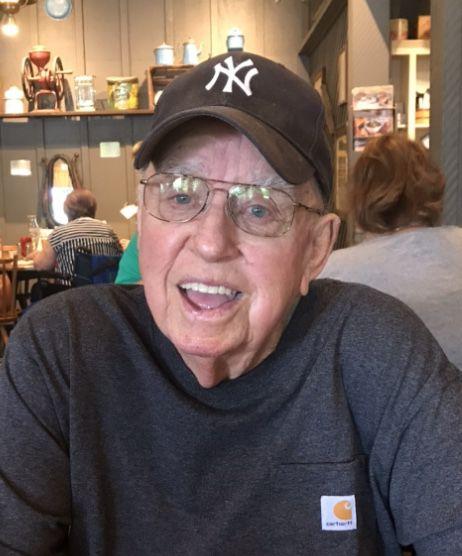 Kenneth Jerome Richey of Tullahoma passed this life on Saturday, Nov. 23, 2019 at Williamson Medical Center at the age of 87. Mr. Richey was born in Henagar, Ala., to the late John Luther and Thelma Harrison Richey. During his life Mr. Richey worked as an Iron Worker for AEDC. He was a longtime member of Marble Plains Baptist Church, Iron Workers Union- Local 704, and was a 32nd degree Mason. Mr. Richey also loved farming, and most importantly, spending time with his family, whom he cherished. They will remember him best sitting on his front porch, drinking a cup of coffee with his dogs- "the girls" Annie and Ruby. In addition to his parents, Mr. Richey is preceded in death by his beloved wife Mae Evelyn Richey; one daughter, Sandra Gail Cobb; one brother, Hugh Richey; and three sisters, Vivian Smith, Kate Braden, and Audrey Gunter. He is survived by one daughter, Holly Baltimore and her husband Levoid of Tullahoma; one brother, Bobby Richey and his wife Joyce of Winchester; one sister, Berch McCurdey of Ft. Payne, Ala.; two granddaughters, Kelley Eaves and her husband Chris of Tullahoma, and Amanda King and her husband Robbie of Winchester; four great-grandchildren, Megan and Weston Eaves, and Cameron and Kaden King; and one great-great-grandson, Matix King. Funeral services will take place Wednesday, Nov. 27 (what would have been he and Evelyn's 67th wedding anniversary) at 2:30 p.m. in the Kilgore Funeral Home Chapel with Jack Hice officiating. Burial will follow at Pennington Cemetery in Franklin County. For those who wish, the family asks that donations in Mr. Richey's memory be made to the American Heart Association- Greater Southeast Affiliate- PO Box 840692 Dallas, TX 75284-0692. Kilgore Funeral Home is in charge of arrangements.
POGUE 
Charles Ray Pogue, 74, of Huntland, passed away on Saturday, Nov. 23, 2019 at his residence surrounded by his loving family. Funeral services were held with Rev. Gary Gardner, Rev. Bob Hill, and Rev. Johnny Bradford officiating. Interment will follow at Mt. Carmel Cemetery
HARPER 
Haskel "Dugan" Merlin Harper, 90, of Manchester passed away passed away Saturday, Nov. 23 2019 at Manchester Health Care. Manchester Funeral Home is in charge of arrangements.
KEEVER
 Linda Gail Keever, 69, passed away Friday Nov. 22, 2019 at McArthur Manor in Manchester. Central Funeral Home is in was in charge of arrangements.