At 50 years old, Steve Johnson tested his body and his faith by hiking the entire Appalachian Trail, the 2,189.1-mile route which runs through 14 states, beginning in Georgia and concluding in Maine.
Two years removed from that journey, the retired Air Force colonel has written a pair of books, "Sir Fob W. Pot's Journey to Katahdin" Volumes one and two, detailing his nearly six-month hike. Johnson now travels with his wife Janet, sharing his story with Christian schools, camps and churches across the country.
On Sunday night, Johnson, whose father Brad lives in Tullahoma, will be sharing his story at The church of Christ at Cedar Lane, located at 100 Cedar Lane. The presentation is scheduled to get underway at 6 p.m.
During his journey along the Appalachian Trail, Johnson updated a blog daily, detailing his experiences using his trail name, Sir Fob W. Pot.
"Along the way, I think when God takes you out of your normal routine and your normal comfort zone, sometimes he speaks to you in different ways, and it allows you to see and experience things differently. Along the way, there were certain things that I was noticing and observing between people, nature and the experiences that I had. So, I started taking notes."
While in Tennessee at a watering hole in the Smoky Mountains, Johnson said he was speaking with an Australian woman who happened to read his blog. According to Johnson, she was the first to mention the idea of turning his posts into a book, something which, at the time, he was opposed to. However, after consideration, Johnson heeded her advice.
"It's not only a trail journal of the daily things that I experienced, the miles I went and the things that I saw," he said. "I kind of interlaced that with spiritual applications and adages. Those things came to be known as Fob Fundamentals. Across the two volumes, I think there are 57 fundamentals, which are spiritual observations from things that I observed along the way."
According to Johnson, there are 10 reasons he decided to undertake the challenge of the Appalachian Trail, all of which he discusses during his presentation. Prior to Sunday, Johnson spoke with The News, highlighting four of those reasons, the first of which was the fact that it appealed to his sense of adventure.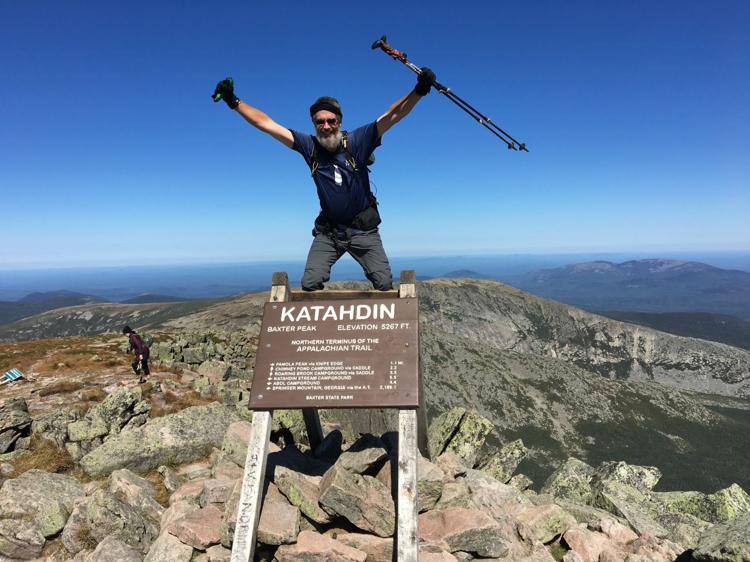 "I was brought up in an Air Force family and I went into the Air Force myself and served 23 years and retired," he said. "Part of my whole military experience has been traveling around the world and visiting different places. Each of those, in the sense of things, was an adventure. You'd go to a new school, a new church or a new job, so it's always exciting and new. So the Appalachian Trail was just sort of an extension of this lifestyle that I've been experiencing all along ... Being able to be up on a mountain and see the stars, or to be able to camp by a stream, you really can connect with God's creation in a powerful way."
The second reason Johnson undertook his six-month journey was to help a couple he and his wife became friends with when they lived in Florida. For nearly seven years, Amber and Julio Colon attempted to have a child, but were unsuccessful and instead opted to adopt.
"I decided to try to help use my hike as a fundraiser for them try to raise the additional funds needed," Johnson said. "Different people pledged money for different miles during my hike. So that was a motivating factor."
His third reason for the journey included helping inspire fifth-grade students at Foundation Christian Academy in Florida. According to Johnson, there were two classes at that school that had a map of the Appalachian Trail inside the classroom and the students would keep up with his hike.
"I was represented with a little tack on that map and every 100 miles, they would move the tack," Johnson said. "Also, they would do homework assignments related to the states that I was in and on a few occasions, I got to do a FaceTime with them and have discussions. Just knowing that there were a couple of classrooms of kids, who were back there tracking the progress and interested in the journey, it motivates you not to quit."
The fourth reason that Johnson said he decided to take the journey was a discussion he had with his mother, Margaret, before her death from cancer in 2015. During a camping trip, Johnson said his mother encouraged him to at least attempt the hike.
"She knew that I had this bucket [list] dream of hiking the Appalachian Trail," he said. "She encouraged me to do it, and it wasn't one of those things where she put the pressure on me that I had to finish it, but she encouraged me to at least start it. She told me to at least give it an attempt, so it wouldn't be something that when I was on my deathbed, I would look back and say that I wish that I had tried it.
"So, I made a commitment to her to start the trail and my dad allowed me to take some of her ashes with me," Johnson added. "So for nearly the entire 2,200 miles, I had a little bag in my backpack with her ashes. That was kind of a motivating thing when you have mom onboard there."
Johnson said the journey was tough, but he made the commitment to finish and wanted to make it through the trail. He told himself that he would only deviate from the plan for catastrophic reasons, either due to an injury he received or a family emergency.
"You can't give yourself an out. I call it a 'so long as.' I don't care what it is, whether it's a military career or getting married, this thing that you are going to commit to, you can't have this 'so long as' state," he said. "So for example for me, it could have been something like, so long as it's not hard —well, I knew it was going to be hard. So long as I don't get homesick — well again, I knew I was going to miss home … When you give yourself the 'so long as,' one of those situations is going to come up."
Currently, Johnson and his wife are Sojourners, a Church of Christ affiliated RV group of about 650 Christians. Some of those members, like the Johnsons, travel full-time, while others travel just part of the year, working with Christian schools, camps, churches and children's homes for roughly two to three weeks at a time. During those periods, they will help those places with whatever they need.
During his journey with the Sojourners, people started to learn about Johnson's feat of completing the hike across the Appalachian Trail and the books that he had written.
 "Word got out about my books and I really have been invited to speak across the country at different places, talking about my journey, my hike and things that I've learned along the way," Johnson said. "So on Sunday night, at 6 p.m., I'll be able to speak at my dad's church in Tullahoma."