For the second time in her career, Ashley Scott, a seventh-grader at East Middle School, left Louisville, Kentucky as a National Champion, capturing the top spot in the National Archery in Schools Program (NASP) Tournament on May 9.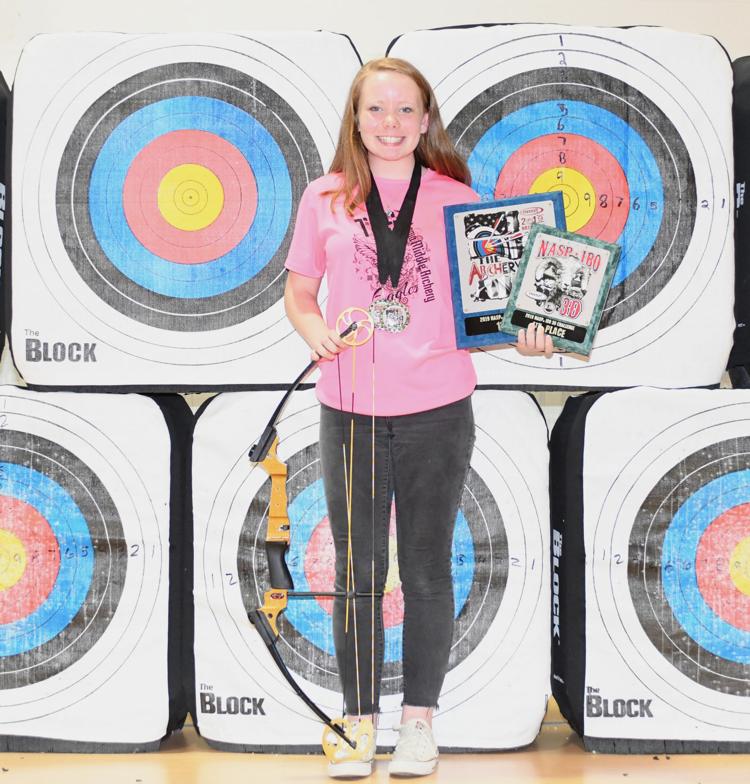 At this year's tournament, Ashley was nearly perfect, shooting a 295 out of a possible 300 points in the bullseye tournament, capturing first place over 2,559 competitors in the middle school girls division. That performance also ranked her eighth out of a combined 7,109 total competitors in the girls high school, elementary and middle school divisions.
"It was really fun," Ashley said. "When I was on the line, I realized that I had won, I had the biggest smile on my face. It was just impressive to me. I thought I did pretty well because I tied the score that I had last year. Last year, I got second place, so I didn't think that I was going to place this year since I had the same score. In 3D, I shot higher than I ever had before."
While nabbing first place in the bullseye tournament, Ashley also added a fourth-place effort in the 3D tournament. Ashley put up a total score of 289, placing her fourth out of a total 958 archers competing in the middle school girls division. That also placed her 18th overall in the girls tournament against 2,496 other opponents.
"It's really incredible," said East Lincoln Head Coach Jeff Hale. "She started in third grade … As soon as she shot, I saw that she had the skills. From third grade on and just seeing her progress, I knew she had this potential in her. It's one of those things though, where you have to focus with that level of competition and she's been that way ever since third grade."
With the national championship performance, Ashley locked herself into the NASP World Tournament, which will take place in August in Snowshoe, West Virginia. That two-day tournament is scheduled to take place on Aug. 8 and conclude on Aug. 9.
Local elementary teams take part in nationals
Two Tullahoma elementary schools qualified for nationals this year as both East Lincoln and Bel-Aire sent their teams to nationals on May 9. East Lincoln finished 16th out of a possible 200 teams in the bullseye competition, scoring 3,120 points. Bel-Aire finished 149th in the same tournament, totaling 2,762 points.
East Lincoln also took part in the 3D Tournament, finishing 12th out of 77 total teams, putting up 1,540 points.
In the bullseye tournament, East Lincoln was let by Cesar Ibarra, who finished 22nd out 2,229 competitors in the elementary boys division, with a score of 281.
On the girls side, Brookelyn Brawley led East Lincoln with a 267, placing her 131st out of 1,940 competitors in the elementary girls division.
Other scores for the East Lincoln girls included: Sarah Thomas in 161st at 264 points. Trinity Carpenter placed 192nd at 263 points. Olivia Nowak took 277th at 259 points. Addie Pollard finished 321st at 257. Taylor Thompson had 251 points, taking 448th place. Addison Arnold finished 538th at 247. Rhianna Chambers placed 586th at 245. Maddie Baker took 767th at 239. Amaya Sharp took 894th at 234. Janessa Church finished 1,096th at 226 and Abby George placed 1,714th at 182.
Dujuan Chambers finished in 185th at 265 on the boys side. Steven Holloway took 340th at 258. Hunter Hall placed 386th at 256. Noah Baker finished 499th at 252. Dalton Rollins finished with 245 points, taking 703 points. Rafael Jimenez placed 718th at 245. Lucas Willette placed 875th at 239. Cael Treuhaft took 1,878th at 197 and Briar Brinkley finished 1,941st at 191 points.
The Bel-Aire Elementary team was led by Abagail Montgomery who totaled 258 points, finishing 290th on the day. Alexis Mims took 545th with a score of 247 points. Cambree Moyers placed 557th at 247. Harleigh James took 752nd at 240. Aubyrne Phillips placed 865th at 235. Macy Marcel took 1,021st at 229. Ella Parr finished 1,281st at 216. Aubrey North took 1,317th at 214. Devyn Hares finished 1,686 at 185. Kiley Earhart finished at 167, good enough for 1,801st place, while Peyton Walton placed 1,929th at 109 points.
On the boys side, Aiden Shepherd led the Bel-Aire boys with a score of 246, taking 681st overall. Jayce Carias took 1,076th at 233 points. Jax Ross placed 1,731st at 205. Addian May finished 1,936 at 192 and Hayden Good took 2,054th at 178 points.
Middle School and High School competitors
While Ashley took the top spot at nationals, Aleigha Raby also took part in the 3D tournament for East Middle School. Aleigha finished that tournament with an overall score of 224 points, finishing 727th overall.
At the high school division, freshman Adonus Sharp was the lone competitor for Tullahoma. In the bullseye competition, he finished with a total score of 280 points, placing him 486th out of a total 2,699 competitors in the high school boys tournament. Adonus also took part in the 3D tournament with an overall score of 264, finishing 460th out of a total 1,022 participants.