Three weeks until the regular season gets underway, the Tullahoma High School girls' basketball team announced Wednesday that McKenna Buckner will be donning the Number 22 this coming year, in honor of former THS Head Boys Basketball Coach Jeff Taylor.
Taylor, 43, died in December 2016 after a long battle with cancer. He spent 11 years in charge of the THS boys' basketball program, departing Tullahoma in 2012, in order to return to the sidelines for his alma mater, Franklin County.
In his time spent as a player and coach, Taylor was described as hard-nosed, unafraid and somebody who loved the game of basketball.
During his final season at helm of the Tullahoma program in 2012, Taylor led his team a District 8-AAA Tournament Championship, the school's first in 33 years. That year's squad went on to finish with an overall record of 20-9.
However, Taylor saw his time on the bench limited while he battled colon cancer. He returned to the sidelines that season after the disease went into remission.
In the spring of 2012, Taylor, a 1992 Franklin County High School graduate, was hired as the Rebels' head boys' basketball coach. However, the cancer returned while Taylor was at Franklin County, causing him to miss the majority of the 2015-16 season and he did not coach at all in 2016.
As a player, Taylor was a standout for the Rebels from 1989 until 1992. While at Franklin County, he received numerous accolades, including being an honorable mention for the McDonald's All-American team during his senior season.
He additionally set the single-game school record for points, putting up 41 against Riverdale in the region tournament.
After graduating from Franklin County, Taylor became the first – and to date, the only – Rebel to play basketball at the Division I level, playing for Samford University.
In December 2016, shortly before his death, Taylor's No. 22 jersey was retired during a ceremony at Franklin County High School during a matchup against Tullahoma. Taylor was not in attendance at the ceremony, due to his health.
While searching for a way to honor Taylor's legacy, the Lady Wildcats' coaching staff spoke with his wife, Stacy Taylor, and announced a competition for the No. 22 jersey back before the 2018-19 season. Macey Bowman was selected by her teammates to represent Taylor that inaugural year, before Buckner was voted by her peers to wear the jersey this coming season.
"I didn't know Jeff Taylor on a personal level, but I was able to speak with him on other occasions," Buckner said. "Every time, he had that passion and that fire burning. I was talking to [THS Athletic Director] Coach [John] Olive and he said that he was such a point guard, because he always put others before him and that he did the same thing off the court as well. Everyone always looked up to him because of the great man that he was."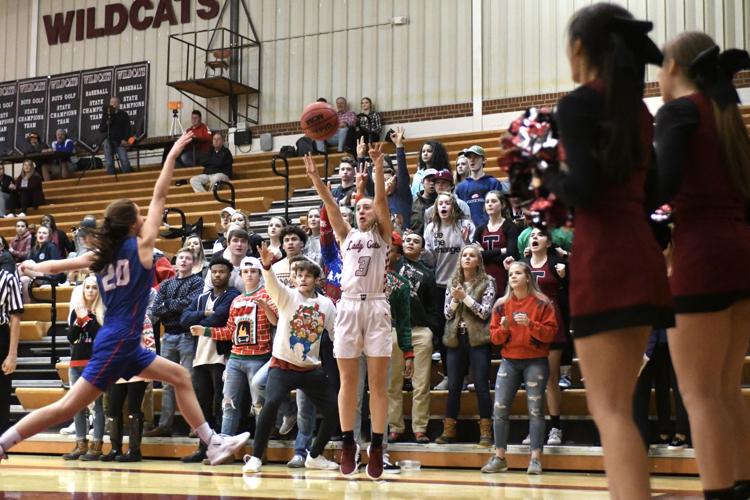 According to her head coach, Cody McMurtry, Buckner displayed some of those leadership skills as well. During the summer, the junior guard was hindered by a foot injury and was unable to participate. However, that didn't stop her from being with her teammates on the sidelines.
"She still went to every camp, except for one and the one that she didn't go to was because she was having surgery," McMurtry said. "It was just like having another coach there when she did go to camps. She would pull girls to the side and say 'Look at this." She was at every practice and every workout, even though she couldn't do anything."
Having her on the sideline was an added benefit McMurtry said. He also noted that she really aided the freshmen into the transition of playing high school basketball.
"With so many freshmen, I'm sure their minds were blown on some things, so it was just like having a big sister there," McMurtry said. "I think that they really appreciated her being there. A lot of upperclassmen saw that and I think that stood out to a lot of them."
When developing the jersey number competition, there were certain characteristics that McMurtry said the winner had to have. He first noted that the winning player needed to demonstrate leadership on and off the court, while also having strong values and faith. The player should also help others, have a great work ethic and be empathetic, while also being a leader with a great attitude, while continuing to do the little things on and off the court.
While players were making their selection for the No. 22 jersey this coming season, McMurtry said he kept reading the same note about Buckner, the fact saying that she was a "servant leader."
"That was a big thing that a lot of them kept coming back to," McMurtry said. "They were saying, 'she does this, she does that, she's just a servant leader.' That's a big thing that we associate with the No. 22 jersey and Jeff's legacy as he was a servant leader on and off the floor, and that's one thing that McKenna definitely is." 
According to McMurtry, Buckner will be one his more versatile players this coming year. The Lady Wildcats' coach also noted that having her out there is somewhat like having a coach on the floor.
"She's going to be an individual who has to slide in, in different capacities," McMurtry said. "She's probably going to have to play some point guard at times, some shooting guard at others, and playing off the ball. There may be some games where we are playing bigger teams and she may not play as many minutes, but then the next night, she could play heavy minutes."
According to Buckner she understands her expected role this season. While she wants to do well individually, she has a team-first mentality.
"I want to do what everybody wants to do, score, but, I also want to be there to pick people up," Buckner said. "If I'm not having a good offensive night, I want to have a great defensive night – either that or the opposite. Then I just want to be the best teammate that I can as well."
Last season, the Lady Wildcats won the District 8-AAA Tournament, and did not lose a senior from that squad. Heading into this year, Buckner said she wants to win, but she also wants her and her team to leave an impact.
"Obviously, we want to win district again and be number one. We also just want to grow closer together and be able to leave a legacy so that Tullahoma can remember that team."
Tullahoma will open the regular season with a trip to Independence on Nov. 19. Tipoff is scheduled for 6:30 p.m.