Soccer season ended for Tullahoma in early October, but senior Julia Duncan learned Tuesday that she will get to play one more game, which will take place this weekend.
Duncan was selected to the 2019 Tennessee High School Soccer Coaches Association Senior All-Star Game. That contest will take place at 2 p.m.  Saturday at Field of Dreams at Drakes Creek Park in Hendersonville.
Right after soccer season concluded, Duncan turned her focus to basketball. Official practices for winter sports got underway on Nov. 4 and the Lady Wildcats open their season on Tuesday.
"I think it's awesome to be selected. I really was not expecting it all because I've been so focused on basketball," Duncan said. "I just got an email out of the blue yesterday [Tuesday]."
"Saturday, we actually have two basketball games at Riverdale. I think I am going to go play one basketball game at Riverdale and I'll have to miss my second one to go play in the all-star game. But, I'm looking forward to it for sure."
On Thursday morning, Duncan was notified that the scrimmage at Riverdale had been cancelled. So, now she can focus on playing her final high school soccer game.
"I really don't have a clue what's going to happen, other than I need to bring a white pair of shorts," Duncan said. "I am excited. I am a little nervous, just because I won't be with anybody that I know. But, I think I can go compete, I just don't know what to expect. There will a bunch of good players, that's for sure."
The selection should be no surprise though, as Duncan put together a historic season on the soccer field. The senior forward ended her career as Tullahoma's all-time leading scorer.
Midway through September, Duncan set a new record for career goals, smashing a mark of 76 that was previously set by Jessica Kyle in 2002. Duncan ends her high school career with 92 career goals and 30 assists. 
This year alone, she tallied 37 scores for the Lady Wildcats. That milestone again set a new school mark, this time for most goals in a season. The previous record was set at 36 by Kyle during that 2002 season.
"My freshman year, I came to Tullahoma not even knowing what the record was," Duncan said. "I just worked hard every day to help us improve as a team. I'd like to think that I helped change the soccer culture at Tullahoma. We were a better team this year than we were the other three years of my career."
For her head coach Marvin Carson, he said that getting to coach Julia during her high school career was rewarding. Carson was an assistant coach during Duncan's freshman year, before taking over as head coach the following season.
Looking back at the year, it was obviously a special one for Duncan. However, Carson was quick to point out that her effort and desire to improve made everything possible.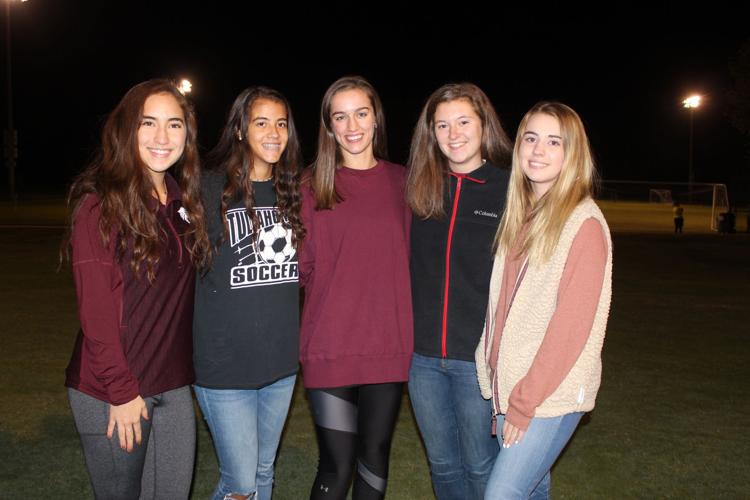 "Not only does she have natural talent, but I don't think people understand the work and the extra work that she put in to accomplish that," Carson said. "We had some preseason workouts and I just know that she was one of the ones who showed up. We only had three or four girls show up as we had a special trainer out and she was one of them who came out.
"She was already one of the best players on the team – if not the best player, and she was doing extra while she was playing basketball as well," he added. "Sometimes you see the record and you don't realize the work that those people put in to get there. That's definitely a testament to her, because she was willing to put in the extra work."
During the annual end-of-season banquet, Duncan received the Golden Boot Award, which is given to the player who put up the most goals that season. During that dinner, Carson delivered a speech on just how much he loved seeing what Duncan was able to do out on the soccer field.
"I told the girls at the banquet that this is going to be something that you all look back on and say, 'I remember playing with her,'" Carson said. "It's something that I consider special and I know [assistant coach] Coach Pat [Lazarus] considers special. And, I think all of the girls who played with her do think that it's special.
 "You have to think, the record prior to her, it almost took nearly 20 years to break," he added. "There's a good chance that we may never see this record broken. Either that, or it's going to a long time before it's broken again."