In his first trip to Tullahoma, former University of Tennessee and now Pittsburgh Steelers quarterback Joshua Dobbs talked to 10 different local football teams, sharing his testimony in part of a Night of Champions, a Fellowship of Christian Athletes event that was presented by Grace Baptist Church.
During his conversation with Pastor Timothy McGehee, Dobbs detailed his path to the NFL. Not only did he mention his on the field efforts, but also delved into his work in the classroom, but additionally, talked about his faith. 
 "I'm excited to share my story," Dobbs told The News before speaking at THS. "I'm blessed to be a part of it and just be able to influence the lives of up and coming football players, high school football players, whether it's on the field in their pursuits, or whether it's off the fields in their approach, or just how they go about life. Being able to pour into them, I really enjoy doing it and I'm very blessed to be a part of this circuit."
Prior to speaking inside the auditorium, Dobbs first made an appearance during an FCA cookout that was taking place at the Tullahoma High School cafeteria. During that event, the former Vol high-fived students, while taking time to take photos with them.
"I thought that was great," said John Olive, THS Head Football Coach and Athletic Director. "I think the more that you can get people like Josh Dobbs mingling with the guys, the better off we are in this world. This life is about being kind, being able to help people and sharing wisdom."
Stopping and saying hi to the students was something that was really important to Dobbs. According to the current Steeler, FCA played a huge role for him, when he was at Alpharetta High School in Georgia.
"I had several coaches in high school, several chaplains in high school, from FCA to help us to see, have your faith and see it in sports, to be able to glorify God in what you do on the field as well," Dobbs said. "So being able to make that connection. So it was very important for me. It was a very key factor and it helped me mature and grow into the person I am today."
In 37 career games at Tennessee, Dobbs completed 61 percent of his passes, hitting on 614 of his 999 targets. That allowed him to throw for 7,138 yards and 53 touchdowns. He was also a dual threat, rushing for 2,160 yards in his career and 32 touchdowns on 438 carries.
During his final year as a Vol, Dobbs connected on 63 percent of his passes, throwing for 2,946 yards and 27 touchdowns.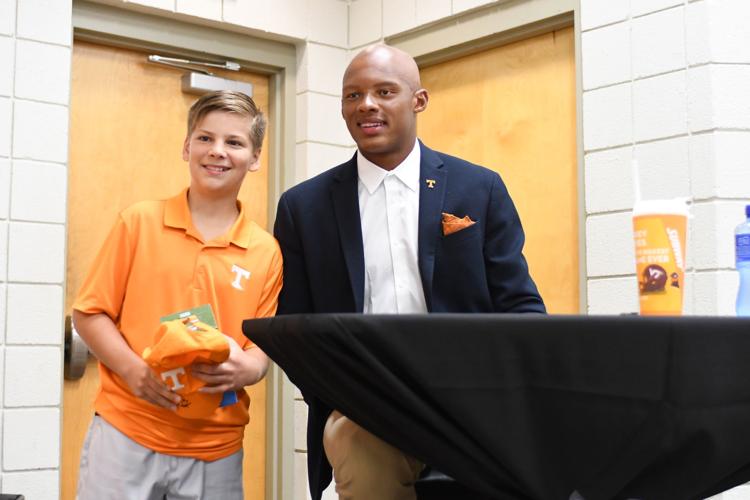 As the Vols quarterback, Dobbs led Tennessee to three consecutive bowl wins, including defeating Iowa in the Taxslayer Bowl in 2015. Dobbs was named the MVP of that bowl game, accumulating 205 yards of offense and three touchdowns as a sophomore.
The Vols followed that by back-to-back bowl in wins in consecutive seasons. Tennessee first defeated Northwestern in the Outback Bowl in 2016 and Nebraska in the Music City Bowl in 2017.
On Saturday, Dobbs shared stories during his time at Tennessee, including breaking down one play that Vols fans will remember forever. That play was a completed Hail Mary pass from Dobbs to teammate Jauan Jennings, which led Tennessee to a 34-31 win at Georgia in 2016.
Following his senior season in Knoxville, Dobbs was drafted in the fourth round of the 2017 NFL Draft by the Pittsburgh Steelers. Last year, he was the second-string quarterback for the Steelers, backing up Ben Roethlisberger.
"When you think of the Steelers, you just think of a winning culture," Dobbs said. "There's been a lot of greats that have played, put on the black and yellow uniforms week in and week out. So it's an honor to be a part of that organization, obviously. The Rooneys, you know, the type of people they are, the type of family they are, the type of ownership that they have with the Steelers.
"So, it's been a joy every single day to be able to say I work for the Steelers. I enjoy it. I love them. I'm living my dream, and I've had a blast and I'm excited to go into year three."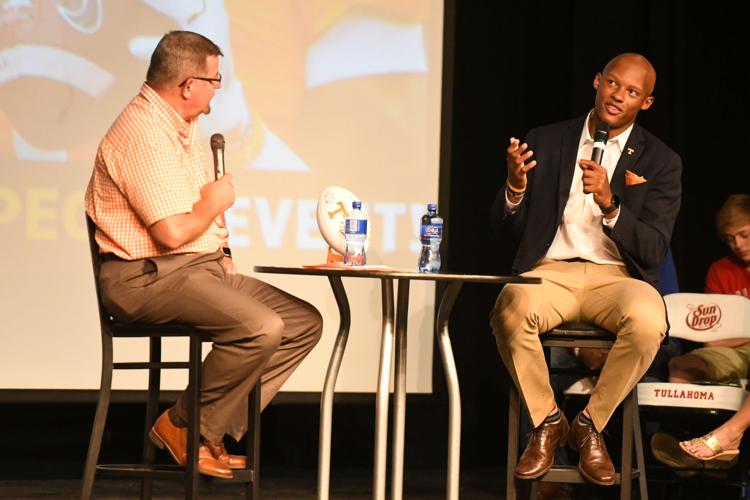 On top of being a standout on the football field, Dobbs got it done in the classroom as well, majoring in aerospace engineering. He also earned a spot on the SEC Academic Honor Roll with a perfect 4.0 grade point average. Additionally, he was presented with the 2017 Torchbearer Award by the University of Tennessee, an honor which recognizes accomplishments in the community and academics.
Despite graduating from Tennessee, Dobbs said that he's still close to the university, even making an appearance at the Vols' last two spring games.
"[Those spring games] have been a blast," Dobbs said. "I'm on the alumni board so we have yearly meetings, so being able to get around campus, stay in touch with the guys on the team. The freshmen, when I graduated, are seniors now. It's weird seeing how much they've matured. It feels like just yesterday they just got to campus. So, yeah, it's always a joy to give back. I love Knoxville."
In his second year in Pittsburgh, Dobbs received playing time in five games last season. His biggest moment game in a week nine game at Baltimore, as the Steelers were clinging to a 20-13 advantage.
Dobbs had to relieve Roethlisberger for a play, coming into the game as Pittsburgh had the ball on second-and-20 from its 5-yard line. Dobbs' pass was a strike, as he found JuJu Smith-Schuster for a 22-yard completion. Roethlisberger returned to the ball game after Dobbs' pass, and the Steelers went on to capture the 23-16 victory.
"[I was told that] Hey, we're going to throw it," Dobbs said. "We're going to take a shot. It's a play we've practiced a thousand times and we just went and executed it, you know? At that point that's all you know. Whenever your number's called, no matter how big or small you have to go in, execute, play at a high level. So we said, we're going to make the play and we're going to go out and score off of that drive and came out victorious."
Though he was in Tennessee this past weekend, Dobbs had to head to Pennsylvania for training camp. However, the former Vol will be returning to the area, when the Steelers take on the Titans in the third week of the preseason on Aug. 25.
"We played two games in Nissan Stadium during my time at school so it will be fun to get back in that stadium, play football and see some familiar faces," Dobbs said. "Obviously I'll be trying to win, but it will be fun. It's always fun to come back to Tennessee no matter if I'm coming for a game, or just coming for pleasure, or coming for work, you know, it's always a blast."