Graduation will be taking place on Friday and senior Race Marin will easily go down as one of the most versatile, competitive and fearless athletes in Tullahoma High School history.
After already playing three sports at the varsity level, Marin added another to his repertoire earlier this month, making him a rare four-sport athlete. During his high school career, Marin played basketball, baseball and football all four years at THS, and was a starter for at least the last three years in each of those athletics.
After baseball season abruptly ended on May 5 with a 3-0 loss to Shelbyville in the district tournament, Marin was left without a sport to play. That didn't last long and two days later, Marin was suiting up for the THS soccer team, playing in the Wildcats' District 11-AA Tournament game at Central Magnet on May 7.
Unfortunately for Marin and the Wildcats, Tullahoma saw its season end with a heartbreaking 1-0 loss to the Tigers in that match, so he only got to play that one match. Central Magnet notched that victory with a late score with 34 seconds remaining on the clock.
According to Marin, he had no intention of playing soccer until one of his teachers, Michael Holiday, made a joke on Monday about how he could join the soccer team now that his baseball career was finished.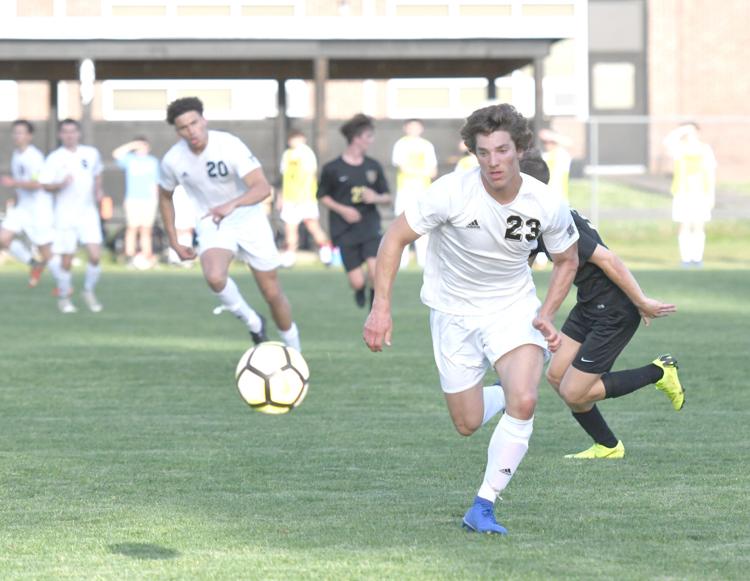 "Honestly, that's all I thought it was, a joke," Marin said. "However, I kept thinking about the idea of playing and how cool it would be."
From there, Marin said he talked to one of the team captains, Tom Ellis, about joining the Wildcats' soccer squad. Ellis and Marin then went to talk to THS Head Soccer Coach Richie Chadwick, who was elated about the idea.
The next part was getting him registered to play, which was easy enough. Chadwick and Marin went to go see Tullahoma Athletic Director and THS Head Football Coach John Olive, who gave the clearance. With a player out of town for the Wildcats, there was a jersey ready for Marin, as he sported the number 23.
"I was so excited. I called everybody telling them how I was going to play soccer," Marin said. "My dad, [Rey Marin], said he had never heard me so excited about something. I went from not knowing what to do after school to going to my first high school soccer practice that day. I never really had the chance to do this because I have always had spring football practice."
Despite the Wildcats' season ending with the loss to Central Magnet, Marin said he was glad to be able to be back out there and contribute.
"It was a really tough loss. However, it felt amazing to be back out there and helping our soccer team," he said. "I realized how much I missed the game … Soccer was my favorite and main sport growing up. I played school soccer all the way up till 7th grade when I had to choose between it and baseball. Extremely tough decision."
For playing in his first-ever varsity soccer game, Chadwick said Marin was solid out for the Wildcats. However, the THS coach said that it was noticeable that he wasn't quite in soccer shape.
"Race did very well," Chadwick said. "He had a couple of headers, set up some stuff and just his speed was great to have. He kind of cramped a bit, he's been in baseball shape. He would go 11 or 12 minutes and give me the nod that he was cramping. It was great to have him, I just hate that we only had him for one game."
Wildcats make quarterfinals run
Marin's senior year got off to a great start, as he was a member of the Tullahoma football team that wound up making a quarterfinals appearance in the playoffs, finishing the year with a 10-3 overall record. The Wildcats' saw their season end with a 6-2 loss at Maplewood in November.
While the Wildcats' season ended as one of the best in program history, it didn't start that way. Tullahoma opened the 2018 campaign with a 31-13 loss to Shelbyville, before winning nine-straight games. Marin said he knew the team would make the playoffs when the Wildcats went down to Lewisburg on Aug. 31, and held on for a 14-13 victory over Marshall County.
"We were putting in the work. We had guys filling the leadership roles and we just had an incredible bond," Marin said. "That first game of the year hurt. I walked off the field worried about the year and questioning how we would respond. Then, I walked in the locker room. Yes, we were disappointed, but the things guys were saying were positive and the game had seemed to motivate us."
If you ask his coaches, Marin did it all for the Wildcats. On the offensive end, he was third in the team in receptions, hauling in 21 catches for 377 yards and a pair of touchdowns, including a 61-yard reception against Franklin County.
At the cornerback position, Marin also had 52 tackles on the year, including four of those for losses. He also intercepted two passes, while forcing another fumble.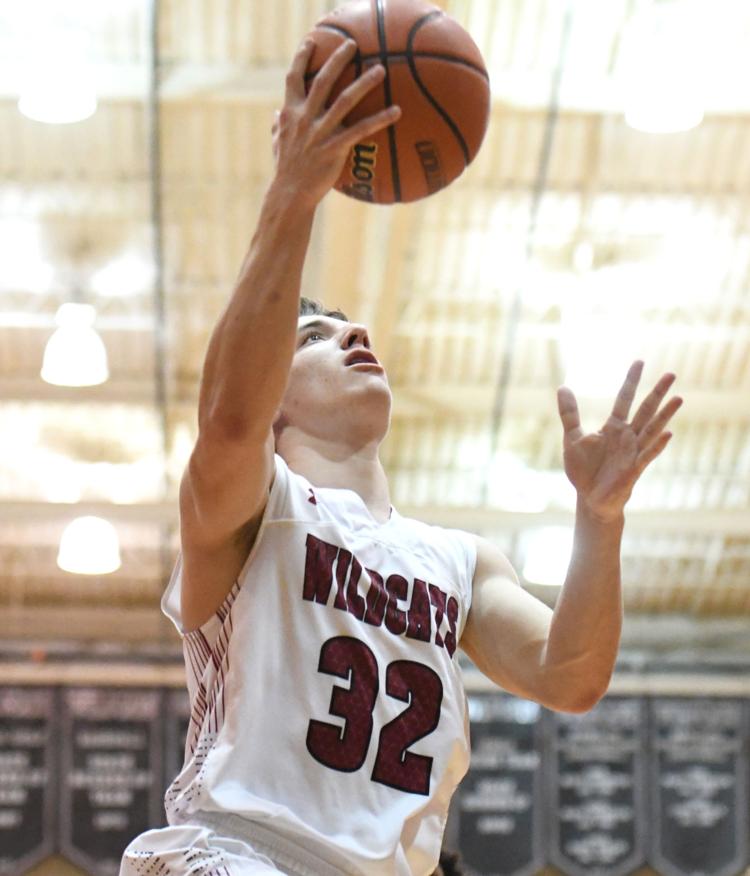 Marin was also an integral part of the Wildcats' success on special teams, and was Tullahoma's leading punter, booting the ball 45 yards for an average distance of 35.4 yards per kick. Marin also connected on five of his eight extra-point kicks on the season.
"He's a very special young man. He's a good athlete, but he's a better young man," Olive said. "Whatever he's doing, he puts himself into it 100 percent. He's obviously been a very outstanding athlete for us and he's been an outstanding leader."
Basketball and baseball seasons end in district tournaments
After being sidelined a bit late in the football season with an injury, Marin saw the start of his basketball season delayed a bit, after having surgery. However, once returning, he played an intangible role, as the Wildcats' starting point guard.
According to his coaches, Marin helped generate scoring for Tullahoma, despite not putting up points himself. Marin was able to hit his teammates, take charges, get steals and help the Wildcats fight for wins.
Tullahoma saw its season end with a 68-44 loss at Columbia Central in the District 8-AAA Tournament on Feb. 12.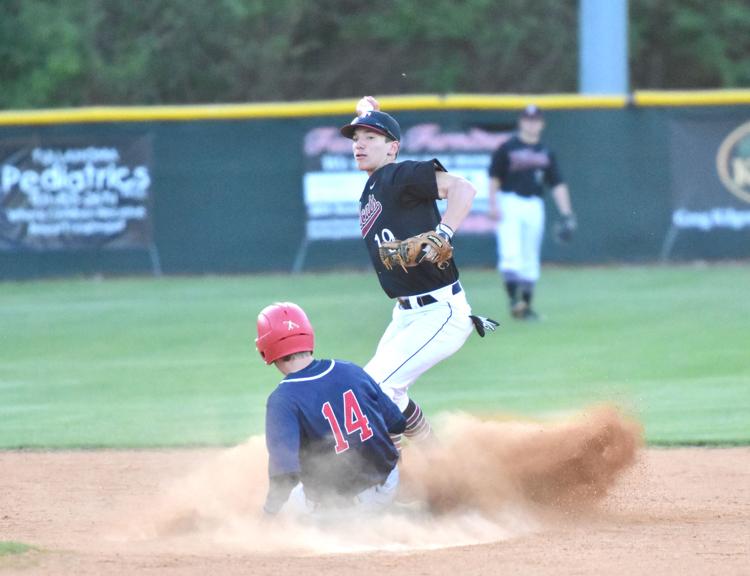 From there, it was time for spring sports, as Marin started practice for the Wildcats' baseball team. Again, Race played a valuable part in Tullahoma's success, hitting .386 from the plate, leading the Wildcats in the major offensive categories.
Marin hit seven home runs for the Wildcats on the year, a feat that hadn't been reached since 2013. He also drove in 25 RBI, scoring 34 runs and collected 39 hits on the season.
That season performance led him to being an All-District 8-AAA selection, as well as an All-Region 4-AAA nomination. At the end of the year banquet, Marin was named the team's MVP this past season.
"In a career of coaching you run into a handful of kids over the course of time that are just special," said THS Head Coach Phil King. "Race was a kid that came in for us and was pressed into service possibly before he was ready, but he rose to the challenge and was an asset rather than a liability. What is the most impressive thing to me, that I reflect on about Race, is how he just better and better each year. And that's with not being able to focus full-time on it. We were only getting him after a full football and basketball season.
 "What I'm going to remember about Race is that during every game, when he was going to hit for the first time and before I would to coach third base, I would ask him every time if he was ready and there always that little kid-like nervous energy. At no point was there an arrogance from him of being 'good' but that awe and wonder of a kid just trying to have fun and do whatever it takes to help his team be successful. Not sure if I've ever come across a better 'team' guy."
In April, Marin signed his letter of intent to continue his football career at Birmingham-Southern College. Marin also said that he had also been scouted by the baseball coaches at the school, however, he admitted that as of now, his full commitment was on football.
"I loved the coaches and found similarities in them with our high school football coaches," Marin said. "I love the direction the program is headed and feel I will be able to see the field early if I continue working hard. My sister, Macy Marin, went to Samford in Birmingham so I am very familiar with Birmingham already and the drive is not that bad, so my family will be able to watch me play a lot.
"The campus is very nice and just felt like home," he added. "Finally, they have a very good education program so I feel like I will be getting the best of both words academically and athletically."
Looking back at his high school career, Marin said he's going to miss THS, specifically his friends and his coaches. He also wanted to thank the community for always rooting him and the rest of the Wildcats on.
"When I look back at my time, I don't think one specific memory will stand out," Marin said. "I believe I will remember the lifelong friendships I made and the many memories I made with my friends and teammates even some teachers. I think I was blessed to have the coaches I had, and I am very thankful for the amount of support the community has given me. Tullahoma is a special place."