Three Lady Wildcats set for return trip to Franklin
Three returning state medalists will make a return trek to Franklin later this month as the Lady Wildcats saw three members earn seats into the TSSAA Individual State Wrestling Tournament.
Katy Champion, Destiny Shelton and Divine Desilets all qualified for the state tournament by placing in the top four at the West Region Tournament this past Saturday at Nolensville. All three state qualifiers medaled at state last year, with Champion taking third place, Shelton finishing fifth and Desilets nabbing sixth.
This year's TSSAA Individual State Tournament will take place on Feb. 20-22 in Franklin at the Williamson County Agricultural Expo Center. Girls wrestling will take place on Feb. 21 and conclude on Feb. 22.
At the region tournament Saturday, Champion and Shelton each finished in second place for the Lady Wildcats. Desilets rounded out the state qualifiers with a third-place effort.
"It's an absolute honor for them to qualify this year," said THS Head Coach Jenna Morris. "The girls in our region alone grew by 62 percent. We had almost 200 wrestlers in the region tournament alone."
Morris has been at the forefront, trying to grow the sport of girls wrestling. This year, the state duals will feature four girls wrestling teams, competing for a state title.
While the Lady Wildcats did not qualify for the state duals, their head coach helped make it possible to feature girls wrestling during the tournament. At the end of the region tournament on Saturday, Morris was named the West Region Coach of the Year.
"Well, I'm humbled that my fellow peers and coaches in my region think that I do a good job. It's humbling. It's exciting, but I really don't know how to talk about me getting an award. It's just exciting that people think that I do a good enough job to be deserving of that award.
"There are others who have, by far, helped build that platform. I'm not there alone. There are a handful of men in our region who I have grown to love and respect so much because they truly want what's best for those girls. It's not just something that I've done or I'm doing, they are also doing it as well."
In the 103-pound weight class, Shelton led off her tournament with a bye, before notching a win by pin in her first matchup. Shelton pinned Nolensville's Elena Montpool with 47 seconds remaining in the second round.
In her quarterfinal matchup, Shelton once again followed that with a pin. This time, Shelton pinned Rossview's Ava Teasley with 18 seconds left in the first period.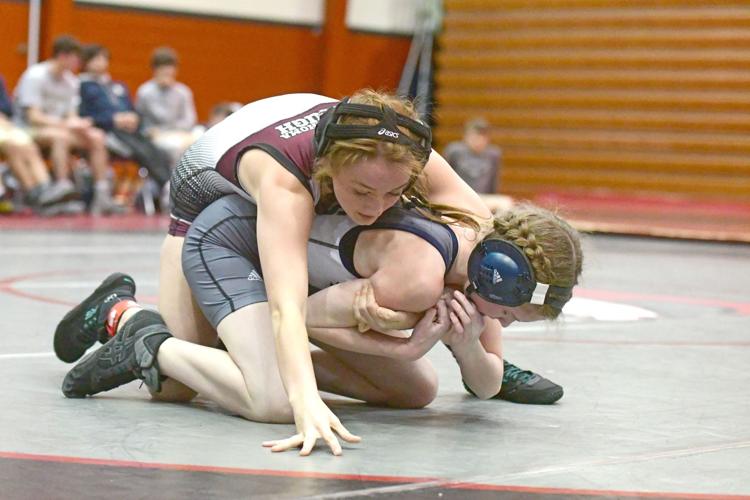 Shelton then narrowly squeaked by in her semifinal bout, locking her seat into the first-place match. In the semifinals, Shelton edged Independence's Taylor Sullivan in a 7-6 decision.
In a tightly contested first-place bout, West Creek's Ella-Lina Gonzalez eked out a win over Shelton. Gonzalez notched an 8-6 victory to take first place during the tournament.
"Destiny picked up that role of traveling anywhere and everywhere to get better this year," Morris said. "She didn't take a break and she's really improved all year long. She dominated at 103. The only losses she went into the region tournament with were from girls who placed higher than her at the state tournament last year, with one of them being a returning a state champion and a returning third-place medalist."
Champion takes second place
In the 150-pound division, Champion also made it to the first-place matchup, after opening her tournament with a first-round bye. She then followed that by pinning Antioch's Jasmine Graves with 34 seconds left in the second round.
Champion followed that effort with a quick win in her quarterfinal bout. Champion pinned Summit's Stephanie Demorest 27 seconds into the matchup.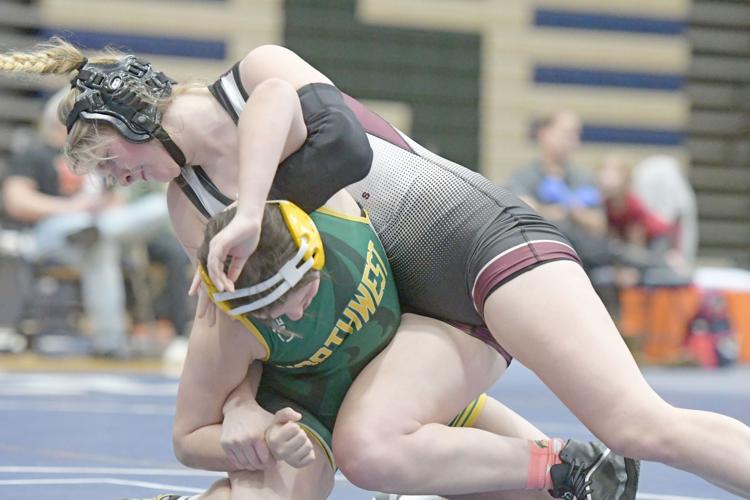 During the semifinal bout, Champion added another win by pin. During that matchup, Champion pinned Clarksville Northwest's Brette Spink with 16 seconds left in the third round in order to advance to the first-place matchup.
During the championship matchup, Montgomery Central's Vivian Hurn notched an early win over Champion. Hurn pinned Champion 45 seconds into the opening period to claim first place.
"Katy Champion is a rare breed. Her last name is Champion for a reason," Morris said. "She's one of the most amazing people, not just kids that I've coached, but just people in general. I think her want to please and her willingness to do whatever God has set for her to do has a lot to do with her success."
Desilets battles for third place
Due to an injury in the 119-pound weight class, Desilets received two byes, before taking part in any wrestling at the region tournament. In her quarterfinals matchup, Desilets was upended by Collierville's Besty Nation in a 9-4 decision.
After losing her first match, Desilets was bounced to consolations, where she won three-straight matchups to ensure herself a spot into the state tournament. In her first consolation matchup, Desilets quickly pinned Independence's Mylee Johnson, winning in 34 seconds.
Desilets then added another win by pin in her second consolation matchup. This time Desilets pinned St. Andrew's-Sewanee's Melanie Val 43 seconds into the second round.
In her next matchup, Desilets battled to the end with Rossview's Sarah Collins as the two needed overtime to settle a winner. In that extra period, Desilets was able to notch an 8-7 decision win, as she locked her seat into the third-place matchup.
In that third-place bout, Desilets was able to notch a win, this time scoring a victory over Clarksville Northwest's Roseanna Vaughn. Desliets pinned Vaughn with 24 seconds remaining in the second period.
"Divine got upset in that first round, which meant that if she lost one more match, she was out," Morris said. "She did what she had to do when it came to the blood round. She faced a multiple returning state medalist in Sarah Collins and even though the match was ugly – very ugly – she pulled out a win.
"When Divine is on, she's unstoppable. When she is on and she is ready, I don't care who you put in front of her, she's going to beat them. When she is in that right mentality, nobody is going to stop her."