While wrestling season may have officially concluded in February for high school students in Tennessee, Tullahoma junior Liv Hogan has been hard at work, putting in plenty of time on the mats during the offseason.
This past February, Hogan earned her first career state medal during her performance at the TSSAA Individual State Tournament in Chattanooga. When wrestling concluded on Feb. 25, Hogan had taken fifth place in the 132-pound weight class.
Despite crossing off a goal of being crowned a state medalist, Hogan wasn't content. Instead, she's been traveling the country, taking part in several events in order to improve her wrestling skills.
"I am competing now to stay in shape and get the experience for next season," Hogan said. "I've only got one more season as a Tullahoma athlete and I want to make this last one my most important yet. I do it in part because it drives me to be a role-model to the younger girls I work with, and I want and need the experience for this next season. Also because I want to do it through God and use my talents he has blessed me with."
So far this offseason, Hogan has competed in three different tournaments. She led off by heading to Iowa to compete in the Girls Folkstyle Nationals on March 27-28. Hogan followed that by taking first place at the Ironman Championship to bring home that trophy at Blackman High School on April 17. Hogan added a third place effort in both the Tennessee Freestyle and Greco Tournament at Bradley Central in Cleveland on May 1.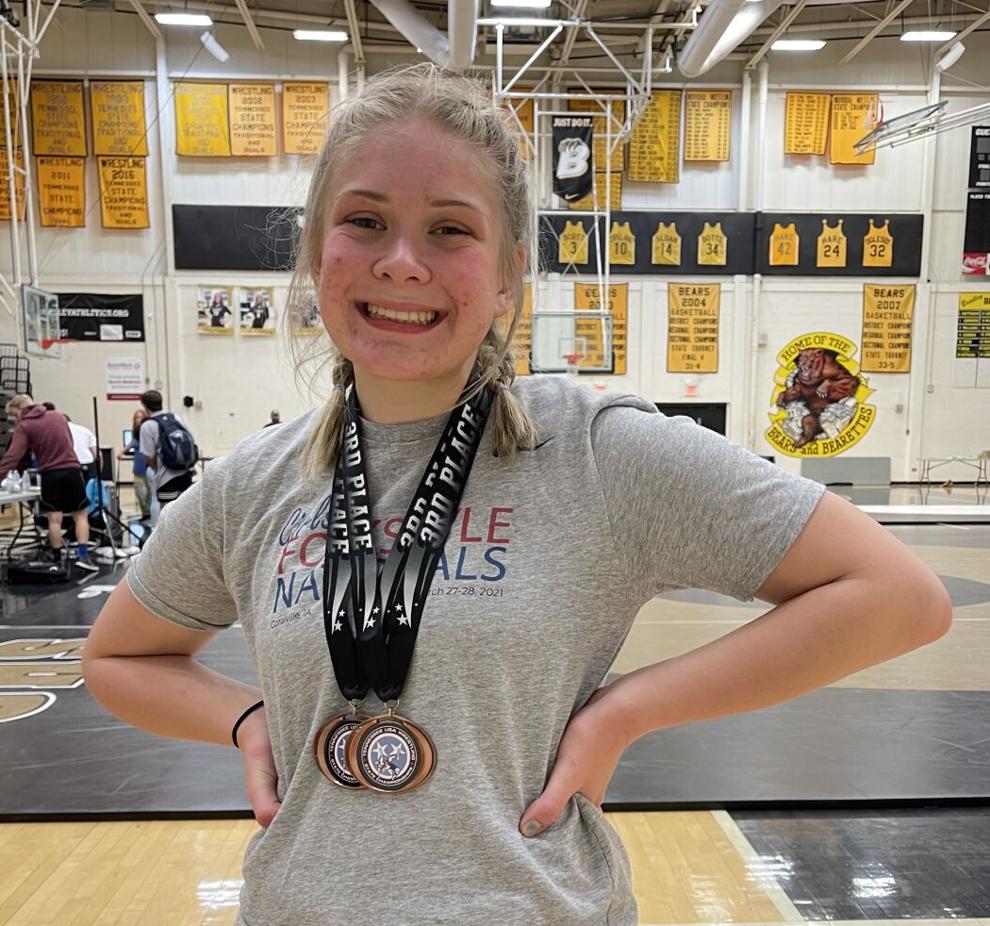 "I wrestled in Iowa at Girls Folkstyle Nationals, and I went against some of the best girls in the country and it was hard," Hogan said. "I didn't end up placing, but I think the experience was worth it. Most recently I competed in the girls division of freestyle and Greco state, I ended up coming home with third in both of those. I was really excited and nervous to be facing to state placers at state, both of which were the finalists in the 132 and 140 divisions."
The success on the mats came from Hogan came as a result from all of her practice on the mats. According to her, every day after school, Hogan would be working after school. She additionally heads to the weight room three days of the week and trains in both the Welsh Center in Tullahoma and at Coffee County. Lastly, Hogan also practices with the National Team that she is a part of, which generally meets at Siegel High School.
"I am overwhelmed with all the success that I've had," Hogan said. "It was such a triumphant moment to win the Ironman and even to take home third at state. I really can't put into words just how amazing it makes me feel that my hard work is paying off so quickly. It was actually my first time to ever win a tournament completely when I won the Ironman. It was so cool to go undefeated that day."
For the summer months, Hogan said she didn't have her eyes on any competitions. However, her goal is continually practice and work to get better at the sports that she loves so dearly.
"There is no way for me to describe how much wrestling means to me," Hogan said. "It truly has been a life-changing experience and it has made me into such a bigger person. I've grown so much during the course of these last few years, and I'm excited to grow and enter my last year and hopefully be a great role model to the girls below me. It truly has been one of the best experiences that I have ever had."