A late first-half score by Julia Duncan was enough for Tullahoma, as the Lady Wildcats held on for a 1-0 win at Page on Wednesday night.
Tullahoma improves to 2-0 on the regular season with the victory, and more importantly, it opened District 11-AA play with a win.
"Normally Page is one of the top two teams in the district," said THS Head Coach Marvin Carson. "We've come here before and been shellacked and have had some bad memories on this field. The girls played super hard and were super strong. We had a good game plan heading into tonight and had a good scouting report that really helped us out."
The Lady Wildcats were next slated to play a pair of games on Saturday during the Southern Middle Tennessee Tournament at Johnson Lane. Tullahoma will host Walker Valley at 10:30 a.m., before taking on Lincoln County at 4 p.m. Both games are scheduled to take place on Field 2. 
During the first 20 minutes of play on Wednesday, Page and Tullahoma battled in a defense effort. Toward the back half of the first half though, the Lady Wildcats dominated ball possession.
After several near scores, Tullahoma finally broke into the scoring column with 2:21 remaining in the opening period. After a goal kick by Page keeper Sydney Weinstein was intercepted by Duncan, the Tullahoma senior capitalized. After getting possession, Duncan fired a shot that sailed over Weinstein's head and into the back of the net, putting the Lady Wildcats in front 1-0.
For Duncan, that was her fifth goal in two games for Tullahoma. Duncan previously scored four goals on Monday in the Lady Wildcats' 7-3 victory at Cascade.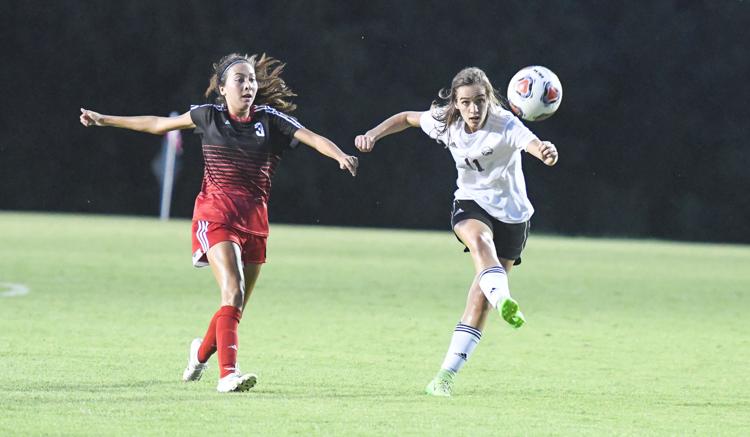 "She's been hard to beat and she's been hard to play one-on-one," Carson said. "She's very confident. She's a senior this year and she's led our team in scoring the last three years and this season is no different. The girls are playing hard for her and serving her up good balls. She's making good decisions. That experience is paying off and we are all playing well as a team."
Coming out in the second half, Page dominated the pace of play. Despite controlling ball possession for the majority of the final 40 minutes, the Lady Patriots were limited to just six shots in the second period, all of which were on frame.
"We knew coming into tonight that Page had a pretty fast forward like ourselves," Carson said. So, we played a really good pressure cover. One girl was pressuring, the other was covering. One would disrupt and one would clean up. We played it to a T.
"A.C. (Anna Claire) Hargrove is our best one-on-one defender," he added. "If you put her on somebody, most of the time, they are going to be shut down. If she makes a mistake, she's got a really good sophomore behind her in Kaylee Smith. Those two in the middle have made a great difference for us. Then we've got solid outside defenders in Kaylee Stacy and Sara Gluch, who is playing lights out as well."
Tullahoma goalkeeper Trinity Tennant came up with five saves in the final half, helping secure the shut out. Early into the second period, Tennant was able to block that looked headed straight for goal.
With 28 minutes left on the clock, Tennant came away with another save, digging the ball quickly out of the grass, and holding on to possession. Thirteen minutes later, Tennant again was able to block a shot that kept the Lady Wildcats in front.
"Trinity was great tonight. Being a starter now for three years, she was calm. When the players were coming at her one-on-one, she cut off the angles perfectly. I think her calming presence in the goal, helps the defenders remain calm and really makes a difference in the way that we play."
The scariest moment for Tullahoma came with 4:21 remaining in the contest. Page got off a shot that sailed off the top left corner of the goal, ricocheting out of bounds, setting up the goal kick for the Lady Wildcats.
While Tullahoma got solid play form its defensive unit, Weinstein also had an impressive performance in goal for Page. With 31:58 remaining in the second half, Amy Johnson fired off a shot for Tullahoma. Weinstein was able to leap, just getting a hand on the ball, keeping the contest a one-score game.
Even though the Lady Patriots dominated ball possession in the second half, it was Tullahoma who had more shot attempts. The Lady Wildcats put up nine shots in the final period, only four of which were on frame.
In total, Tullahoma had 16 shot attempts against Page, eight of which were on target. Page put up nine shots on the night, eight of which were on frame.