Defense shines in Wildcats' 14-13 upset of Marshall County
Getting solid defense play the entire night, key offensive conversions and even a little luck, Tullahoma was able to pull off an upset in Lewisburg on Friday night, defeating Marshall County 14-13 in a thriller, the Tigers' first region loss since 2014.
With 5:49 left in the contest and his team trailing 14-7, Marshall County running back Javarria Rucker scored on a 14-yard touchdown run. However, the ensuing point after touchdown (PAT) kick by John Estes was wide, as Tullahoma held a 14-13 advantage.
Clinging to its one-point lead, Tullahoma's defense needed to come away with one final stand after the Tigers' took over possession at their 16-yard line with 1:40 remaining on the clock. From there, Marshall County was able to drive downfield to the Wildcats' 46-yard line before calling its final timeout of the game with 30 seconds remaining.
On a play-action pass attempt, Tigers' quarterback Malik Thomison rolled to his right, heaving a pass attempt downfield. Tullahoma safety Kaleb Stroop was able to make a leaping grab, intercepting the pass, coming down with possession, sealing the victory for Tullahoma.
The entire night, the Wildcats' defense hurried Marshall County, virtually shutting down the run game and rushing Thomison's pass attempts. The Tigers finished with 260 yards on the night, including totaling just 64 yards in the first half.
"Our defense played lights out tonight," said THS Head Coach John Olive. "That's an offense that has scored points, even in their loss in the first ballgame of the season. My hats off to Coach [Coy] Sisk, Coach [Steve] Britton, Coach [Corey] Searcy, one of the other Coach Olives, Coach [Brady] Goodman and I'm probably going to forget somebody. They had us prepared.
"We played hard and I just saw young men making plays that they haven't made up to this point in the season and that was the most exciting thing. I think our defense is just getting better and better."
While Tullahoma's defense became the story of the contest, it was the offense that got the game started, opening Friday night with a touchdown drive. On third-and-15, quarterback Ben Fulton was able to hit running Briasen Corn for a 33-yard touchdown with 8:46 left in the first quarter.
However, the point after touchdown (PAT) kick attempt by Race Marin was blocked by Marshall County, and Tullahoma held a 6-0 advantage.
Despite moving the ball, the Wildcats weren't able to extend their lead at all during the first half. Thankfully, Tullahoma's defense made up for that, wrapping up Marshall County's rush attack.
Just before the end of the second quarter, the Tigers regained ball control when a trick play by Tullahoma was intercepted, giving Marshall County possession at its 30-yard line. The Tigers drove down to the Wildcats' 16-yard line, but a crucial holding call against the home team backed it up to the 30-yard line.
Thomison looked to extend the final play as time ran off the clock in the period, but was sacked for a 17-yard loss, as Tullahoma held a 6-0 lead at halftime.
Out of the break, Marshall County looked poised to score on its opening possession. However, Kel Greer fumbled the ball into the end zone and the Wildcats were there for the recovery as Kobe Burks gained possession.
Tullahoma was forced to quickly punt on its series and this time the Tigers didn't miss their chance for points. On a quick five-play, 40-yard drive, Marshall County grabbed control after Rucker rushed for a 19-yard touchdown. Estes knocked in the PAT, giving the Tigers a 7-6 advantage with 5:07 left in the third quarter.
Twelve plays later, the Wildcats were right back in front after Burks scored from 2-yards out. Tullahoma followed with a successful 2-point attempt as Fulton hit Hunter Palmer in the right corner of the end zone, giving their team a 14-7 lead with 10:59 remaining in the contest.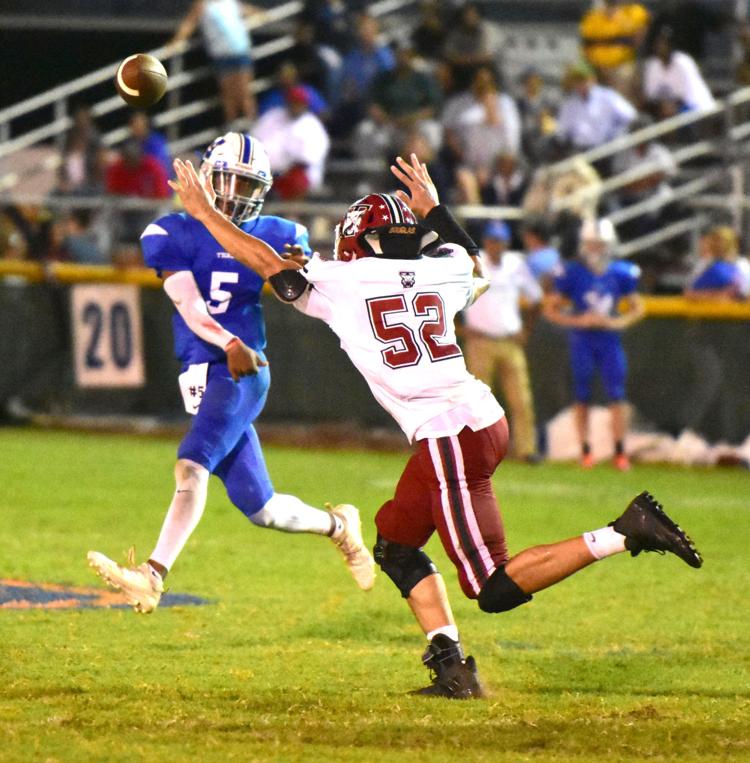 Marshall County answered right back with a 10-play, 72-yard touchdown drive. Rucker reached the end zone again, this time from 14 yards away, but Estes missed the PAT attempt as Tullahoma held a 14-13 lead with 5:49 left in the final period.
On onside kick went out of bounds for Marshall County and the Wildcats took over at the Tigers' 48-yard line. Tullahoma was able to march down to the 22-yard line, electing to try to pick up a first down on fourth-and-7. Corn fell just a yard short of that goal and Marshall County took over at its 16-yard line with 1:40 remaining in the ballgame.
"We just didn't want to give them a huge play," Olive said. "They had a long way to go and basically, they were going to have to get down to the 20-yard line to even attempt a field goal. So our thought was to just not give up anything big and if we can tackle them in bounds, let's make them burn those timeouts."
After bending a bit, Tullahoma's defense didn't break as Stroop came away with the game-saving interception that allowed the Wildcats to preserve the victory.
Marshall County put up 196 yards of offense in the second half, the majority of which came on the ground. Rucker led the Tigers with 102 yards and a pair of touchdowns on 17 carries.
Thomison also ran for 66 yards on nine rushing attempts. The senior quarterback completed eight of his 13 pass attempts for 55 yards and an interception.
Tullahoma totaled 254 yards on the night, with 161 of those yards coming on the ground. Corn finished with 93 yards on 18 attempts for the Wildcats, hauling in a 33-yard touchdown pass.
Fulton was able to use his legs and his arm in the victory. The junior quarterback completed nine of his 14 pass attempts for 93 yards and a touchdown.
He was also able to extend plays, including running for 16 yards and a first down on a play breakdown, and a late 15-yard run. Fulton finished with 56 yards rushing on seven carries.
"I thought he grew up big time," Olive said. "I'm watching that play clock going low and he's snapping it at the right time. There was one time that I called a timeout because I made a dumb call, but he looked at me and said, 'Coach, I was going to check it.' That's the kind of stuff that you love to hear your quarterback say. He didn't get all flustered and excited, he just kept calm and ran some stuff that we hadn't really practiced with him, just because we got into trouble there at running back."
Following the Region 4-4A win over Marshall County, Tullahoma (2-1, 1-0) will step out of region play, traveling to Winchester this coming Friday to take on Franklin County. Kickoff for that game is scheduled for 7 p.m.