With 11 minutes left in the second quarter, Tullahoma trailed Spring Hill 10-0 on the road on Friday night.
By the end of the first half though, the Wildcats had seized full control of the contest, leading 34-10 at halftime, before going on to capture a 50-10 victory.
Three special teams plays was the turning point in the contest. Late in the second quarter, Tullahoma returned back-to-back punts for touchdowns, before forcing a fumble on a kickoff, to grab momentum.
"I thought that turned everything," said THS Head Coach John Olive. "Up until that point and time, Spring Hill had been controlling everything. Those three plays there turned the tide and gave us momentum and it probably zapped some energy out of their side."
After starting at its 15-yard line early in the second quarter, Tullahoma put together a 78-yard touchdown drive, in order to get its first points of the ballgame. Hunter Palmer capped off the nine-play drive with a 3-yard touchdown with 7:33 left before halftime.
Justus Chadwick followed by making the ensuing extra-point kick, cutting the Wildcats' deficit down to 10-7.
On the drive, Tullahoma quarterback Ben Fulton was able to hit Brody Melton for a pair of big plays. Fulton first connected with Melton for a 23-yard gain, before the duo then put together a 20-yard yard gain two plays later.
"We were just trying to get first downs, because we were struggling so much," Olive said. "We were talking about just getting two first downs, because we had the ball deep twice already. We just said, 'Let's get two first downs and anything beyond two first downs, it's icing on the cake.' So we got the icing with the cake that time."
From that point, Tullahoma's defense swarmed Spring Hill, and did not allow the Raiders to pick up a first down for the remainder of the ballgame.  
"We adjusted linebackers and we adjusted the linebackers coming forward so that they weren't waiting on the ball to come to them.  It kept them from getting outside, because they have good speed. Once we could keep them from getting outside, they had to beat us inside. That was where we felt like we had the advantage."
After quickly going three-and-out, Spring Hill was forced to punt the ball away on its next series.The Wildcats took advantage, returning that kick for points.
Quintin Howard grabbed the punt, breaking down the left sideline for a 60-yard touchdown return with 4:50 remaining in the second quarter. Chadwick again knocked in the extra-point attempt, giving Tullahoma a 14-10 advantage.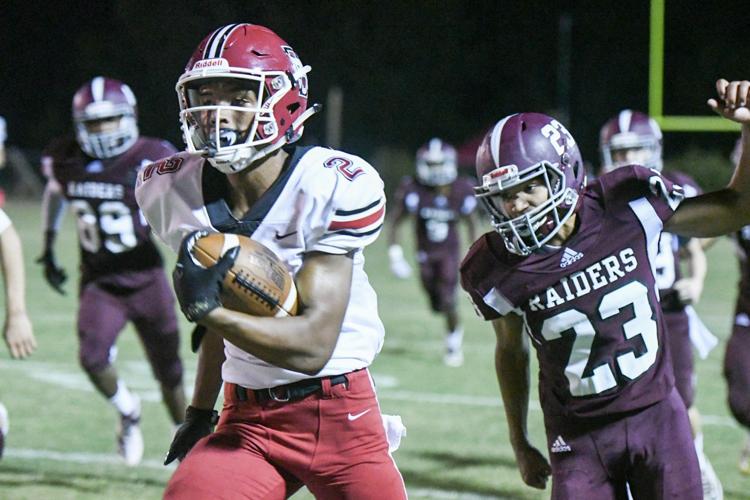 Spring Hill again was forced to punt, and again the Wildcats returned that kick for points. This time it was Jakobe Thomas who fielded the punt, breaking free for a 45-yard score. Chadwick converted the extra point attempt, and Tullahoma led 21-10 with 3:54 remaining in the second quarter.
On the ensuing kickoff, the Wildcats forced a fumble recovered the ball at the Raiders' 26-yard line. One play later, Fulton broke free down the middle of the field for a 26-yard touchdown run with 3:34 left before halftime. Chadwick followed by making the extra point, giving the Wildcats a 28-10 advantage.
With 1:29 left before halftime, Tullahoma put together one final scoring drive. Fulton capped off the drive with his second rushing touchdown of the night. Fulton barreled his way into the end zone from 7 yards out, scoring with 17 seconds left in the first half.
This time, the extra point attempt by Chadwick was no good, hitting off the upright, and the Wildcats headed into halftime up 34-10.
Out of the break, Tullahoma padded its lead. Running back Brian Nelms broke loose for a 46-yard gain on the Wildcats' first offensive play of the second half.
However, Tullahoma's drive stalled at the Raiders' 6-yard line, where Chadwick came in to try to make a 24-yard field goal attempt. Chadwick nailed the field goal, putting the Wildcats' in front 37-10 with 9:51 remaining in the third quarter.
After Howard intercepted a Spring Hill pass, Tullahoma added another score. This time, Bo Nunley capped off a five-play, 36-yard drive with a 3-yard touchdown run with 6:49 left in the third quarter. Matt Marcel missed the extra-point attempt, and the Wildcats led 43-10.
With 53 seconds remaining in the third period, Tullahoma put up its final score on Friday as backup quarterback Ryan Scott reached the end zone from a yard out. The play before his touchdown, Scott broke loose for a 47-yard run. Marcel converted on the extra-point attempt this time, giving Tullahoma a 50-10 lead.
Tullahoma put up 328 yards of offense on Friday night, led by its rushing attack that generated 213 yards. Fulton completed seven of his 13 pass attempts for 105 yards, while also running for 33 yards and two touchdowns.
Nelms was the Tullahoma's leading rusher, picking up 56 yards on five carries. Scott added 54 yards and a score on six rush attempts.
Spring Hill was held to 159 yards on Friday, 98 of which came through the air. Quarterback Luka Boylan completed seven of his 13 pass attempts for 98 yards, and a touchdown, while being intercepted once.
Early on Friday, Boylan hit Sean Waters for a touchdown with 3:29 remaining in the first quarter, giving Spring Hill a 10-0 lead. Boylan's touchdown came on a series after Brett Hughes had made a 37-yard field goal attempt for the Raiders earlier in the period.
Spring Hill running back Landen Secrest was his team's leading rusher. Secrest carried the ball 13 times for 68 yards.
Tullahoma (3-2, 1-1) will step out of region play next week when it hosts Lincoln County for homecoming on Friday. Kickoff is scheduled for 7 p.m.