Three Tullahoma High School athletes recently received postseason honors, after Katy Champion, Divine Desilets and Julia Duncan were all named to their respective All-State Teams by the Tennessee Sports Writer's Association.
On Thursday, Champion and Desilets were named to the Girls All-State Wrestling Team. Both Champion and Desilets finished with top three performances at the TSSAA State Championships in February.
On Tuesday, Duncan added another postseason accolade to her resume, as she was named to the Class AAA All-State Girls Team.
At the TSSAA State Championships, Champion led the Lady Wildcat wrestlers and took second place in the 150-pound weight class. Desilets added a third-place effort in the 119-pound division.
Champion opened this year's state tournament with a quick win over Carter's Joy Reinmann. Champion pinned Reinmann with 45 seconds remaining in the opening period in order to advance to the semifinals.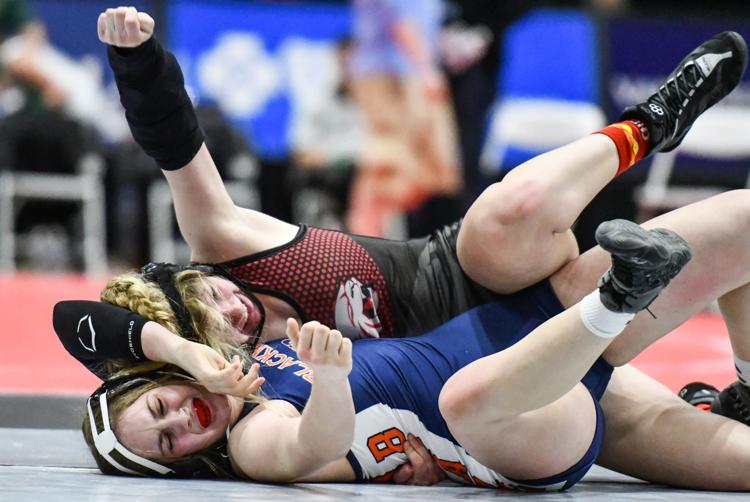 In that second-round matchup, Champion trailed Blackman's Nena Brown 4-1 after one period. However, the Tullahoma wrestler quickly turned the matchup late in the second round. After getting to her feet, Champion recorded a take down to even the match at 4 and then added a near fall just before the buzzer in order to grab a 7-4 advantage.
Champion picked up where she left off in the third round and scored a victory. Champion pinned Brown 24 seconds into the third period to ensure her spot into Saturday's state title matchup.
In that championship bout, Champion found herself in a tough matchup against Montgomery Central's Vivian Hurn, who came in a two-time state medalist and boasted an overall record of 44-0. Hurn was able to best Champion in the title matchup, recording a pin with 36 seconds left in the second round.
As a junior this season, Champion came in to this year's state tournament already a two-time state medalist. In 2019, she took third place in Franklin as a sophomore and in 2018, she placed fourth.
Like Champion, Desilets also recorded a win in her first matchup of the state meet on Friday. In the opening round, Desilets pinned Agnaee Zavala-Gonzalez with 40 seconds remaining in the second round to advance to the semifinals.
In that second-round bout, Desilets found herself trailing the majority of the matchup against Clarksville Academy's Annalynn Rakett. However, with under a minute left in the competition, the Lady Wildcat grappler, cut her deficit to 6-5. With seconds remaining in the matchup, Rakett was able to get to her feet, moving the score to 7-5, where she was able to hang on for the victory.
That loss forced Desilets to the consolation bracket, where she had to compete in two more matches on Saturday. In her first bout, Desilets scored a 17-10 decision win over Northwest's Roseanna Vaughn to lock a spot into the third-place bout.
In her matchup against Science Hill's Emma Wallen, Desilets led 2-0 after the first round. In the second period though, Desilets found herself trailing – that was until she scored a win by pin.
After trailing 5-2 in the third-place bout, Desilets was able to score a reversal, making the score 5-4. Shortly thereafter, Desilets pinned Wallen 51 seconds into the second period.
That third-place performance was an improvement off of last year's success for Desilets. In 2019, Desilets took fifth place at the state meet in Franklin.
During her final season at Tullahoma, Duncan helped anchor the Lady Wildcats to a 25-10 record and their longest postseason run in program history. Tullahoma advanced to the section round of the playoffs this past year, before seeing its season end with a 72-64 loss at Bradley Central on March 7. Tullahoma finished the 2019-20 campaign with an overall record of 25-10.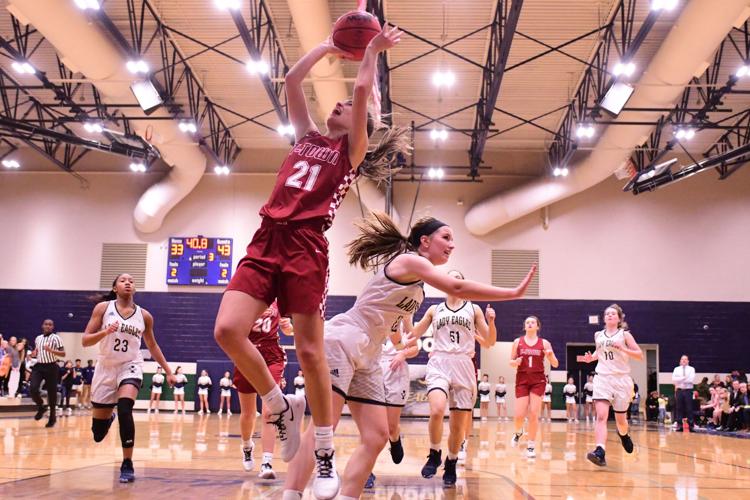 Duncan led the Lady Wildcats in scoring this past year, netting 19.7 points per game. The senior guard also averaged 3.9 rebounds per game, 2.9 assists per contest and 2.1 steals per game.
Her senior year, Duncan totaled 688 points. Earlier this year, she was honored for crossing the 2,000 career point threshold – making her the only player in school history to achieve that milestone. She achieved that goal in a 56-47 victory at Columbia Central on Jan. 14.
In late February, Duncan received her first postseason honor as she was named to the Basketball Coaches Association of Tennessee All-Star Game. This year's BCAT All-Star Game was slated to feature a two-game series featuring teams from Memphis, West, Middle and East Tennessee on March 28. However, due to COVID-19 (Corona) virus concerns that game has been cancelled. On March 16, she had been named to the TN Report Class AAA All-State Team.
On April 1, it was announced that Duncan was selected to The Tennessean's All-Midstate Team. The senior guard was a second-team member to the squad.
A day later, Lee University officially announced that Duncan had signed with the school and would be taking her talents to Cleveland. This past season, the Lady Flames finished with a 26-4 record, claimed the Gulf South Conference Regular-Season Title and earned the top seed in the South Region.
Duncan's stellar senior year actually started back in August on the soccer field. In September, she set a new school record for most career goals and finished her senior season with 92 goals, breaking Jessica Kyle's 2002 mark of 76.
Before soccer season concluded, Duncan was also able to set a new school record for most goals in a season with 37. That mark broke a record of 36 which once again had been set by Kyle in 2002.
The performance on the soccer field allowed her to be selected to the Tennessee High School Coaches Association Senior All-Star Game in November. In January, she was named to the Tennessee Sports Writer's Association Class AA Soccer Team.