Before the season starts, three Tullahoma High School football players received team honors last week, with two of those athletes getting to wear the numbers of two former Wildcats this coming year.
Brian Nelms, a senior tailback and linebacker for Tullahoma, will wear No. 8 this coming season in honor of former Wildcat Eli Grow. Jaylin Newson, a junior lineman, will don No. 66 in honor of Jason Few. Hunter Palmer, a senior wide receiver and defensive back, has been named a permanent captain for Tullahoma this season.
Both former Wildcats died tragically in a pair of car accidents. Since Few's death in December of 1988, the No. 66 had been retired by Tullahoma High School in his honor.
Former Wildcats quarterback Eli Grow died in a car accident in 2016. The last two seasons, THS players have been battling for the No. 8 jersey that was donned by Grow. In 2017, Race Marin was the first player to wear the No. 8 jersey, while Matthew Ross received the honor last year.
While the Wildcats honored Grow's legacy, that No. 8 could only go to players at the skill position. Due the way that football numbers designations work, offensive and defensive linemen were automatically disqualified from receiving the honor, no matter how hard they worked in the offseason.
Last summer, THS Head Coach John Olive said it was then-senior defensive end Ty Cox who spoke up about how unfair it was to defensive and offensive linemen. Cox lead the Wildcats in tackles and sacks, and was named to Class 4A All-State Team.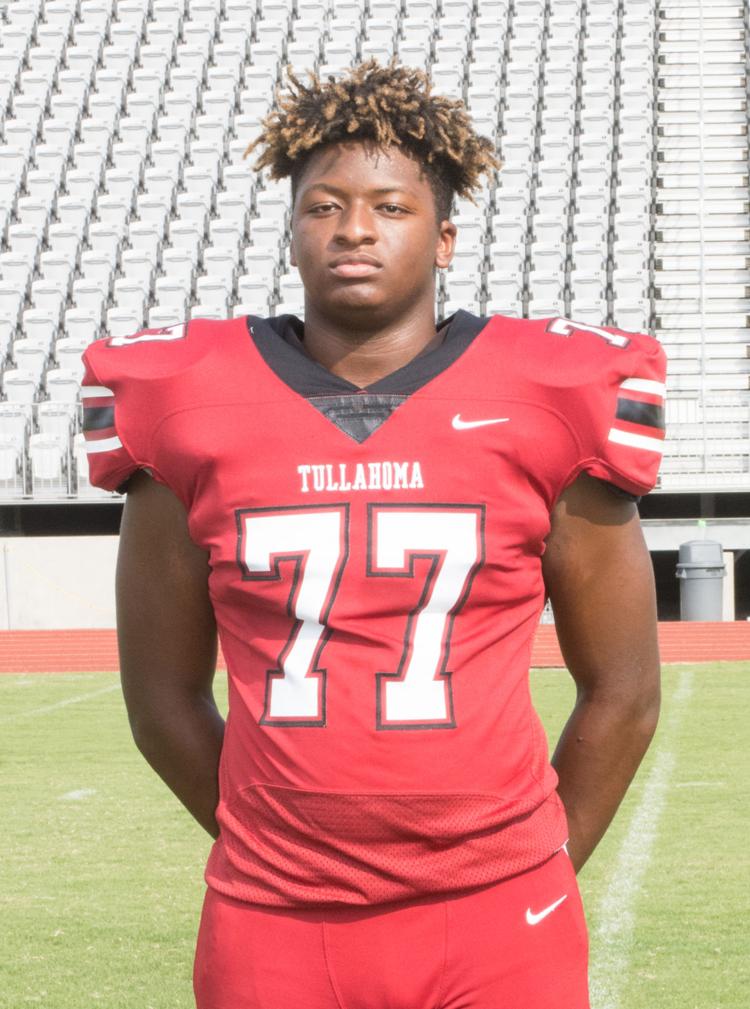 "I then went and met with Martha [Few] and ask her if we could unretire her son's jersey so that a lineman could have the privilege of wearing that jersey," Olive said "I didn't get a chance to coach Jason, but I knew his mom and dad, Martha and Jim Few. His father has passed away now. But I knew both of them and I know the legacy that Jason had here at Tullahoma, not only at the high school but in our community."
While players battled for the two jersey numbers, it wasn't a given that both numbers would be on the field for Tullahoma this coming season. However, after talking to his coaching staff this summer, Olive felt comfortable in assigning both jerseys to a player on this year's roster.
In a close, Olive said that Nelms edged out Palmer for the No. 8 jersey this season. Tyreek Nard, a junior tight end, was also in consideration for the honor. On Aug. 13, the Grow family was on hand to present Nelms with the jersey.
"We look as coaches for the players who go beyond," Olive said. "They don't necessarily have to be the best the best player or a starter. They just have to be somebody who goes beyond what we ask and that they are out here on their own working to get better.
"Brian is a two-sport athlete. He's a wrestler and a football player. He just works extremely hard," Olive said. "The other two candidates in Hunter Palmer and Tyreek Nard, both of those guys should be recognized for their efforts that they have given, because they have gone beyond what has been asked as coaches. They got out and worked hard on their own. Every year it's always a close vote."
Nelms recently received a four-year scholarship to Tennessee Tech through the JROTC program at Tullahoma High School.
"He's a special young man," Olive said. "He's a wonderful young man and he'll do well."
The same criteria that went into selecting who would wear No. 8 also went into picking a candidate to wear Few's former jersey. According to Olive, when he talked to his coaches, Newson was the obvious candidate to wear No. 66.
"Jaylin, about every week, he was gone to some individualized camp. He has improved tremendously. He was the nomination by acclimation. We are pretty young with our lineman. Next year will probably be a battle to see who can wear No. 66. Jaylin has worked extremely hard. He works hard in the weight room, out on the field and he is a much improved football player. He might be the most explosive lineman that we have."
Tullahoma will open the season on Thursday with a trip to Shelbyville Central. Kickoff is scheduled for 7 p.m.